---
CECHENENA MIRABILIS (Butler, 1875) -- Emerald-green hawkmoth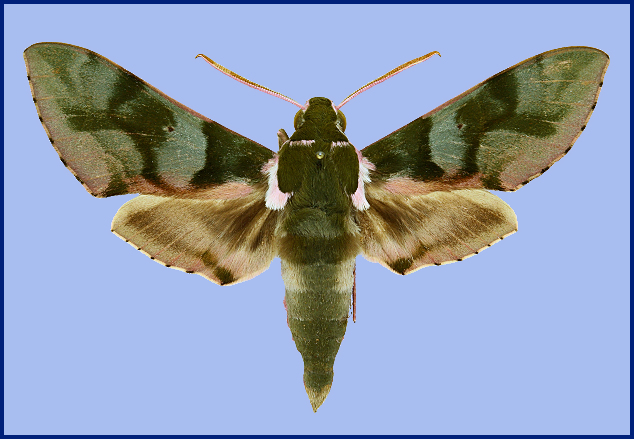 TAXONOMY
Chaerocampa mirabilis Butler, 1875, Proc. zool. Soc. Lond. 1875: 248. Type locality: Northwest Himalayas.
Synonym. Theretra mirabilis Kirby, 1892.
Note. Transferred to Cechenena by Rothschild & Jordan, 1903, Novit. zool. 9 (suppl.): 799.
ADULT DESCRIPTION AND VARIATION
Immediately distinguishable from all other species of Cechenena by the blue-green ground colour of the forewing upperside overlaid by a dark green basal and median pattern. Tegulae with a long pale pink apical fringe on the outer margin.Thorax upperside uniform dark green. Abdomen without dorsal lines. Outer row of spines of forebasitarsus double at base; outer midtibial spur shorter than in Cechenena aegrota; spines of midtarsal comb stout and quite short; those of the hindtarsal comb very little elongated. Forewing upperside ground colour blue-green, with a dark green basal area and a vaguely H-shaped patch just distal to the small and indistinct pale discal spot. Antennae apically clubbed. Uncus similar to Rhagastis velata. Gnathos similar to Rhagastis velata. Valve with more stridulatory scales than in Rhagastis velata. Harpe similar to Rhagastis castor but much longer. Aedeagus similar to Rhagastis lunata but with the left short and with few teeth and a rather a long right process.
ADULT BIOLOGY
Unknown.
FLIGHT-TIME
China: 9.vi (Kyirong/Gyirong/Jilong).
EARLY STAGES
OVUM: Unknown.
LARVA: Unknown.
PUPA: Unknown.
Larval hostplants. Unknown.
PARASITOIDS
Unknown.
LOCAL DISTRIBUTION
China: Xizang/Tibet (Kyirong/Gyirong/Jilong, XigazÍ/Rikaze/Shigatse Prefecture).
GLOBAL DISTRIBUTION
Occurs along the southern edge of the Himalaya, from northern Pakistan (Azad Jammu and Kashmir; Khyber Pakhtunkhwa) to Sikkim, Assam and the Naga Hills of northeast India, and north just into Xizang/Tibet, China.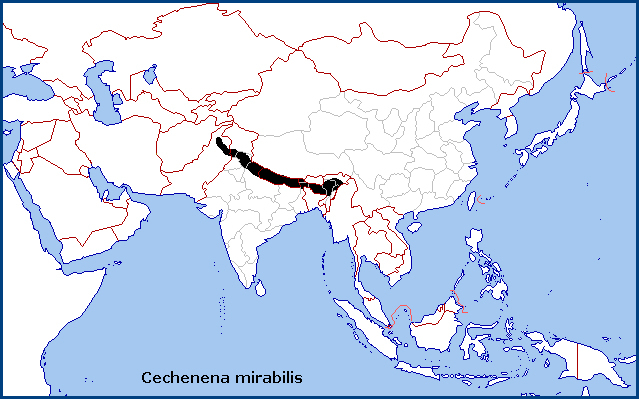 BIOGEOGRAPHICAL AFFILIATION
Holarctic; eastern Palaearctic region. Pleistocene refuge: Monocentric -- eastern section of Sindian refuge.
---

Return to Sphingidae of the Eastern Palaearctic species list
---
© A. R. Pittaway & I. J. Kitching (Natural History Museum, London)