---
CALLAMBULYX KITCHINGI Cadiou, 1996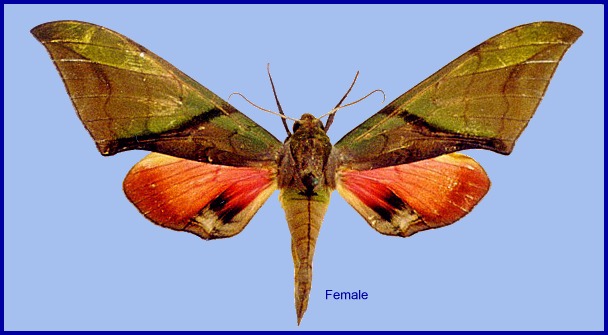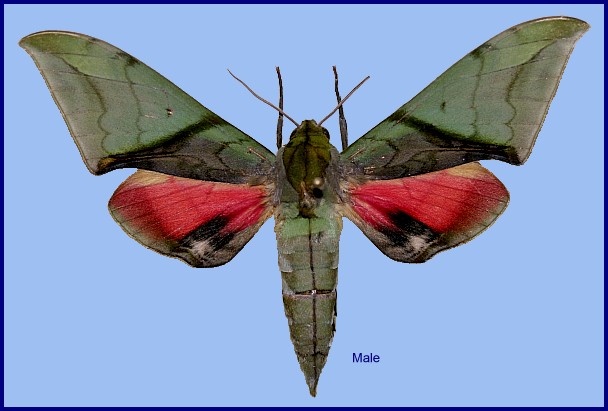 TAXONOMY
Callambulyx kitchingi Cadiou, 1996, Ent. Africana 1: 15. Type locality: China, Fukien [Fujian], Kuatun [10km NNE of Shaowu, 27°40'N 117°40'E].
Note. In central and southern Vietnam this species is replaced by Callambulyx schintlmeisteri Brechlin, 1997, a species which appears to have been erroneously synonymized with Callambulyx kitchingi by Eitschberger & Nguyen (2018), as indicated by DNA barcode sequences. Three samples in BOLD from central Vietnam identified as Callambulyx schintlmeisteri, which have inter-sample divergences of 0% to 0.25%, diverge from individuals of Callambulyx kitchingi from northern Vietnam by 3.4% to 6.02%. Fourteen samples of Callambulyx kitchingi in BOLD (as of 18.xii.2018), 13 from China and one from Lang Son, northern Vietnam, show divergences ranging from 0% to 0.93%, well within the range of individual variation of a Smerinthine species. Furthermore, the divergences between the Vietnamese sample and those from China were 0.16% to 0.64%, well within the overall range for the species.
ADULT DESCRIPTION AND VARIATION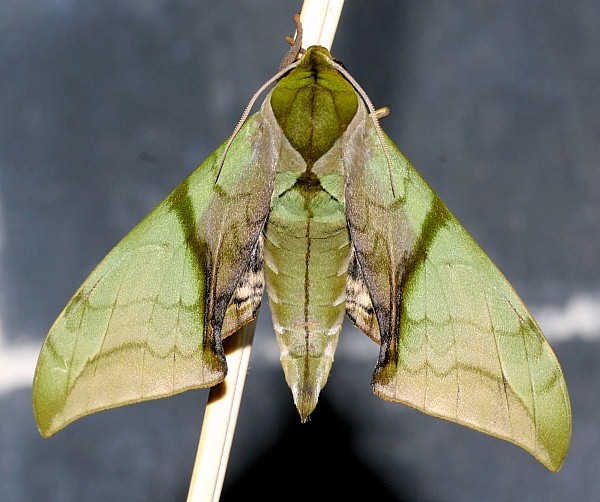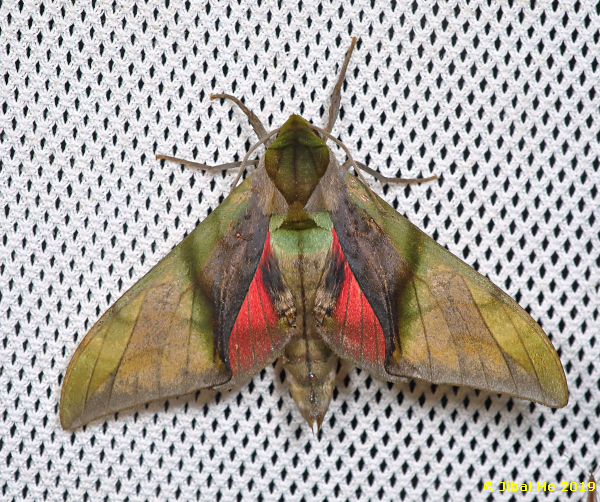 ADULT BIOLOGY
FLIGHT-TIME
China: iv (Longyan); 13.v (Simianshan); 11-25.vi (Duowen Ling, nr Lingao; Yongzhou; Wanning); 12.vi (Jiangle); 20-29.vi (Jiulian Shan; Le'an); 8.vii-16.vii (10km NNE of Shaowu; Wuyi Shan); 15.vii (Dayao Shan); 13-24.vii (Emei Shan); viii (Guangze; Nankunshan); ix (Guangdong).
EARLY STAGES
Documented by Eitschberger & Nguyen (2018).
Larval hostplants. Reared in captivity on Salix caprea (Eitschberger & Nguyen, 2018). Unknown in the wild.
PARASITOIDS
Unknown.
LOCAL DISTRIBUTION
China: Anhui (Mt. Huang Shan); Sichuan (Emei Shan); Chongqing (Simianshan, 1060m); Guizhou (Xinzhaidashan, Zhijin County, 1000-2000m); Hunan (Mt. Yangmingshan, nr Yongzhou); Jiangxi (Jiulian Shan; Le'an; Wuyi Shan, 1400-1500m); Fujian (10km NNE of Shaowu, 2300m; Jiangle; Longyan, Chiyantou Shan; Wuyi Shan, 1400m); Guangdong (Nankunshan, NE of Guangzhou); Guangxi (Dayao Shan, 1400m (24°07'N 110°14'E)); Hainan (Duowen Ling, nr Lingao; Longhushan, Wenchang City; Niushangling, nr Wanning, 1288m).
Originally described from Fujian. However, records of Callambulyx r. rubricosa from Sichuan and Jiangxi (Wang, 1992; Wang & Zhao, 1993) are identifiable from accompanying illustrations as Callambulyx kitchingi. Records of 'Callambulyx rubricosa' from Hunan, Hubei, Jiangxi and Guizhou are also probably Callambulyx kitchingi.
GLOBAL DISTRIBUTION
Central and southern China, and down into northern Vietnam.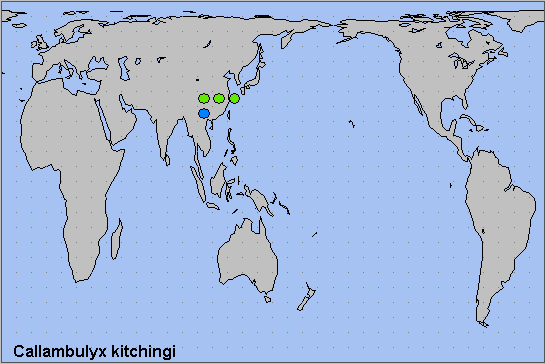 BIOGEOGRAPHICAL AFFILIATION
Holarctic; eastern Palaearctic region. Pleistocene refuge: Monocentric -- Yunnan refugium.
---

Return to Sphingidae of the Eastern Palaearctic species list
---
© A.R. Pittaway & I.J. Kitching (The Natural History Museum, London)