---
CLANIS HYPERION Cadiou & Kitching, 1990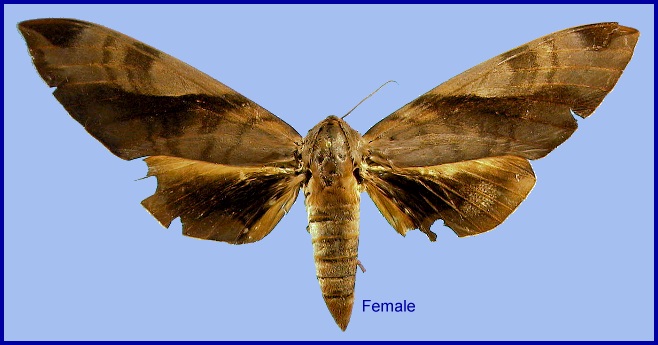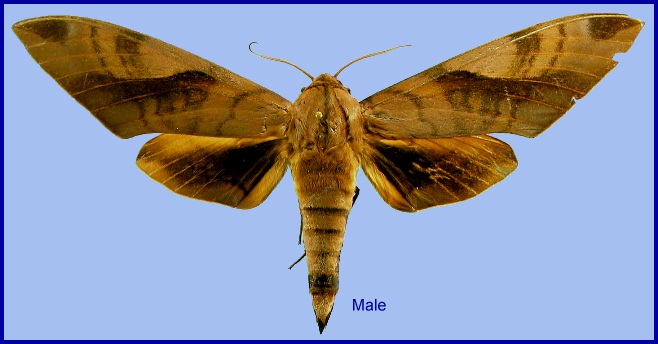 TAXONOMY
Clanis hyperion Cadiou & Kitching, 1990, Lambillionea 90(4): 9. Type locality: Thailand, Chiang Mai, Mae Taeng, Pamieng Hom Ha, Ban Muang Gai.
ADULT DESCRIPTION AND VARIATION
Forewing apex falcate; central pale area extends from costa to termen, with almost straight ventral margin. Underside of forewing without black streak. Legs pinkish with no trace of white. Otherwise, very like C. titan.
ADULT BIOLOGY
Unknown.
FLIGHT-TIME
China: Information not available.
In Thailand, March to October (Inoue, Kennett & Kitching, [1996] 1997).
EARLY STAGES
OVUM: Unknown.
LARVA: Unknown.
PUPA: Unknown.
Larval hostplants. Unknown.
PARASITOIDS
Unknown.
LOCAL DISTRIBUTION
China: Yunnan (Gaoligong Shan).
GLOBAL DISTRIBUTION
From southern China (Yunnan) to northern Thailand, northeastern India (Nagaland) and Bhutan (Irungbam & Kitching, 2014).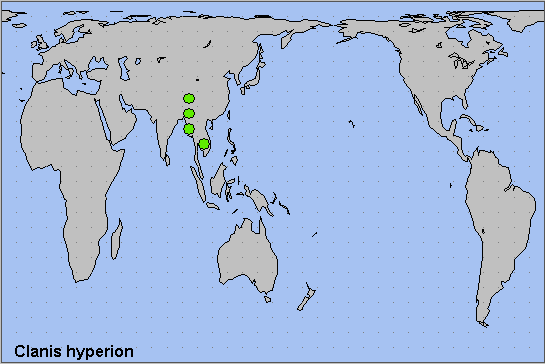 BIOGEOGRAPHICAL AFFILIATION
Holarctic; eastern Palaearctic region. Pleistocene refuge: Monocentric -- Yunnan refugium.
---

Return to Sphingidae of the Eastern Palaearctic species list
---
© A.R. Pittaway & I.J. Kitching (The Natural History Museum, London)