---
CYPA DECOLOR DECOLOR (Walker, 1856) -- Common cypa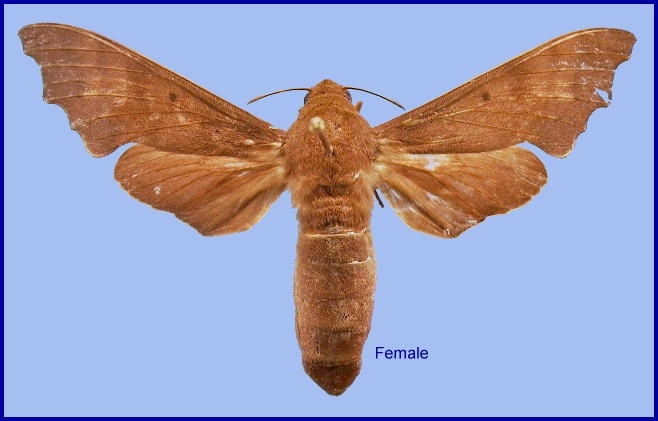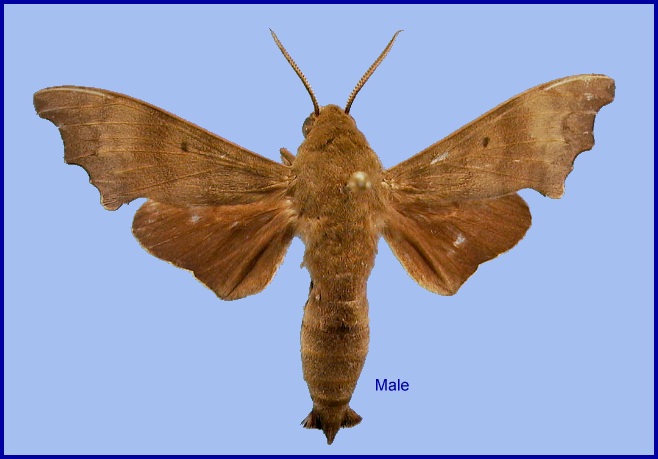 TAXONOMY
Smerinthus decolor Walker, 1856, List Specimens lepid. Insects Colln Br. Mus. 8: 255. Type locality: Hindostan [India].
Synonym. Cypa incongruens Butler, 1881.
Synonym. Smerinthulus chinensis Rothschild & Jordan, 1903.
Synonym. Cypa decolor manilae Clark, 1930.
ADULT DESCRIPTION AND VARIATION
Wingspan: 50--82mm. Upperside brown; outer half of forewing with a clayish or ochraceous-clay tint between dark shadowy bands. On forewing underside this pale tint, often conspicuous in male, almost forming two blotches between M1 and Cu1; termen shaded with blackish-brown; terminal area as a whole not contrasting strongly with proximal two-thirds of wing, particularly in female. Distal margin of forewing irregular, prominently lobed at M2; palpus about as long as the distance from its apex to base of antenna, segments 2 and 3 being about twice as long as broad (inclusive of scaling) (Bell & Scott, 1937). Thus similar to Cypa terranea, but less greenish brown dorsally. Undersides of both wings with the fasciae straight, that of the forewing with pale grey on both sides; a reddish brown triangular zone at the base of the wings takes up half their area.
In the male genitalia, uncus narrows suddenly after base; apex pointed, not divided. Gnathos absent. Valva elongate, triangular, with a dorso-basal flat process. Harpe with a basal, slender, rod-like clubbed process and a more distal triangular process extending to dorsal margin of valva. Aedeagus armed terminally with horizontal slender process. In the female genitalia, tergum A8 grooved medially, groove widening at base and below. Sterigma: lamella antevaginalis short not strongly sclerotised; lamella postvaginalis in form of a triangular rounded-truncated plate.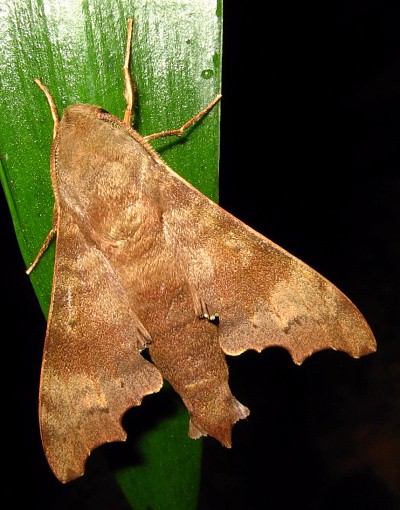 ADULT BIOLOGY
FLIGHT-TIME
EARLY STAGES
OVUM:
LARVA:
PUPA:
Larval hostplants. Quercus and Castanopsis (Inoue, Kennett & Kitching, [1996] 1997).
PARASITOIDS
LOCAL DISTRIBUTION
China: Yunnan.
GLOBAL DISTRIBUTION
Northeastern India, Nepal, Burma/Myanmar, southwestern China, Thailand, Laos, Vietnam, Malaysia (Sarawak), Indonesia (Sumatra, Kalimantan) and the Philippines (Inoue, 1996).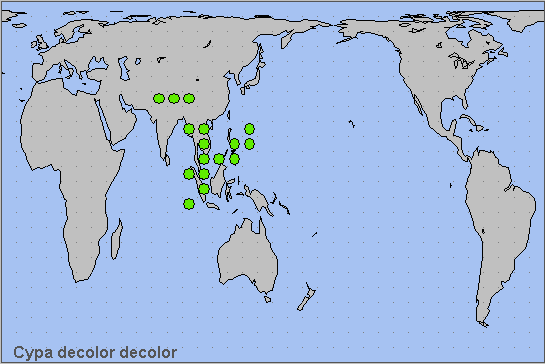 BIOGEOGRAPHICAL AFFILIATION
---

Return to Sphingidae of the Eastern Palaearctic species list
---
© A.R. Pittaway & I.J. Kitching (The Natural History Museum, London)