---
AMBULYX TOBII Inoue, 1976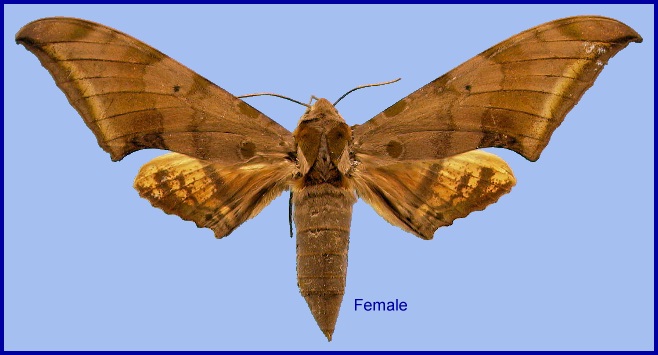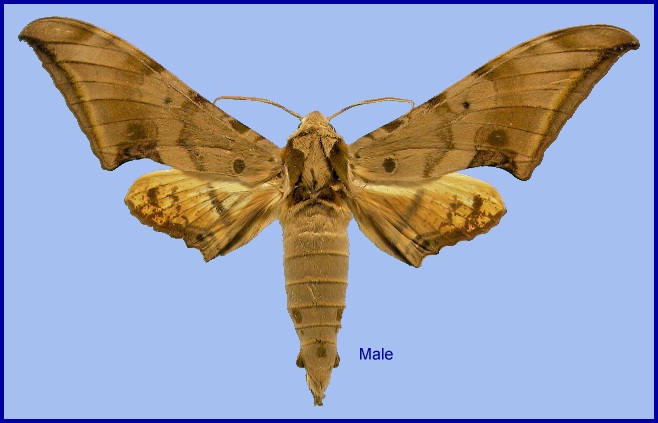 TAXONOMY
Oxyambulyx sericeipennis tobii Inoue, 1976, Bull. Fac. domest. Sci. Otsuma Wom. Univ. 12: 173. Type locality: Japan, "Nakatsugawa, Sumoto City, Awajishima" <<Shimane, Ichibata>>.
Synonym. Oxyambulyx sericeipennis tobii Inoue, 1976.
Synonym. Ambulyx sericeipennis pirika Kishida, 2018.
ADULT DESCRIPTION AND VARIATION
Wingspan: 105--117mm.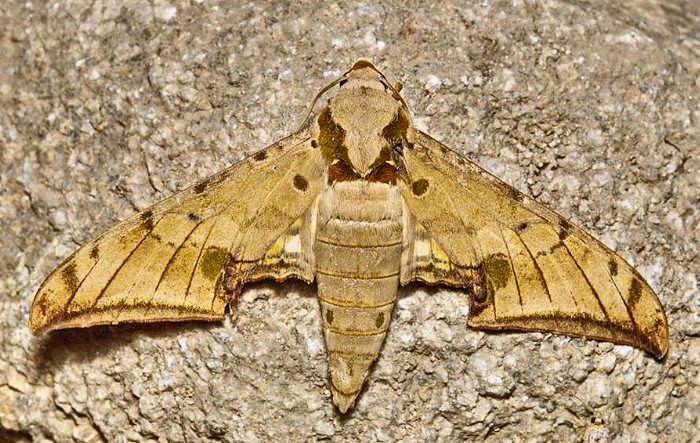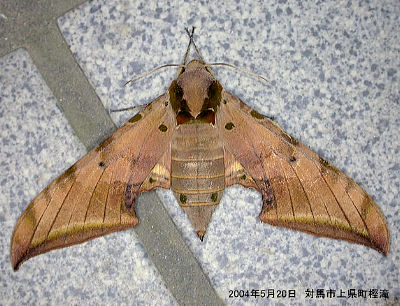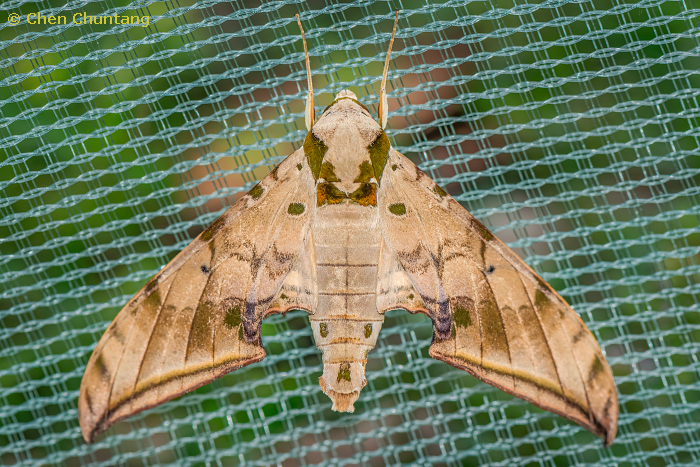 ADULT BIOLOGY
FLIGHT-TIME
China: iv (Fujian; Yunnan); v (Sichuan); vi-vii (Shaanxi); vii (Qinghai; Guangxi; Jiangxi; Beijing; Hubei); viii (Guangdong; Xizang/Tibet). Taiwan: v-vi (Nantou Hsien). North Korea: 15-29.v (North Pyongan Province); 1-12.vii (North Pyongan Province). South Korea: viii ([unstated locality]). Japan: 29.iv-26.vi (Shikoku); 30.iv-22.vi (Honshu); v-vi (Tsushima; Hokkaido); 4.vi-15.vii (Hokkaido); viii (Kyushu); 15.viii (Shikoku). Russia: 31.v-5.vii (Primorskiy Krai).
EARLY STAGES
OVUM: Unknown.
LARVA: Unknown.
PUPA: Unknown.
Larval hostplants. In the southern Primorskiy Krai on Acer mandshuricum Maxim. (Zolotuhin & Yevdoshenko 2019). It has also been reared on Acer pictum Thunb. by A. A. Voronkov (Koshkin et al, 2021). Recorded from Japan on Juglans ailanthifolia Carrière, but this may be erroneous.
PARASITOIDS
Unknown.
LOCAL DISTRIBUTION
China: Beijing (Baihua Shan); Tianjin (Baxian Shan, 450m); Shaanxi (Haozhenzi village, 1350m; Qingling Shan, Taibai Shan, Foping Nature Reserve, 1800m); Qinghai (Nangqian); Zhejiang (Kuocang Mountain Nature Reserve); Hubei (Luotian 1729m); Sichuan (Wolong National Nature Reserve, 1300m); Yunnan (5km N Hutiao Xia, 2200m); Xizang/Tibet (Motuo National Park, near Indian border); Hunan; Jiangxi (Wuyi Shan, Xipaihe village, 1500m); Fujian (Daimao Shan, 60km NW Longyan, 1300m); Guangdong (Nanling, Shaoguan, 1100m); Guangxi (Dayao Shan, Jinxiu, 1200m).
Taiwan: Nantou Hsien (3km SW Tsuifeng, 2100m).
North Korea: North Pyongan Province (Chonma County, Chonma-san).
South Korea: Kyonggi Province (Yongjong-do); Kangwon Province (Seolak-san; Chuncheon); North Cholla Province (Daedun-san; Jiri-san); South Cholla Province (Baekyang Temple); South Kyongsang Province (Baekun-san).
Japan: Hokkaido (Jozankei; Nanaemachi; Osima; Shibinai; Sapporo, 800m; Kamikawa-cho); Honshu (Ichibata; Shirikubiyama; Takada City; Funagatayama); Shikoku (Nagaomachi; Shioemachi; Takamatsu); Kyushu (Kitakyushu City); Tsushima (Izumi; Shirikubiyama).
Russia: Khabarovskiy Krai (Bikin area); Primorskiy Krai (Khasan area (Gusevskiy mine; Zanadvorovka; Andreevka); Oktyabrskiy area (Sinel'nikovo-1); Kaimanovka; Vladivostok area (Shamora Pass); Ryazanovka; 3km SW Barabash; Chernigovsky area). This species is a very recent (2011) colonist of this region (Koshkin & Bezborodov, 2013; Koshkin et al, 2015 & 2021).
GLOBAL DISTRIBUTION
From Japan (Komatsu & Inoko, 2000), Russian Far East (Koshkin & Bezborodov, 2013; Koshkin et al, 2015 & 2021) and South Korea down through eastern China to Bhutan, Sikkim (Khan & Raina, 2017), Xizang/Tibet, Yunnan, Vietnam and Taiwan.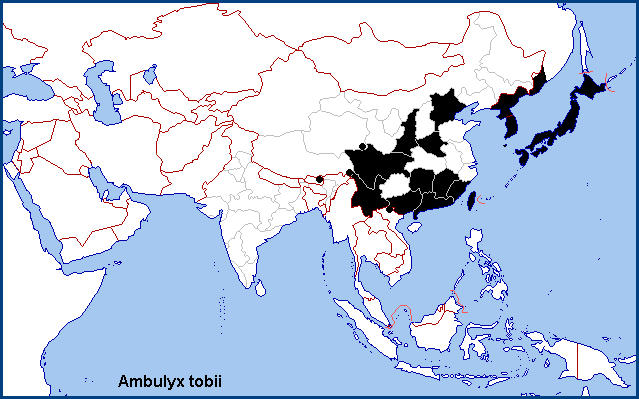 BIOGEOGRAPHICAL AFFILIATION
---

Return to Sphingidae of the Eastern Palaearctic species list
---
© A.R. Pittaway & I.J. Kitching (The Natural History Museum, London)