---
AMPELOPHAGA THOMASI Cadiou & Kitching, 1998 -- Thomas' vine hawkmoth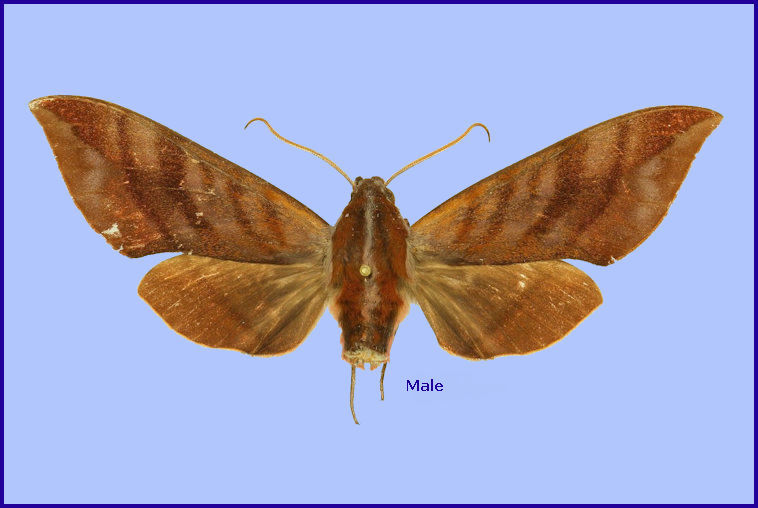 TAXONOMY
Ampelophaga thomasi Cadiou & Kitching, 1998, Lambillionea 98: 353. Type locality: India, West Bengal, Darjeeling [Darling], about 8km from 3 Miles Village on road to Mangpu, 1900m.
ADULT DESCRIPTION AND VARIATION
Wingspan: 80--90mm.
ADULT BIOLOGY
At about 2400m altitude.
FLIGHT-TIME
China: 3-7.vii (Lhunze, Xizang/Tibet; Zhangmu, Xizang/Tibet).
EARLY STAGES
OVUM: Unknown.
LARVA: Unknown.
PUPA: Unknown.
Larval hostplants. Unknown..
PARASITOIDS
LOCAL DISTRIBUTION
China: Xizang/Tibet (Zhari Town, nr. Lhunze; Zhangmu, Nyalam County).
GLOBAL DISTRIBUTION
Nepal, northern India (Sikkim, northern West Bengal), Bhutan (Norbu et al., 2022), and just into the tropical Tibetan border towns of Zhangmu and Zhari.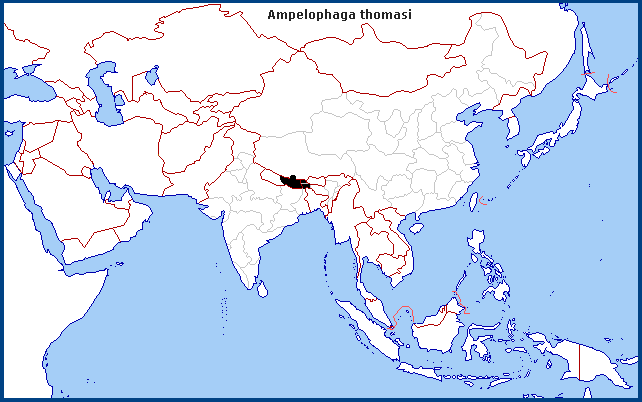 BIOGEOGRAPHICAL AFFILIATION
---

Return to Sphingidae of the Eastern Palaearctic species list
---
© A. R. Pittaway & I. J. Kitching (Natural History Museum, London)