---
ACOSMERYX ANCEUS SUBDENTATA Rothschild & Jordan, 1903 -- Rosy forest hawkmoth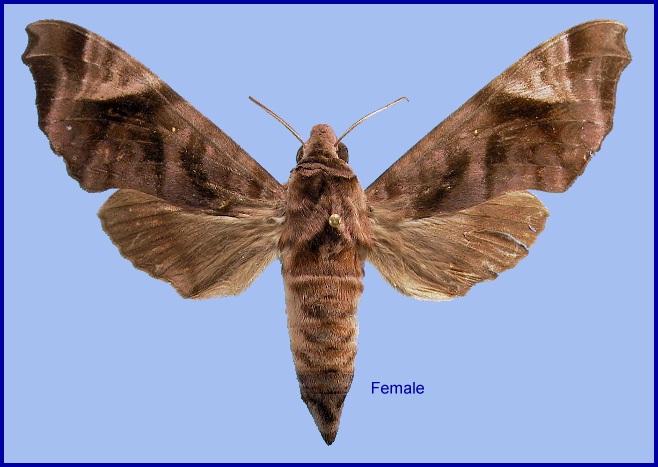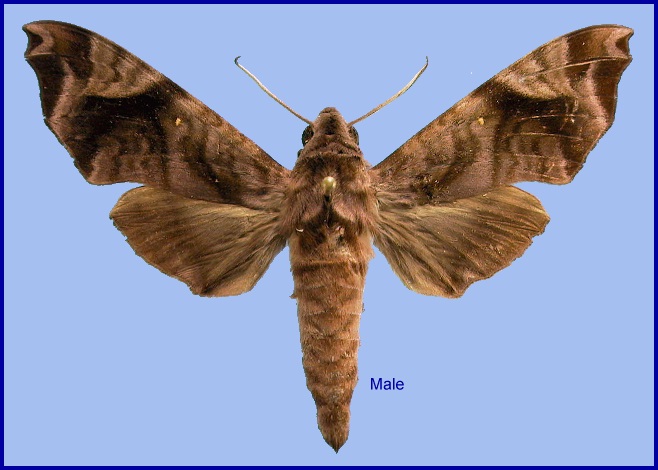 TAXONOMY
Acosmeryx anceus subdentata Rothschild & Jordan, 1903, Novit. zool. 9 (suppl.): 528. Type locality: [India,] Sikhim [Sikkim]; [India, Meghalaya,] Cherrapunji; [India, Meghalaya,] Khasia Hills [Khasi Hills]; Bhutan; [Indonesia,] Sumatra [Sumatera]; [Indonesia,] Java [Jawa].
ADULT DESCRIPTION AND VARIATION
Wingspan: 70--88mm. The smallest species of the genus, and markings different from those of all the other species. Forewing distinctly angulate at vein M3, often with traces of teeth. Upperside: tawny-cinnamon to chestnut-brown; an oblique distal band diffuse posteriorly; first discal line heavy, continuous; greyish costal apical area stopping at M1 or beyond it; a broad, curved, pinkish-grey submarginal line continuous with apical lunules of the same colour. Hindwing fuscous. Underside: forewing ochraceous clay-colour; a subapical, triangular, costal, chestnut patch extending to M1, straight proximally, where it is bordered by a grey or pinkish-grey line or patch; outer disc between M1 and 2A+3A pinkish-vinaceous or vinaceous-cinnamon, not so dark as the subapical patch; pinkish-grey submarginal scaling extended basad, basal half of costal margin of the same colour as the hindwing. Hindwing vinaceous, brown marginal border reaching M2 only half-way to second pair of discal fines. Palpus, breast and first two abdominal sternites pinkish (Bell & Scott, 1937).
In the male genitalia, harpe much more prolonged than in the other species. Aedeagus with a broad left process rounded at end and dentate at distal and proximal edges.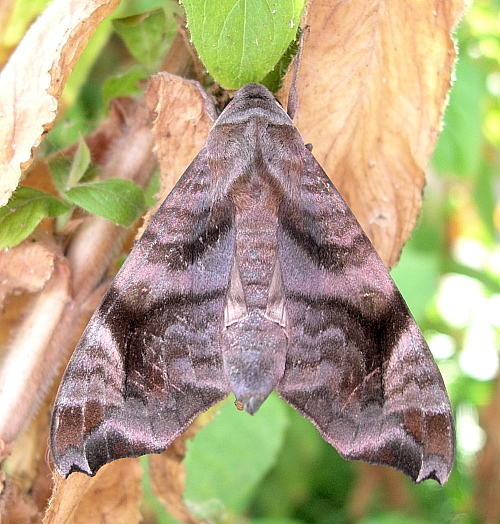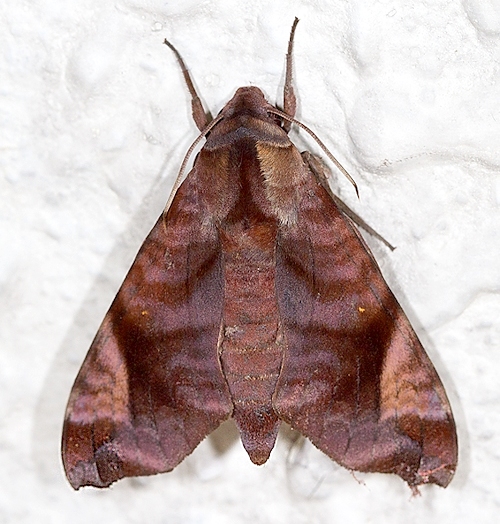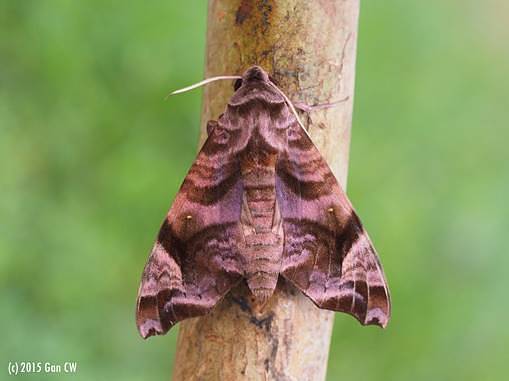 ADULT BIOLOGY
In southern India, a species of dense forests with heavy rainfall, from sea-level to about 2000' altitude (Bell & Scott, 1937). This is the same for Yunnan, China (Pittaway, pers. obs.)
FLIGHT-TIME
China: 28.iii-11.vi (Hong Kong); v (Yunnan); vi (Jiangxi; Guangxi; Yunnan); 8.viii (Yunnan); 8.viii-29.x (Hong Kong).
EARLY STAGES
OVUM: Not documented.
LARVA: Full-fed 90--95mm long, 10mm wide. According to Bell & Scott (1937), in the final instar head round, body of the same shape as others of the genus. Horn down-curved, cylindrical to near tip, then narrowing abruptly to a short point; shiny, covered with small, flattened, pear-shaped tubercles. Head glaucous-green, tubercles white. Body green with short dark green longitudinal stripes above the flange. The dorso-lateral stripe, which extends from segment 2 to the base of the horn, is narrow and yellow on segment 2 to 5, broad and white on 6 to 12, and edged narrowly above by plum-colour, more broadly below by pink on 6 to 12. The flange is edged broadly with yellow on segments 2 and 3, and the anterior half of 4, but with brownish-maroon on the rest of 4 and 5. There are yellowish-green oblique lateral stripes on 6 to 11. Horn reddish-brown; true legs dark reddish-brown; anal flap edged with yellow. Spiracles white, the slit black and edged on each side with black, the whole with a shiny black rim (Bell & Scott, 1937).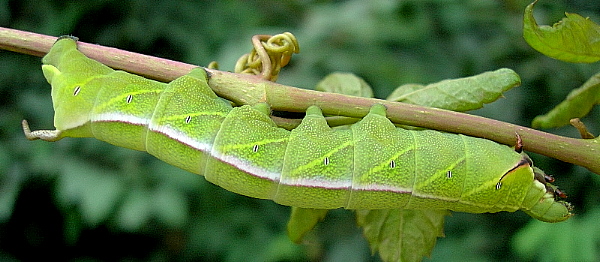 PUPA: 48mm.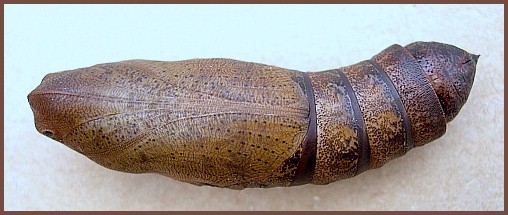 Larval hostplants. Leea, Cayratia, Cissus and Vitis (Inoue, Kennett & Kitching, [1996] 1997). On Taiwan, on Ampelopsis brevipedunculata.
PARASITOIDS
LOCAL DISTRIBUTION
China: Yunnan (Changning Co., Songzhishanding, 2800m; Xishuangbanna Co., Yexianggu; Simao/Pu'er); Jiangxi (Le'an); Guangxi (Guigang; Guiping Station, Longtan National Forest Park); Hong Kong (Tai Po; Lam Tsuen Valley; Kam Tin Valley; Sai Kung (Sterling & Kendrick, 2011)); Hainan (Duowen Ling, nr Lingao).
Taiwan: Lu Tao; Orchid Island/Botel Tobago.
GLOBAL DISTRIBUTION
Southern and eastern India, Nepal, Bhutan, Thailand, southwestern China (Yunnan, Guangxi, Hong Kong), Vietnam, Malaysia (Peninsular, Sarawak), Indonesia (Sumatra, Java, Kalimantan, Sumbawa), the Philippines (Inoue, 1996).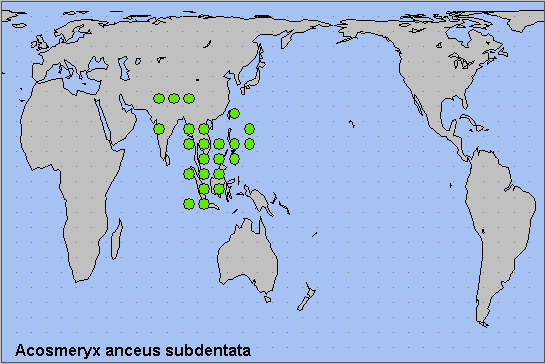 BIOGEOGRAPHICAL AFFILIATION
---

Return to Sphingidae of the Eastern Palaearctic species list
---
© A.R. Pittaway & I.J. Kitching (The Natural History Museum, London)