---
ACOSMERYX SINJAEVI Brechlin & Kitching, 1998 -- Southern gliding hawkmoth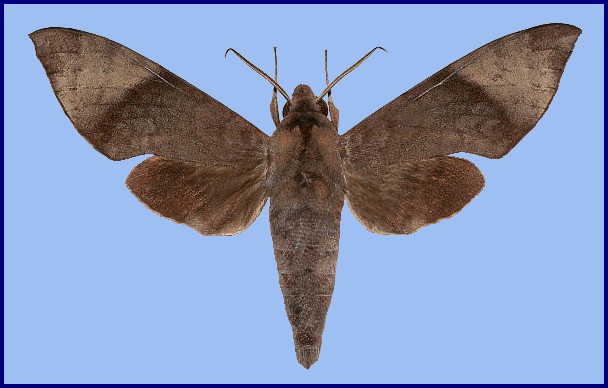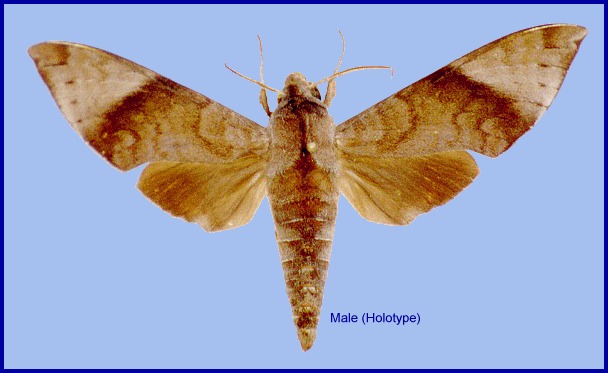 TAXONOMY
Acosmeryx sinjaevi Brechlin & Kitching, 1996, in Kitching & Brechlin, 1996, Nachr. Ent. Ver. Apollo (N.F.) 17: 62. Type locality: Northern Vietnam (Tonkin), Thanh Hoa, Ben En National Park, 40km southwest of Thanh Hoa, 18°40'N 105°40'E, 200m.
ADULT DESCRIPTION AND VARIATION
Very similar to Acosmeryx formosana (Matsumura).
ADULT BIOLOGY
Unknown.
FLIGHT-TIME
China: 20.ii-10.iv (Hainan); iv-vi (Fujian); vi (Hainan); vii (Hunan).
EARLY STAGES
OVUM: Unknown.
LARVA: Unknown.
PUPA: Unknown.
Larval hostplants. Unknown.
PARASITOIDS
Unknown.
LOCAL DISTRIBUTION
China: Hunan (Jiucai Ling, 1300m); Fujian (Shawuang Shan, near Shaowu, 1524m; Chiyantou Shan, near Longyan); Hainan (Wuzhi Shan, 1500m; Duowen Ling, nr Lingao).
GLOBAL DISTRIBUTION
Endemic to southern China and northern Vietnam.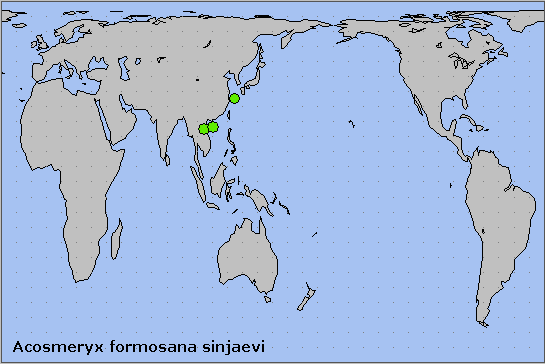 BIOGEOGRAPHICAL AFFILIATION
---

Return to Sphingidae of the Eastern Palaearctic species list
---
© A.R. Pittaway & I.J. Kitching (The Natural History Museum, London)