---
ACOSMERYX SHERVILLII Boisduval, [1875] -- Dull forest hawkmoth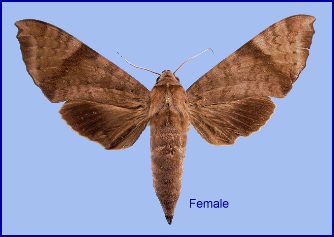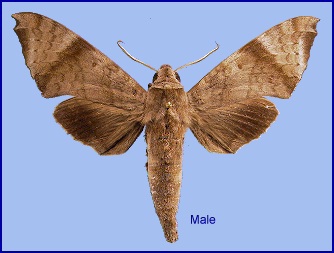 TAXONOMY
Acosmeryx shervillii Boisduval, [1875], in: Boisduval & Guenée, Hist. nat. Insectes (Spec. gén. Lépid. Hétérocères), 1: 217. Type locality: [India, West Bengal,] Darjeeling [Darling].
Synonym. Acosmeryx cinerea Butler, 1875.
Synonym. Acosmeryx miskini brooksi Clark, 1922.
Synonym. Acosmeryx socrates obliqua Dupont, 1941.
Note. Acosmeryx shervillii and Acosmeryx pseudonaga Butler, 1881 were until recently treated as forms of the same species. The latter was synonymized with Acosmeryx ancea [sic] by Hampson, [1893], Fauna Brit. India 1: 82; then with Acosmeryx socrates by Rothschild & Jordan, 1903, Novit. zool. 9 (suppl.): 533. Synonymized with Acosmeryx shervillii as a form by Holloway, 1987, Moths of Borneo 3: 149. Erroneously treated as a synonym of Acosmeryx socrates by Bridges, 1993, Cat. Fam. Gen. Spec. Sphingidae of the World: VIII. 1. Reinstated as a species by Haruta, 1994, Tinea 14 (suppl. 1): 156. Resynonymized with Acosmeryx shervillii by Inoue et al., [1996], Moths of Thailand 2: 68. Reinstated as a species by Hogenes & Treadaway, 1998, Nachr. entomol. Ver. Apollo Suppl. 17: 66. The two are now regarded as two distinct species.
ADULT DESCRIPTION AND VARIATION
ADULT BIOLOGY
FLIGHT-TIME
China: 10-13.iii (Yunnan); 15.iv (Yunnan); v (Yunnan); vi-vii (Hainan); viii (Fujian; Yunnan); ix (Shaanxi).
EARLY STAGES
OVUM:
LARVA: [Illustrated in Eitschberger & Ihle, 2008]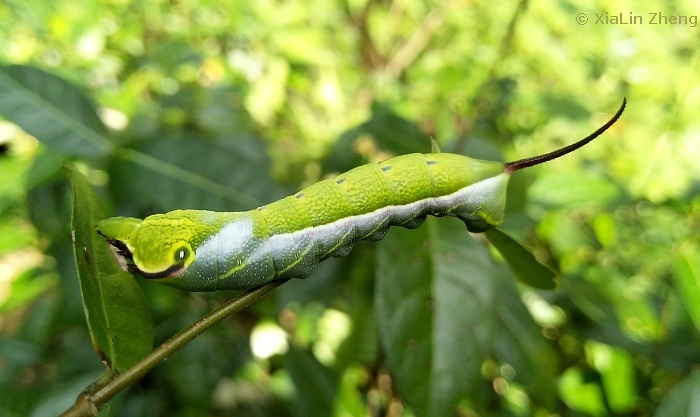 PUPA:
Larval hostplants. Actinidia, Cayratia, Cissus, Dillenia, Leea, Parthenocissus, Tetrastigma and Vitis.
PARASITOIDS
LOCAL DISTRIBUTION
China: ?Shaanxi (Xunyang, 1380m); Yunnan (Changning County, Songzhishanding, 2800m; Mengla County, Mt. Leigongyan, 2000m; Baoshan, 1540m; Simao/Pu'er; Gaoligong Shan; Honghe; Malipo County, Wenshan Zhuang and Miao Autonomous Prefecture, 1860m); Xizang/Tibet; ?Fujian (Guangze, 1200m); Hainan (Wenchang; ??Youboi).
GLOBAL DISTRIBUTION
From India (Andaman and Nicobar Islands, Assam, Darjiling, Sikkim, Uttarakhand, Arunachal Pradesh) across Bangladesh, Nepal, Bhutan (Irungbam & Irungbam, 2019), Burma/Myanmar, China (Xizang/Tibet, Hainan, Fujian), Laos, Cambodia, Thailand, and Vietnam. An identifiable separate refugial entity also occurs in Malaysia (Peninsula, Sabah), ?Thailand, Singapore and Indonesia (Java, Sumatra).
[Acosmeryx pseudonaga Butler, 1881, occurs from northeastern India (Meghalaya, Nagaland, Darjiling, Uttarakhand, Arunachal Pradesh, Assam, Manipur, Sikkim) across Nepal, Bhutan, southern China (Guizhou, Hainan, Yunnan, Hong Kong), Myanmar/Burma, Thailand, Laos, Vietnam, Malaysia (Sarawak, Peninsula), and the Philippines (Palawan). An identifiable separate refugial entity can also be found in Thailand, Malaysia (Sabah, Sarawak, Peninsula), Indonesia (Java, Sumatra, Kalimantan), Brunei, and the Philippines (Palawan).]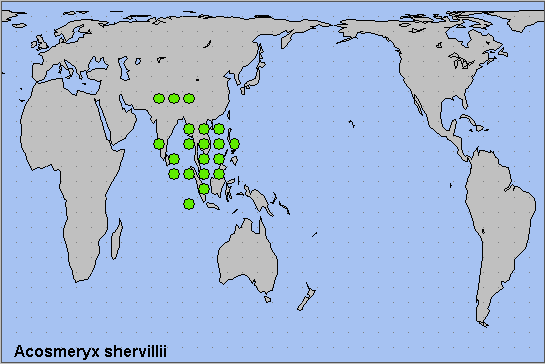 BIOGEOGRAPHICAL AFFILIATION
---

Return to Sphingidae of the Eastern Palaearctic species list
---
© A. R. Pittaway & I. J. Kitching (Natural History Museum, London)