---
AMBULYX SCHAUFFELBERGERI Bremer & Grey, 1853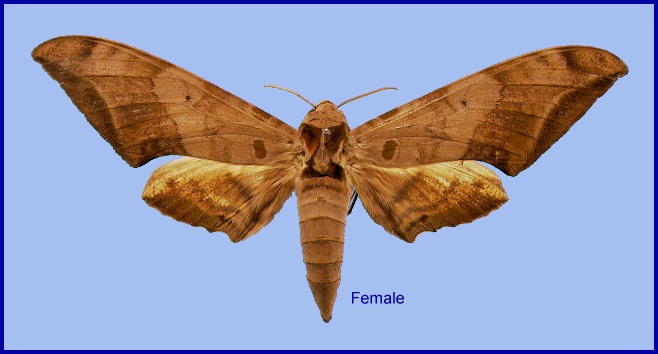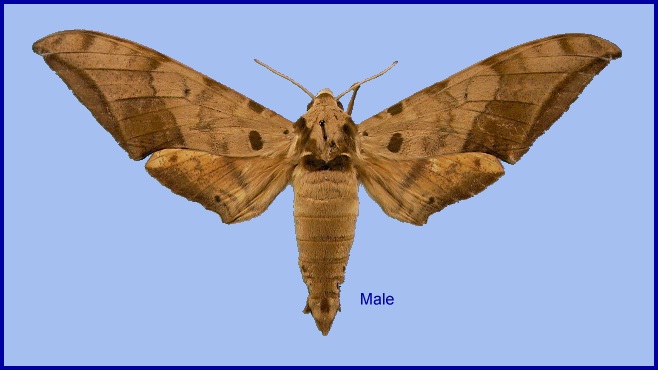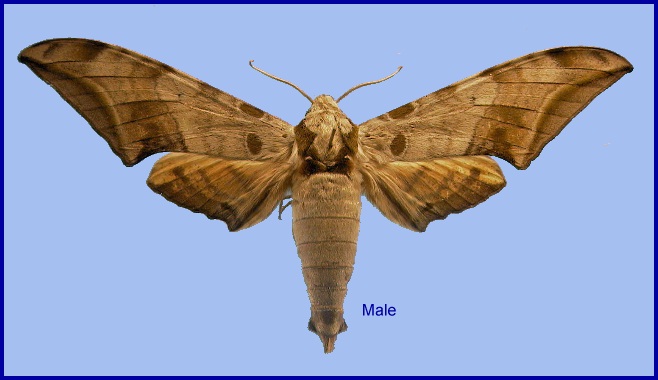 TAXONOMY
Ambulix [sic] schauffelbergeri Bremer & Grey, 1853, in Motschulsky (ed.), Etudes ent. 1: 62. Type locality: [China,] Pekin [Beijing].
Synonym. Ambulyx trilineata Rothschild, 1894.
Synonym. Oxyambulyx schauffelbergeri sobrina (Mell, 1922).
Synonym. Oxyambulyx schauffelbergeri siaolouensis Clark, 1937.
[Further details on this species in Japan, as well as photos of many stages, can be found on Digital Moths of Japan.]
ADULT DESCRIPTION AND VARIATION
Wingspan: 88--124mm.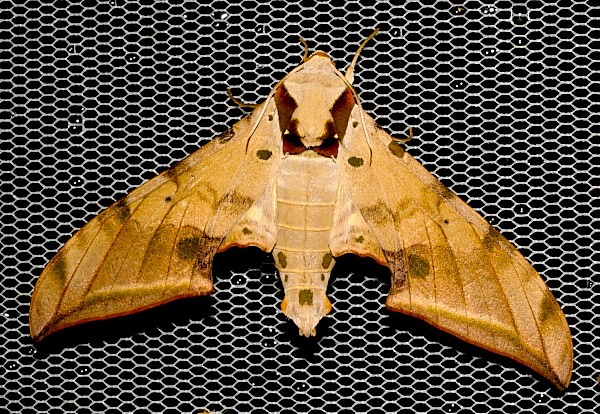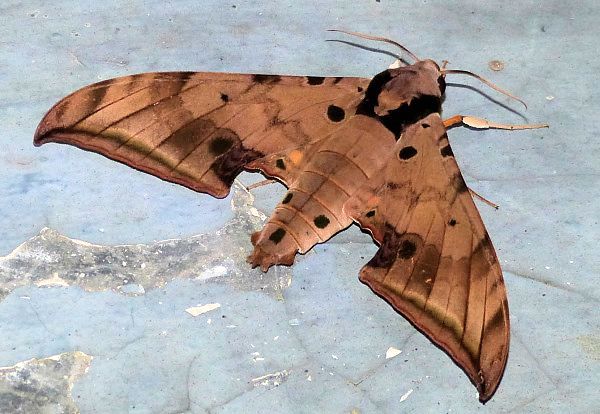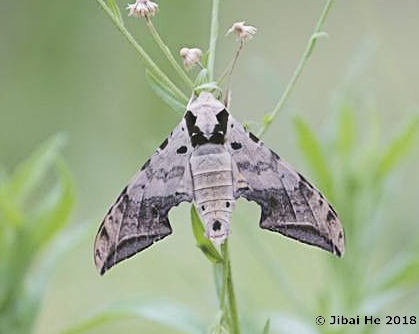 ADULT BIOLOGY
FLIGHT-TIME
China: iv (Guizhou; Zhejiang); v-vii (Fujian; Shanghai); vi (Sichuan; Jiangsu; Hubei; Beijing); vi-vii (Henan); 15.vii (Shaanxi). Japan: 12.v (Shikoku); 15.v-19.vi (Honshu); 10.vi (Hokkaido); 1-30.vii (Honshu; Hokkaido); viii (Honshu).
In northern China there are two generations per year, with adults flying in April and August (Yang, 1978).
Park et al. (1999) give June until August as the flight period in Korea.
EARLY STAGES
OVUM: Oval (1.46 x 1.63mm).
LARVA: 82--87mm.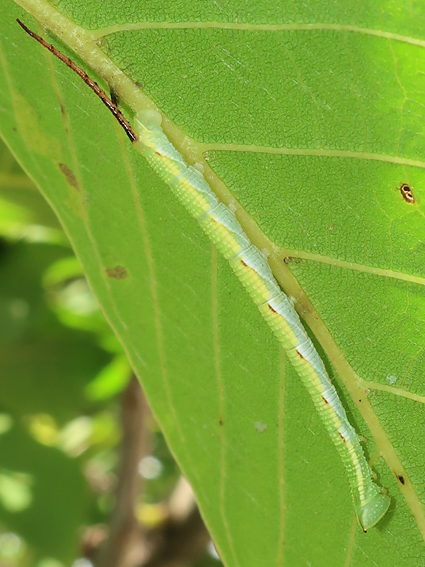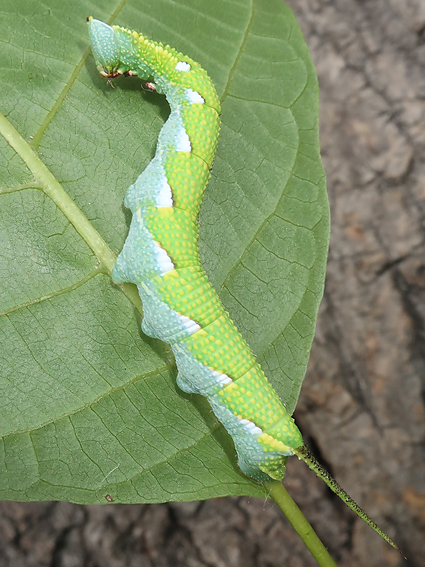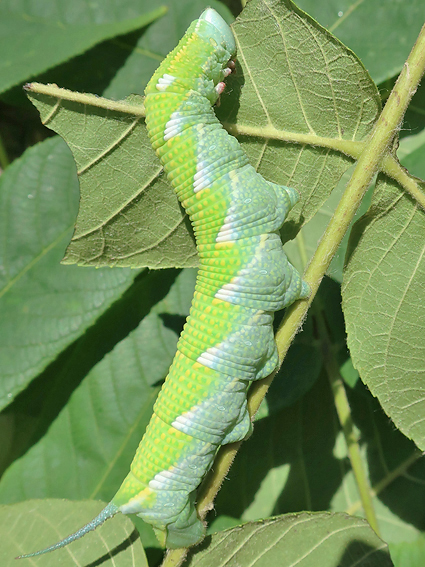 PUPA: 43--46mm.


Larval hostplants. Reported from Juglans regia in China (Wang, 1990; Vyacheslav Ivonin, pers. comm. 2022).
PARASITOIDS
LOCAL DISTRIBUTION
China: Liaoning (Changhai, Dachangshan Island); Hebei; Beijing (Baihua Shan; Badaling National Forest Park; Haidian); Shandong (Qingdao); Shaanxi (Ankang City, Huoditang Forest, 1400m); Jiangsu (Longtan); Anhui (Mt. Huang Shan); Shanghai (Jiading); Zhejiang (Tianmu Shan; Hangzhou); Hubei (Zhijiang; Mt. Guifeng, Macheng); Shanghai; Sichuan (Baoxing; Emei Shan; Kangding; Xiaolou; Leshan, 1070'); Chongqing (Fengjie); Yunnan; south Xizang/Tibet (Mutu, Namjagbarwa region, 850m (Wang, 1988)); Guizhou (Jiucai Ling; Xinzhaidashan, Zhijin County, 1000-2000m); Hunan (Dayong); Fujian (Longqi Shan; Emei Feng, 1300m); Guangdong; Hainan (Duowen Ling, nr Lingao).
North Korea: North Pyongan Province (Chonmasan); Hwanghae Province (Mt. Kuwol, 950m).
South Korea: Kyonggi Province (Gwangleung).
Japan: Hokkaido (Nanaemachi; Nari-gawa); Honshu (Tokyo; Gifu; Hakone; Nashimoto; Koike; Mikaboyama, 750m; Mt. Haruna; Izumigatake; Okura; Shirasawa; Tokatta; Miyota; Shimoinagun, 950m; Akadani); Shikoku (Shioemachi); Kyushu; Tsushima.
GLOBAL DISTRIBUTION
From northeastern India to northern Vietnam (Sa Pa, Lao Cai Province), eastern and central China, South Korea and Japan (Komatsu & Inoko, 2000).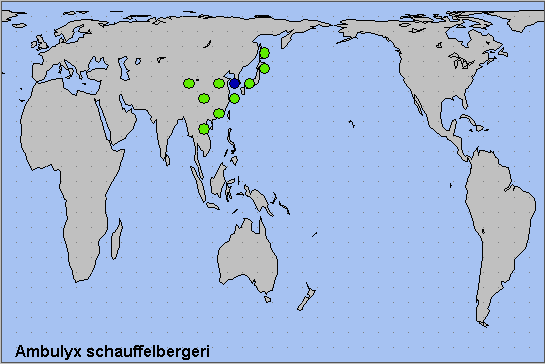 BIOGEOGRAPHICAL AFFILIATION
---

Return to Sphingidae of the Eastern Palaearctic species list
---
© A. R. Pittaway & I. J. Kitching (Natural History Museum, London)