---
ACOSMERYX PSEUDONAGA Butler, 1881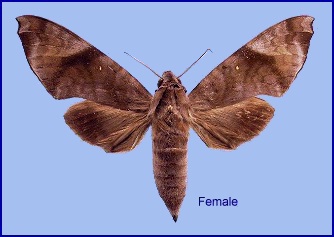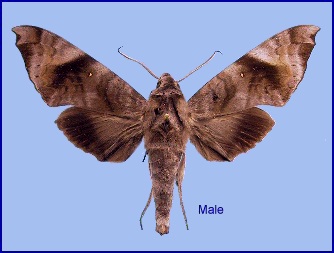 TAXONOMY
Acosmeryx pseudonaga Butler, 1881, Illustrations of typical specimens of Lepidoptera Heterocera in the collection of the British Museum, 5: 2. Type locality: Bhotan [Bhutan].
Synonym. Acosmeryx socrates subsp. cinerea f. obscura Dupont, 1941.
Note. Until recently treated as a from of Acosmeryx shervillii Boisduval, [1875]. Acosmeryx pseudonaga has in the past been synonymized with Acosmeryx ancea [sic] by Hampson, [1893], Fauna Brit. India 1: 82; then with Acosmeryx socrates by Rothschild & Jordan, 1903, Novit. zool. 9 (suppl.): 533. Synonymized with Acosmeryx shervillii as a form by Holloway, 1987, Moths of Borneo 3: 149. Erroneously treated as a synonym of Acosmeryx socrates by Bridges, 1993, Cat. Fam. Gen. Spec. Sphingidae of the World: VIII. 1. Reinstated as a species by Haruta, 1994, Tinea 14 (suppl. 1): 156. Resynonymized with Acosmeryx shervillii by Inoue et al., [1996], Moths of Thailand 2: 68. Reinstated as a good species by Hogenes & Treadaway, 1998, Nachr. entomol. Ver. Apollo Suppl. 17: 66.
ADULT DESCRIPTION AND VARIATION
Forewings darker than in Acosmeryx shervillii and with a strong yellow discal spot.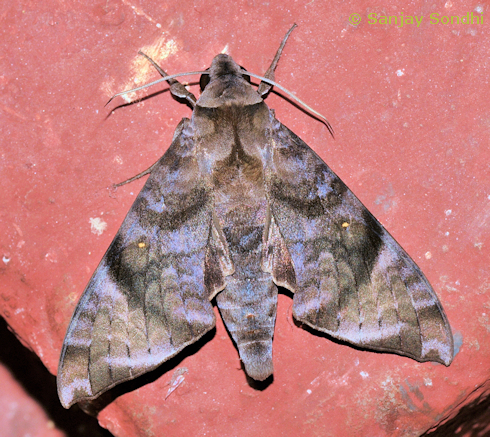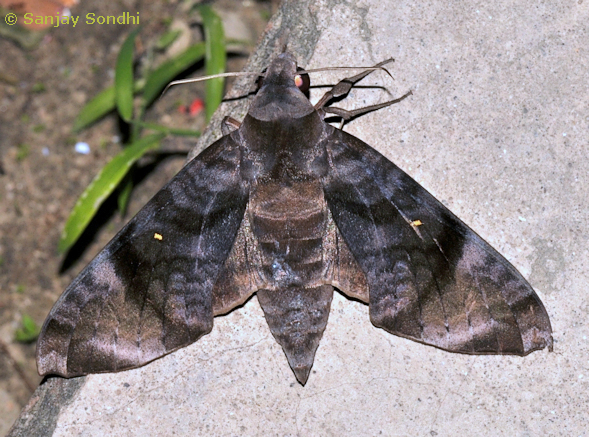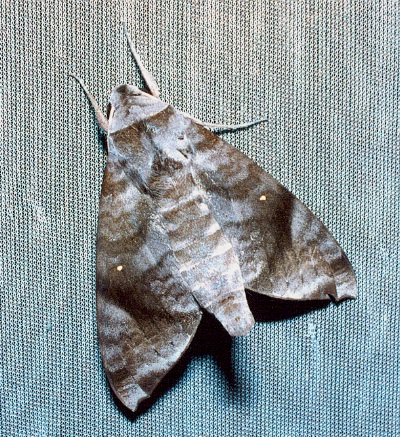 ADULT BIOLOGY
FLIGHT-TIME
China: iii-x (Hong Kong); viii (Yunnan).
Kendrick (2002) states that this common species is tri- or multivoltine in Hong Kong, occurring from early March until early October.
EARLY STAGES
OVUM: Unrecorded.
LARVA: Unrecorded.
PUPA: Unrecorded.
Larval hostplants. Cayratia, Cissus and Leea.
PARASITOIDS
Unknown.
LOCAL DISTRIBUTION
China: Yunnan (Honghe); Guizhou; Hong Kong; Hainan (Wenchang).
GLOBAL DISTRIBUTION
Occurs from northeastern India (Meghalaya, Nagaland, Darjiling, Uttarakhand, Arunachal Pradesh, Assam, Manipur, Sikkim) across Nepal, Bhutan, southern China (Guizhou, Hainan, Yunnan, Hong Kong), Myanmar/Burma, Thailand, Laos, Vietnam, Malaysia (Sarawak, Peninsula), and the Philippines (Palawan). An identifiable separate refugial entity can also be found in Thailand, Malaysia (Sabah, Sarawak, Peninsula), Indonesia (Java, Sumatra, Kalimantan), Brunei, and the Philippines (Palawan).
[Acosmeryx shervillii Boisduval, [1875] occurs from India (Andamans, Assam, Darjiling, Sikkim, Uttarakhand, Arunachal Pradesh) across Bangladesh, Nepal, Bhutan (Irungbam & Irungbam, 2019), Myanmar/Burma, China (Xizang/Tibet, Hainan, Fujian), Laos, Cambodia, Thailand, and Vietnam. An identifiable separate refugial entity also occurs in Malaysia (Peninsula, Sabah), ?Thailand, Singapore and Indonesia (Java, Sumatra).]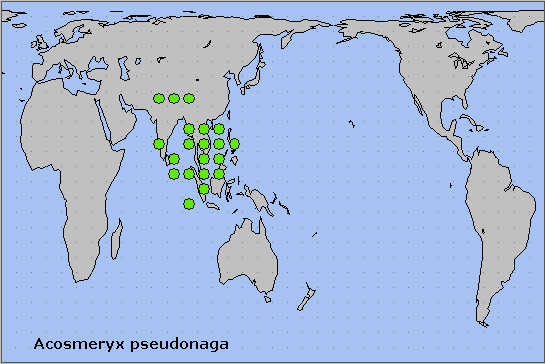 BIOGEOGRAPHICAL AFFILIATION
---

Return to Sphingidae of the Eastern Palaearctic species list
---
© A.R. Pittaway & I.J. Kitching (The Natural History Museum, London)