---
AMBULYX OCHRACEA Butler, 1885 -- Ochreous gliding hawkmoth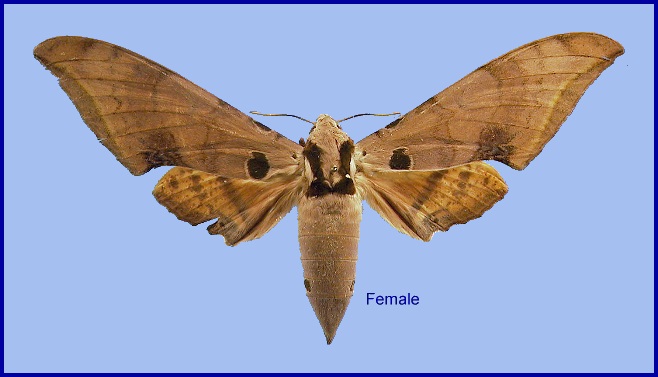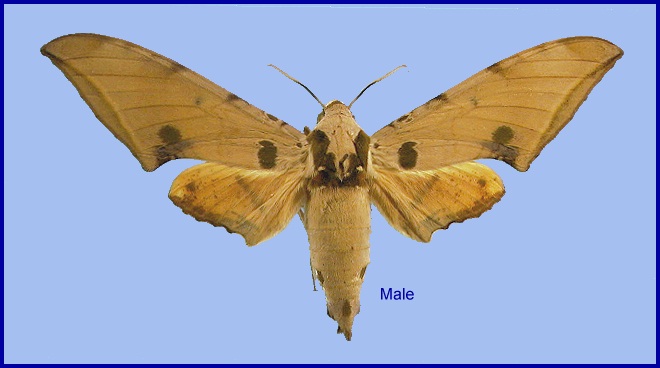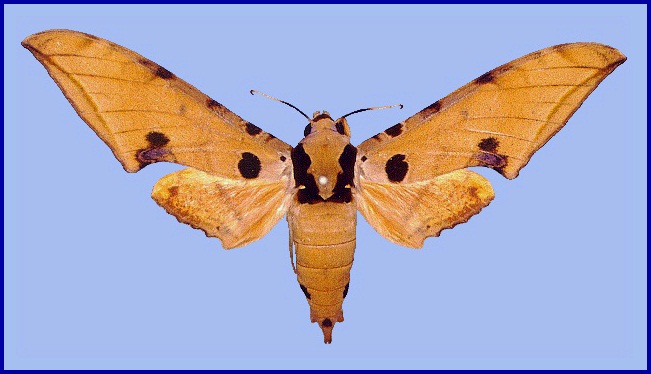 TAXONOMY
Ambulyx ochracea Butler, 1885, Cistula ent. 3: 113. Type locality: Japan, [Honshu, Tochigi,] Nikko.
[Further details on this species in Japan, as well as photos of many stages, can be found on Digital Moths of Japan.]
ADULT DESCRIPTION AND VARIATION
Wingspan: 85--114mm. Both sexes without a dorsal line on abdomen, but the male has a patch on the eighth tergite. The posterior subbasal patch of forewing very large, larger than the costal patch. The male is the most uniformly yellow species of the Indo-Malay Ambulyx; the female is darker than the male (Bell & Scott, 1937).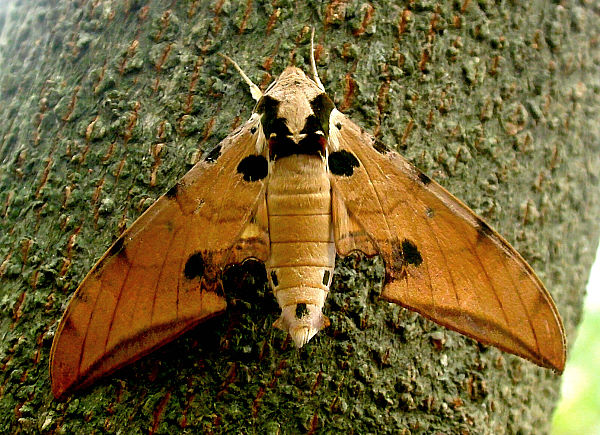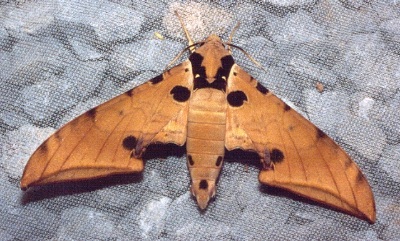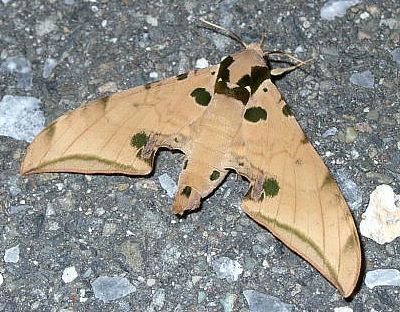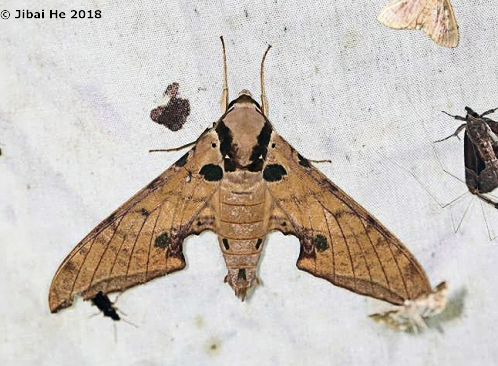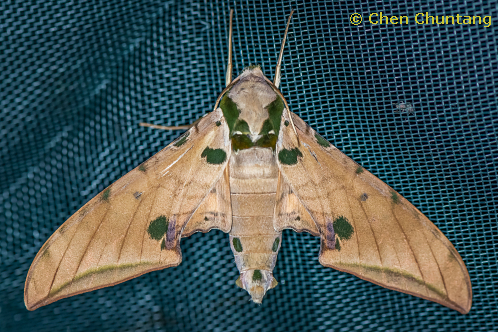 ADULT BIOLOGY
In India, Bell & Scott (1937) caught a specimen at rubiaceous flowers along with a female A. sericeipennis. This indicates that these two species feed as adults.
FLIGHT-TIME
China: ii (Guangdong); 31.v-2.vi (Guangdong); vi (Yunnan; Hong Kong; Hubei); vii (Hong Kong; Yunnan); viii (Fujian); xi (Yunnan); xii (Guangdong). Taiwan: iv-v (Kaohsiung Hsien; Hualien Hsien); 11.vii (Kaohsiung City). Japan: 7.v-10.viii (Honshu); 9.v-10.vi (Yakushima); 15.v-23.vi (Shikoku); 12.vi (Kyushu); 29-30.vii (Tsushima).
Park et al. (1999) give late April until mid August as the flight period in Korea, with two generations being evident.
EARLY STAGES
OVUM: Pale green, oval (1.20 x 1.57mm), smooth and shiny.
LARVA: Full-fed 59--70mm. According to Bell & Scott (1937), in the first instar head broader than body; horn short, straight, tip broadly bifid. Head brownish, body greyish-green, set with fine bristles of the same length on each segment. Horn black with the base shortly reddish-brown. In the second instar the head is broader and higher than segment 2, without processes on the vertex. The body is dull brownish-yellow, the horn straight, reddish brown, the broadly bifid tip black.
In the fifth and final instar, shape as in others of the genus except that the horn is slightly up-curved. Surface smooth, the transverse rows of tubercles very low. There are very small white tubercles on the ventral surface. In colour, the head is greyish-green with a whitish line on each side of the dorsal line from the vertex to apex of clypeus, and with a white cheek-stripe. A small orange-coloured tubercle adorns the apex of each lobe, and a whitish subdorsal stripe extends from each tubercle to the nape, joining the subdorsal stripe of the body. Apex of clypeus reaching to two-fifths length of head. Body yellowish-green above the spiracular line, greyish-green below it. There is a white, clearly defined subdorsal stripe on segment 2, becoming yellow dorso-laterally, and less clearly defined on the posterior segments. A narrow, yellow, subspiracular stripe extends from the front margin of segment 2 to hind margin of 4, where it meets the oblique lateral stripe on 5 at its lower end. In total, there are seven yellow oblique lateral stripes, on segments 5 to 11. On the median segments the angle between the oblique lateral stripes and the dorso-lateral stripe is filled in with pale violet triangular patches, these patches often bordered with rusty-red or rusty-brown colour, which may spread so as to cover the whole body excepting the triangular patches. Spiracles oval, yellowish-grey with a reddish tinge, the central slit shaped like a candle-flame and dark greyish-brown.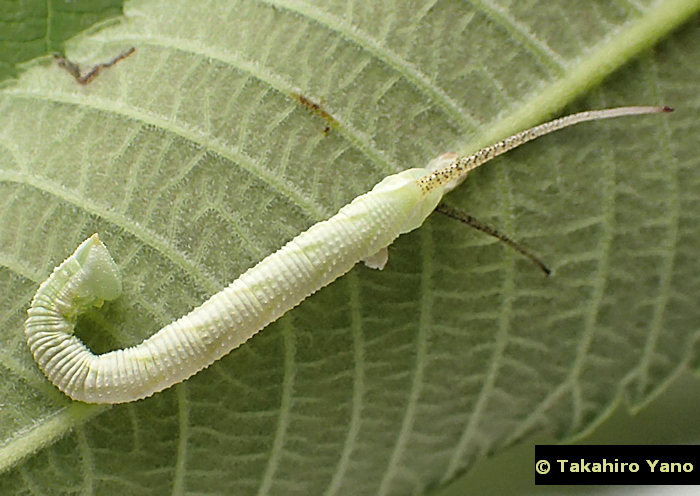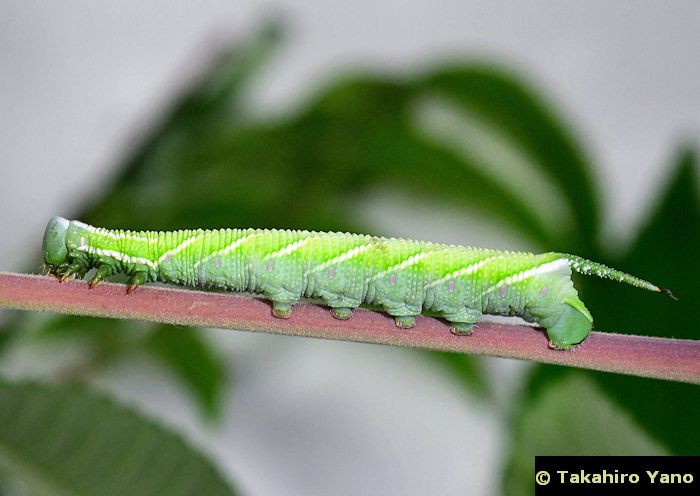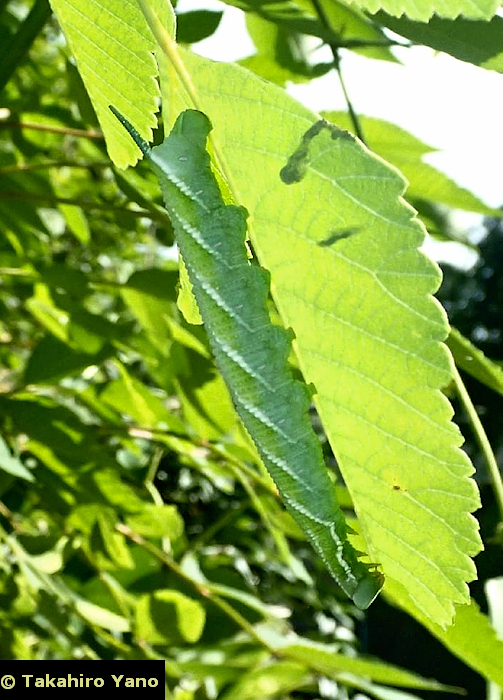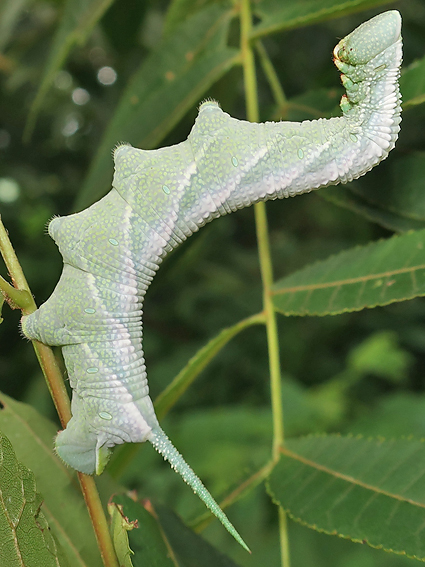 PUPA: 36--48mm long, 12mm wide. In shape the same as in others of the genus. Surface superficially shagreened, especially on the dorsum. Sculpturing on segment 4 consisting of a transverse subdorsal raised line, the two lines sometimes meeting dorsally, where they form a short shiny streak. Cremaster longer than broad, flat dorsally and finely rugose, the tip a transverse shortly oblong piece with a small bristle or tooth at each lateral corner.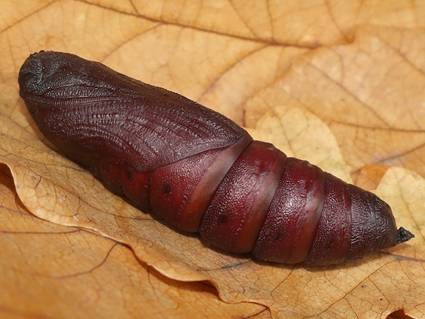 Larval hostplants. Juglans regia in China (Wang, 1990); however, Bell & Scott (1937) give Choerospondias fordii (as Poupartia fordii) (Anacardiaceae) for India. Also Juglans regia and Rhus chinensis var. roxburghii (DC.) Rehder in Taiwan, and Rhus chinensis in Japan. Recorded from Platycarya strobilacea in South Korea (Vyacheslav Ivonin, pers. comm. 2022).
PARASITOIDS
LOCAL DISTRIBUTION
China: Beijing (Baihua Shan); Jiangsu; Anhui (Mt. Huang Shan); Zhejiang (Ningbo; Kuocang Mountain Nature Reserve; Pangcuoyang, Taishun County); Hubei (Mt. Guifeng, Macheng); Sichuan (Baoxing); Chongqing (Simian Mountain National Scenic Resort); Yunnan (nr. Yingjiang, 1180m; Mengla County, Mt. Leigongyan, 2000m; Simao/Pu'er; Gaoligong Shan); Hunan (Dayong); Jiangxi; Fujian (Guangze, 1200m; Longqi Shan); Guangdong (Longtou Shan; Nanling National Forest Park, 1100m); Hong Kong.
Taiwan: Hualien Hsien (Taroko National Park); Kaohsiung Hsien (Shanping, 640m; Kaohsiung City); Taipei Hsien; Nantou Hsien (Renluen, 1400m).
South Korea: Baengnyeong-do & Daecheong-do; Seoul; Kyonggi Province (Suri-san; Gwangleung; Jugeum-san; Cheongpyong; Myungji-san; Soyo-san; Guleop-do); Kangwon Province (Daeryong-san; Gwangduk-san; Seolak-san; Bangtae-san; Chiak-san; Baekduk-san; Jodong-ri; Chuncheon; Bongmyung-ri; Jiam-ri; Jeombong-san; Wonju; Hongcheon); North Chungchong Province (Hwayangdong; Chupungryung; Youngdong; Jecheon); South Chungchong Province (Gyeryong-san); North Cholla Province (Daedun-san; Jiri-san; Namwon); South Cholla Province (Baekyang Temple; Jin-do; Gwangyang; Gurye); North Kyongsang Province (Sobaek-san; Naeyon-san; Juwang-san; Ulleung-do; Cheongyang-san); South Kyongsang Province (Gibaek-san; Jinyang; Yeohang-san; Jinju; Geoje-do; Namhae-do; Goseong; Sacheon; Sancheong; Ulsan; Tongyoung; Hadong; Hamyang; Hapcheon); Cheju Province (Cheju-do; Sunheul; Halla-san; Topyang; Gwaneum Temple; Ora-dong; Andeok; Suakbong; Sungpanak).
Japan: Honshu (Kobe; Nashimoto; Mikaboyama, 750m; Shinbo; Bushi; Izu Peninsula; Miwamachi; Kawasaki; Nikko; Tokyo; Yokohama; Kyoto); Shikoku (Shioemachi); Kyushu (Nagasaki; Fukuoka); Tsushima (Sasuna); Ryukyu Archipelago (Yakushima).
GLOBAL DISTRIBUTION
From Nepal, northeastern India (Sikkim, Assam, Manipur, Arunachal Pradesh, Nagaland) and Bhutan (Irungbam & Irungbam, 2019) across central and southern China to South Korea and Japan, and south to Thailand, northern Vietnam and Taiwan.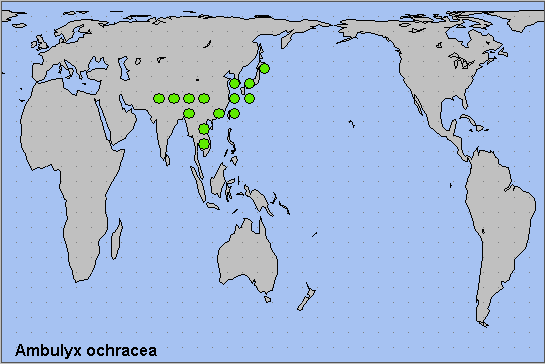 BIOGEOGRAPHICAL AFFILIATION
---

Return to Sphingidae of the Eastern Palaearctic species list
---
© A. R. Pittaway & I. J. Kitching (Natural History Museum, London)