---
AMPELOPHAGA NIKOLAE Haxaire &amp Melichar, 2007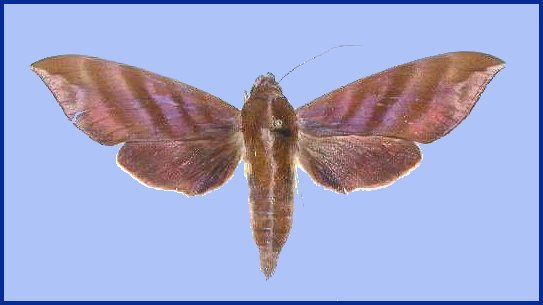 TAXONOMY
Ampelophaga nikolae Haxaire &amp Melichar, 2007, Lambillionea 107: 187. Type locality: China, Jiangxi-Fujian border, 50km SE from Yingtan, Wuyi Shan, 1600m, 27°56'N 117°25'E.
ADULT DESCRIPTION AND VARIATION
Very similar to Ampelophaga khasiana Rothschild, 1895, from which it probably developed via an isolated population in southeast China.
ADULT BIOLOGY
FLIGHT-TIME
China: iv-v (Wuyi Shan, Fujian/Jiangxi).
EARLY STAGES
OVUM: Unknown.
LARVA: Unknown.
PUPA: Unknown.
Larval hostplants. Unknown.
PARASITOIDS
Unknown.
LOCAL DISTRIBUTION
China: Jiangxi (Wuyi Shan, 1600m); Fujian (Wuyi Shan, 1600m).
GLOBAL DISTRIBUTION
Endemic to southwestern China.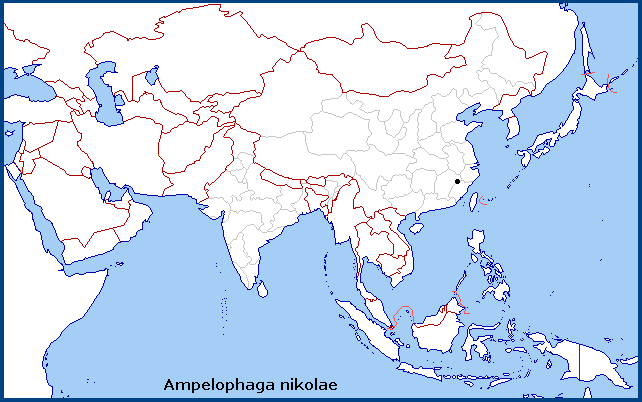 BIOGEOGRAPHICAL AFFILIATION
---

Return to Sphingidae of the Eastern Palaearctic species list
---
© A. R. Pittaway & I. J. Kitching (Natural History Museum, London)