---
AMBULYX LATIFASCIA Brechlin & Haxaire, 2014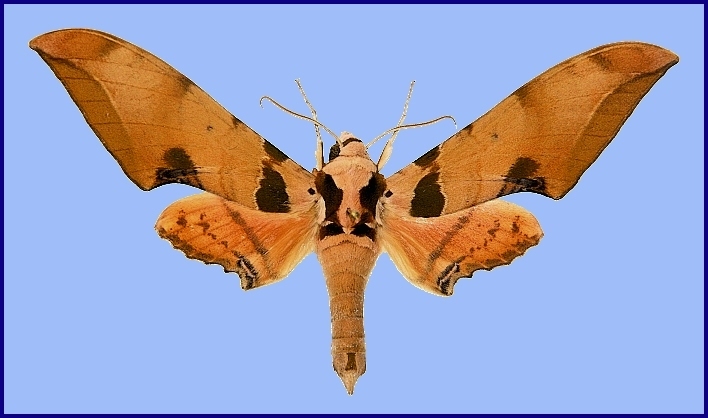 TAXONOMY
Ambulyx latifascia Brechlin & Haxaire, 2014, Entomo-Satsphingia 7(2): 46. Type locality: China, NW Yunnan, 5km N Hutiao Xia, 2200m.
ADULT DESCRIPTION AND VARIATION
Wingspan: 65--80mm. Similar to Ambulyx kuangtungensis f. adhemariusa (Eitschberger, Bergmann & Hauenstein, 2006), but can be distinguished by several external characters, as well as by the male genitalia.
ADULT BIOLOGY
Unknown, apart from frequenting mixed scrub and woodland (Brechlin & Haxaire, 2014).
FLIGHT-TIME
China: 23-27.iv (Hutiao Xia, Yunnan); viii (Gaoligong Shan, Yunnan).
EARLY STAGES
OVUM: Unknown.
LARVA: Unknown.
PUPA: Unknown.
Larval hostplants. Unknown.
PARASITOIDS
Unknown.
LOCAL DISTRIBUTION
China: Yunnan (Hutiao Xia, 2200m; Gaoligong Shan, 1500-2000m).
GLOBAL DISTRIBUTION
Endemic to southern China.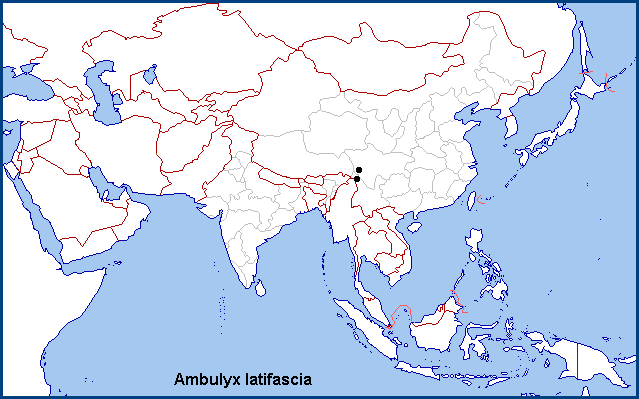 BIOGEOGRAPHICAL AFFILIATION
Holarctic; eastern Palaearctic region.
---

Return to Sphingidae of the Eastern Palaearctic species list
---
© A. R. Pittaway & I. J. Kitching (Natural History Museum, London)