---
ACOSMERYCOIDES HARTERTI (Rothschild, 1895) -- Hartert's hawkmoth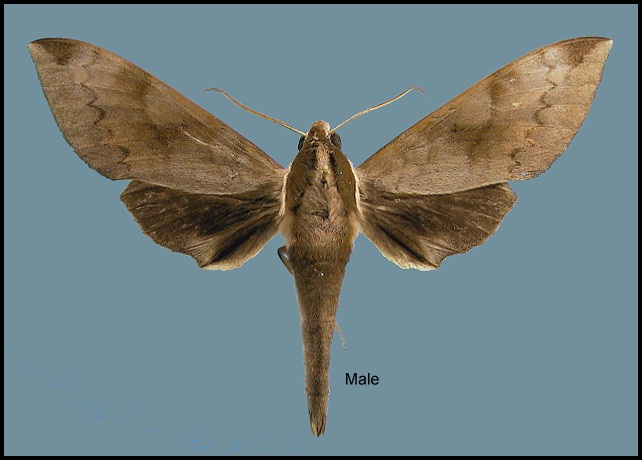 TAXONOMY
Ampelophaga harterti Rothschild, 1895, Dt. ent. Z., Iris 7: 299. Type locality: [India,] Upper Assam, [Lakhimpur,] Margherita.
Synonym. Ampelophaga harterti Rothschild, 1895.
Synonym. Rhagastis leucocraspis Hampson, 1910.
Synonym. Acosmerycoides insignata Mell, 1922.
Synonym. Acosmerycoides horishana Matsumura, 1927.
Synonym. Ampelophaga takamukui Matsumura, 1927.
Synonym. Clanis obscura Mell, 1958.
ADULT DESCRIPTION AND VARIATION
Wingspan: 80--90mm.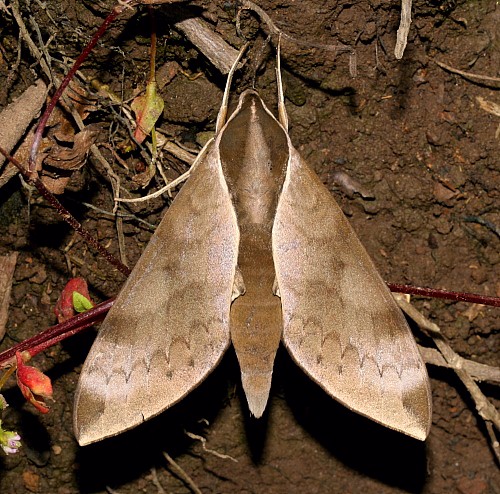 ADULT BIOLOGY
FLIGHT-TIME
China: iv (Guangdong; Hunan); 9.v (Yunnan); 31.v-1.vi (Guangdong); vi (Yunnan; Hainan); vii (Guizhou; Guangxi; Yunnan); viii (Fujian). Taiwan: v (Nantou Hsien); vi (Chiai Hsien); ix (Hualien Hsien).
EARLY STAGES
OVUM:
LARVA: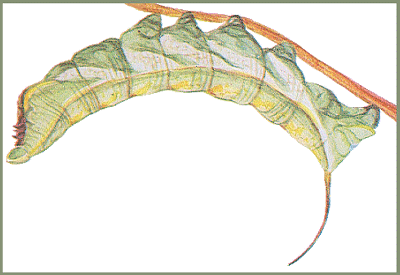 PUPA: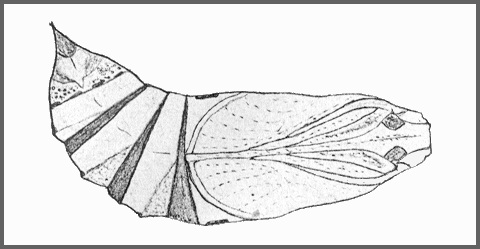 Larval hostplants. Vitis and Saurauia in India (Bell & Scott, 1937). Ampelopsis cantoniensis and Mussaenda macrophylla Wall. on Taiwan.
PARASITOIDS
LOCAL DISTRIBUTION
China: Anhui (Mt. Huang Shan); Zhejiang (Kuocang Mountain Nature Reserve); Hubei (Badong; Lichuan; Julong Shan); Yunnan (Simao/Pu'er; Mengla County, Mt. Leigongyan, 2000m; Gaoligong Shan; Zhaotong); Guizhou (Jiucai Ling; Xinzhaidashan, Zhijin County, 1000-2000m); Hunan (Nan Ling, 740-800m; Dayong); Jiangxi; Fujian (Guangze, 1200m; Longqi Shan); Guangdong (Longtou Shan; Nanling National Forest Park, 1100m); Guangxi (Dayao Shan; Maoer Shan, 1800m); Hainan (Duowen Ling, nr Lingao; Longhushan, Wenchang City).
Taiwan: Hualien Hsien (Taroko National Park); Nantou Hsien (Puli); Chiai Hsien (Chiai); Taipei Hsien (Fushan); Ilan Hsien (Fushan Botanical Garden).
GLOBAL DISTRIBUTION
From Bhutan (Irungbam & Irungbam, 2019), Assam (Subhasish Arandhara, 2016), Arunachal Pradesh and Manipur (Jatishwor Irungbam & Fric, 2021), India, eastwards across northern Burma/Myanmar (Banmauk, Sagaing Province) and southern China to Taiwan, and then south to Thailand, Laos and Vietnam.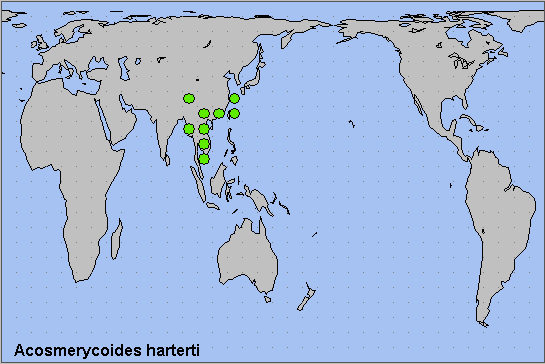 BIOGEOGRAPHICAL AFFILIATION
---

Return to Sphingidae of the Eastern Palaearctic species list
---
© A.R. Pittaway & I.J. Kitching (The Natural History Museum, London)