---
ANAMBULYX ELWESI (Druce, 1882) -- Elwes' pink-and-green hawkmoth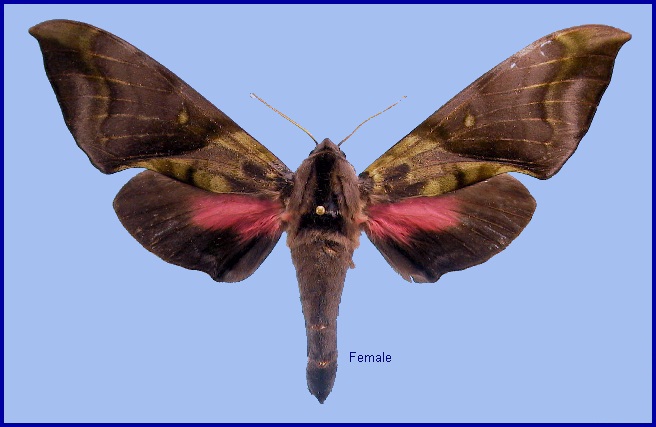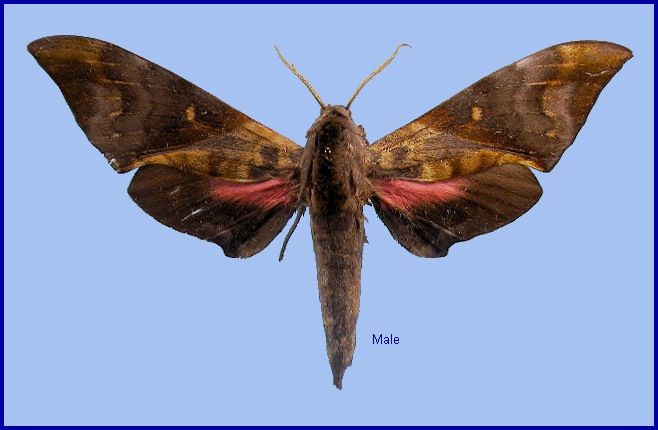 TAXONOMY
Ambulyx elwesi Druce, 1882, Entomologist's mon. Mag. 19: 17. Type locality: [India, West Bengal,] Darjiling [Darling].
Synonym. Ambulyx elwesi Druce, 1882.
ADULT DESCRIPTION AND VARIATION
Wingspan: 100mm. Superficially similar to a very dark Callambulyx rubricosa rubricosa but differing markedly in genital and other morphology. Frenulum present but reduced in length; retinaculum absent. Subapical pair of hindtibial spurs absent. Forewing upperside with distal two-thirds dark and proximal one-third green (turning brown in a humid atmosphere) and much paler. Hindwing upperside with deep pink basal area and a dark, almost black distal two-thirds in which a narrow lunate purple patch is discernible.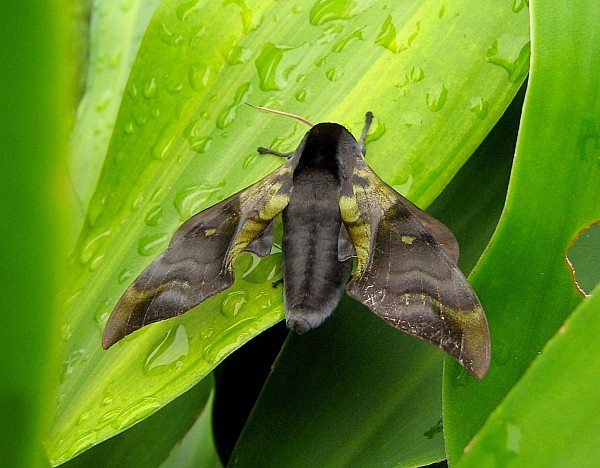 ADULT BIOLOGY
In Nepal at 2000-2500m altitude in oak-laurel forest (M. C. Allen, pers. obs. 1991).
FLIGHT-TIME
In Thailand, May to July at 700-1000m altitude. Mid June in Nepal (M. C. Allen, pers. obs. 1991).
EARLY STAGES
OVUM: Unknown
LARVA: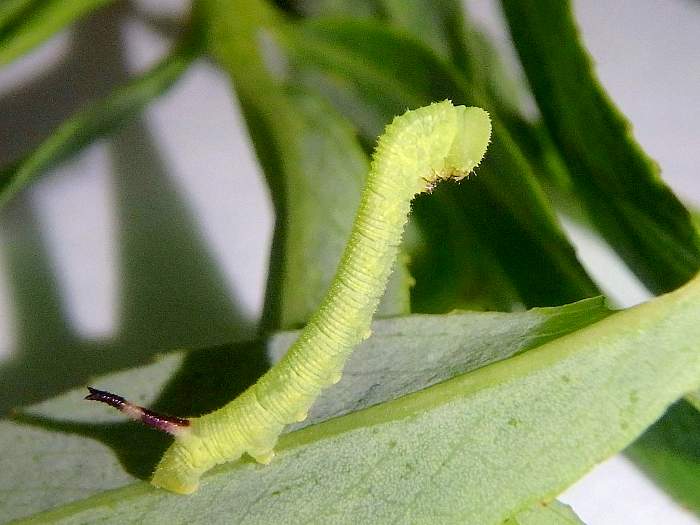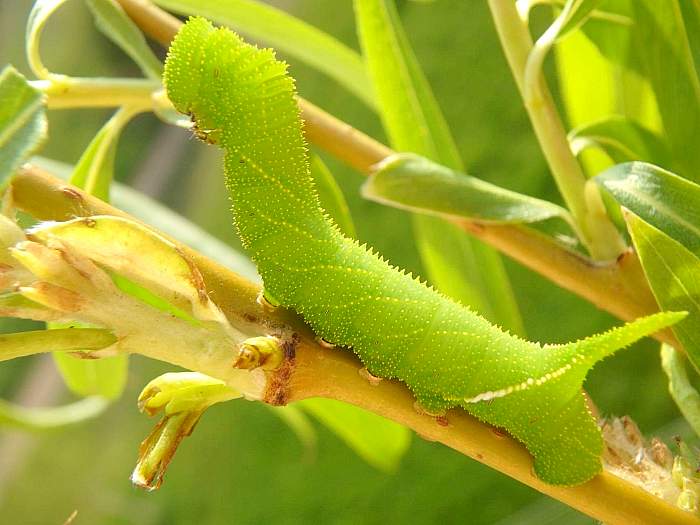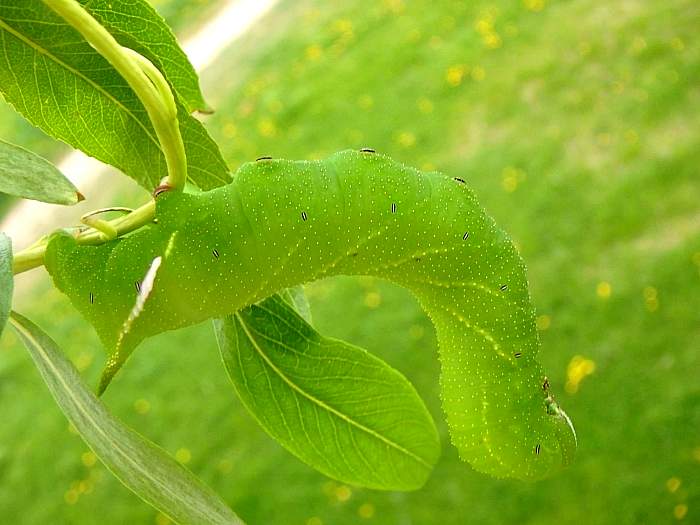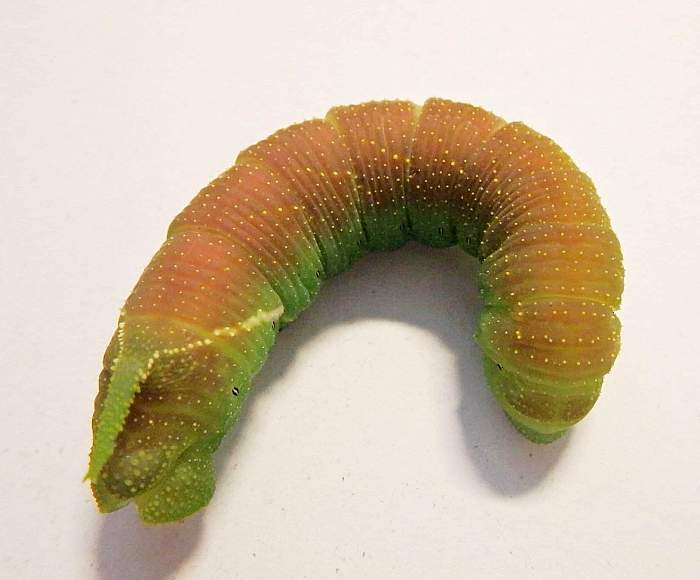 PUPA: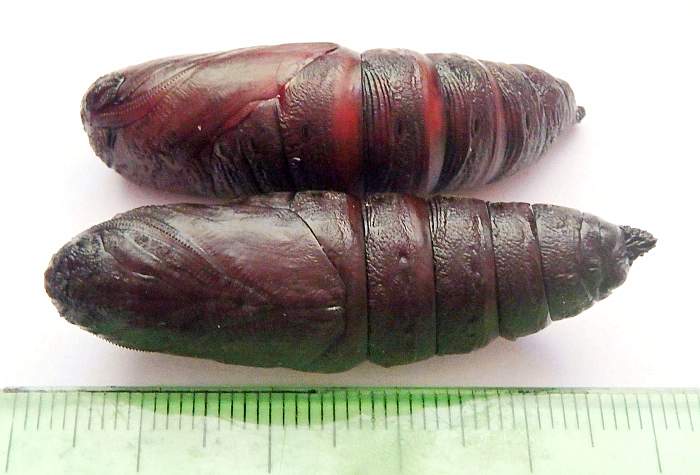 Larval hostplants. Unknown in the wild, but reared in captivity on Salix (Tomáš Melichar, pers. comm. 2017). Therefore, probably feeds on a tropical member of the Salicaceae.
PARASITOIDS
Unknown.
LOCAL DISTRIBUTION
China: Yunnan.
GLOBAL DISTRIBUTION
Northern Pakistan (Rafi et al., 2014), northern India (Smetacek, 2004b), Nepal, Bhutan (Irungbam & Irungbam, 2019), southwestern China, Burma/Myanmar, northern Thailand, northern Laos and northern Vietnam.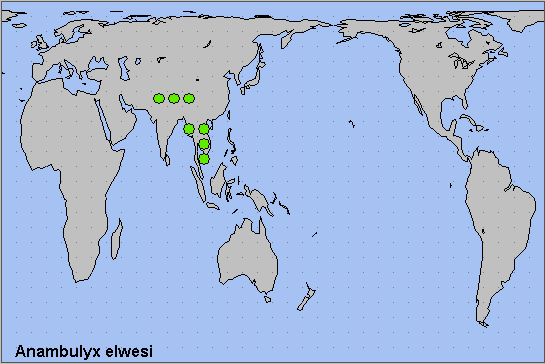 BIOGEOGRAPHICAL AFFILIATION
---

Return to Sphingidae of the Eastern Palaearctic species list
---
© A. R. Pittaway & I. J. Kitching (Natural History Museum, London)