---
AMBULYX CANESCENS (Walker, [1865]) -- Grey gliding hawkmoth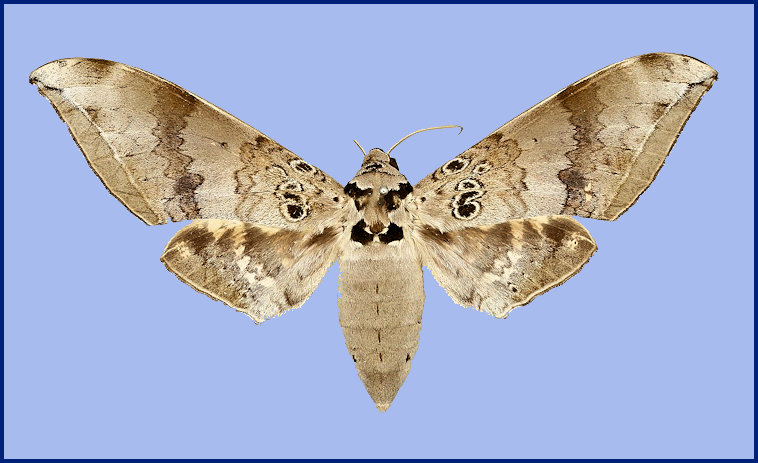 TAXONOMY
Basiana canescens Walker, [1865], List of the specimens of lepidopterous insects in the collection of the British Museum 31 (suppl.): 38. Type locality: Cambodia.
Synonym. Basiana canescens Walker, [1865].
Synonym. Ambulyx argentata Druce, 1882.
Synonym. Oxyambulyx canescens (Walker, [1865]) Rothschild & Jordan, 1903.
Note. Transferred to Oxyambulyx by Rothschild & Jordan, 1903, Novit. zool. 9 (suppl.): 194 (key), 205. Transferred to Ambulyx by Holloway, 1987, Moths of Borneo 3: 132.
ADULT DESCRIPTION AND VARIATION
Wingspan: 98-110mm. Male. Cinereous-brown. Body hoary above. Head with a broad blackish brown band in front of the base of the antennae. Palpi deep red, brown towards the tips, which are hoary. Thorax with a blackish brown stripe on each side. Pectus deep red in front. Abdomen with a brown spot on each side of the sixth segment. Forewings acute, falcate, with five transverse zigzag blackish lines; a few blackish streaks between the first line and the base; a cinereous band between the second and third lines, broader towards the costa and including a blackish point; a ferruginous space between the fifth line and a cinereous submarginal line, which is not parallel to the exterior border; a testaceous spot on the costa by the fifth line and a testaceous brown-dotted apical patch; underside with several testaceous marks, which are towards the tips or near the interior angle. Hindwings with some pale testaceous marks near the interior border (Walker, [1865]).
Greyer than Ambulyx moorei, a species with which it shares the presence of a pair of ocellate marks subapically on the abdomen instead of a narrow line dorsally. Ambulyx canescens also bears stronger subbasal markings on the forewing and a stronger green edging to the thorax. Forewing upperside ground colour greyish; discal spot distinctive; subbasal marking distinctive, although resembling that in Ambulyx moorei. Hindwing upperside colouring broadly the same as in the forewing; bearing distinctive pale patches. Tergum A8 deeply sinuate mesally; edge of tergum very oblique (Sphingidae Taxonomic Inventory, 2021).
Uncus longer than in other species of Ambulyx, broad and incised at apex; curved slightly in lateral view. Gnathos triangular and sharply pointed in ventral view. Harpe distinctive, connected with body of valva only at base; very long and slightly twisted; apical third suddenly narrows and bent dorsally. Aedeagus with concave, toothed, apparently moveable apical process; ventrally with patch of denticles. Tergum A8 long, truncated, not emarginated. Sterigma with pair of curved at each side of ostium bursae (Sphingidae Taxonomic Inventory, 2021).
ADULT BIOLOGY
Occurs at 1200-1500m altitude.
FLIGHT-TIME
China: 2.vii (Yunnan); 26.vii (Yunnan).
EARLY STAGES
OVUM: Undiscribed.
LARVA: Undiscribed.
PUPA: Undiscribed.
Larval hostplants. On Dipterocarpus tuberculatus, Dryobalanops lanceolata, Shorea lepidota and Shorea macroptera in different parts of its range. Unrecorded for China.
PARASITOIDS
Unknown.
LOCAL DISTRIBUTION
China: Yunnan (Xima, Yingjiang County, 1500m; Ruili Botanic Garden, 1200m).
GLOBAL DISTRIBUTION
India (Andaman Islands, Assam), China (Yunnan), Myanmar/Burma, Thailand, Kampuchea/Cambodia, southern Vietnam, Malaysia (Peninsular, Sarawak and Sabah), Indonesia (Sumatra, Java, Kalimantan).
[Note. Replaced in the Phlippines by Ambulyx flava (Clark, 1924), formally known as Ambulyx canescens subsp. flava (Clark, 1924).]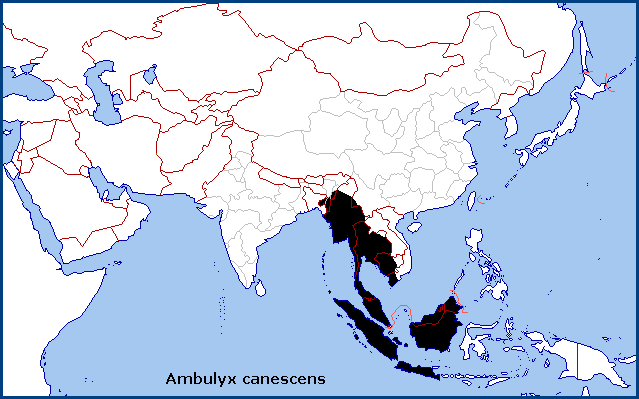 BIOGEOGRAPHICAL AFFILIATION
Oriental region. Pleistocene refuge: Tropical South East Asia.
---

Return to Sphingidae of the Eastern Palaearctic species list
---
© A.R. Pittaway & I.J. Kitching (The Natural History Museum, London)