---
HYLES EUPHORBIAE ROBERTSI (Butler, 1880)
GB: Spurge Hawkmoth, F: Sphinx de l'Euphorbe, D: Wolfsmilchschwärmer, RU: Molochainyi Brazhnik, S: Vitsprötad Skymningssvämare, NL: Wolfsmelkpijlstaart, CZ: lisaj pryscový, H: kutyatejszender, E: esfinge de la lechetrezna

Deilephila robertsi Butler, 1880, Proc. zool. Soc. Lond. 1880: 412.

Type locality: Kandahar, Afghanistan.
Deilephila peplidis Christoph, 1894, Ent. Nachr. Berlin 20: 333.
Hyles robertsi orientalis Ebert, 1969, Reichenbachia 12: 46.
(Taxonomic note. The eastern populations from the Pamirs, Afghanistan and ?Kashmir (subsp. orientalis Ebert, 1969) are often regarded as a separate subspecies of Hyles robertsi, which some authors consider to be a distinct species (Kitching & Cadiou, 2000). However, larvae from Shiraz, Iran, which produced typical adults of Hyles euphorbiae robertsi, were indistinguishable from larvae from southern Turkey which produced typical Hyles euphorbiae conspicua (Pittaway, pers. obs.). The work of Hundsdoerfer, Mende, Kitching & Cordellier (2011) has started to resolve this contradiction.
Based on mtDNA studies, three individuals from near Esfahan in central Iran, and another from Kaleybar in northern Iran, carried the most common haplotype of Hyles euphorbiae. On the basis of adult wing morphology, the moth from Kaleybar was originally determined as Hyles euphorbiae, an identification now confirmed by the sequence data. This demonstrated that Hyles euphorbiae does occur in Iran, contrary to the distribution map in Danner et al. (1998). In contrast, one individual from Lalehzar in southern Iran and three from Natanz and Yzad in central Iran carried a haplotype distinct from that of Hyles euphorbiae. Hundsdoerfer, Mende, Kitching & Cordellier (2011) considered that these may represent the 'true' H. robertsi, although further sampling from central and southern Iran, and southern Afghanistan, is necessary to confirm this.
It thus appears that Hyles robertsi may indeed be a good species, but limited to the area south and east of Esfahan, Iran. The populations in northern Iran and across southern Turkmenistan, Uzbekistan and Tajikistan are probably Hyles euphorbiae, even though many adults look superficially like H. robertsi. As mtDNA studies only track the maternal lineage, these populations may eventually be found to represent a hybrid zone.)
BIOGEOGRAPHICAL AFFILIATION
Holarctic; western Palaearctic region. Pleistocene refuge: Polycentric -- Turkestan and Turanoeremic refugia.
ADULT DESCRIPTION AND VARIATION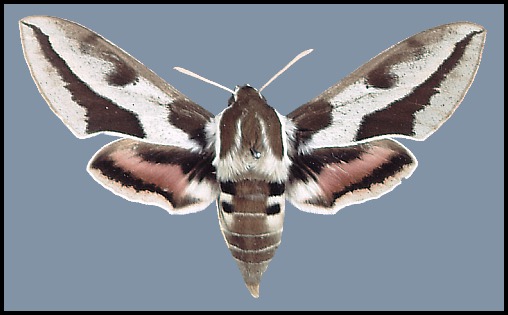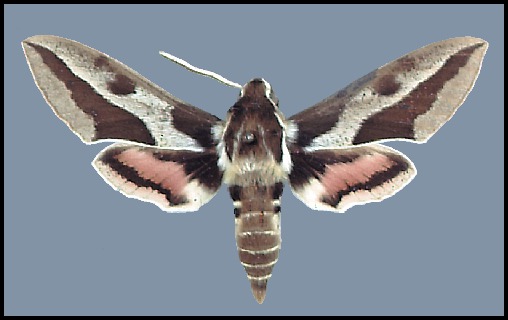 Wingspan: 65--85mm. Very similar to Hyles euphorbiae euphorbiae but usually distinguished by the silver-white, oblique median stripe of the forewing and by the fringes of the tergites being pure white. In some individuals the oblique median stripe and forewing submarginal areas may be flushed with pale pink, and in others speckled with many small, dark streaks. Females are often very much larger than the males.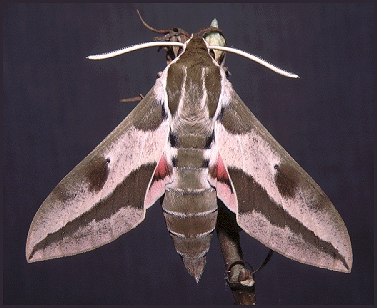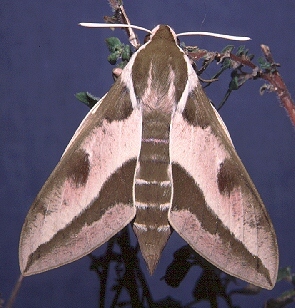 ADULT BIOLOGY
A montane subspecies occurring on dry, rocky slopes with Euphorbia, e.g. open steppe. Behaviour similar to subsp. euphorbiae.
FLIGHT-TIME
End of March to June or later in a number of broods.
EARLY STAGES
OVUM: Very similar to that of subsp. euphorbiae.
LARVA: Full-fed, 80--100mm.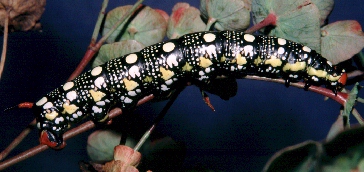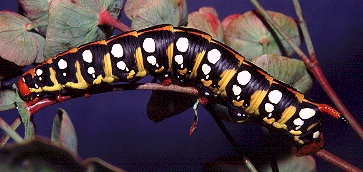 The ground colour varies from yellowish green through ochreous yellow to black; however, the general pattern remains the same for both forms (plus or minus the number of small white spots) and is very similar to that of some southern European forms of subsp. euphorbiae.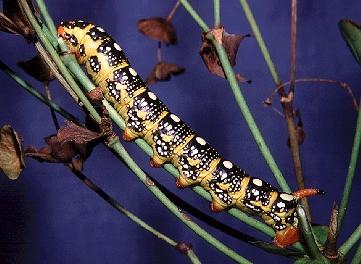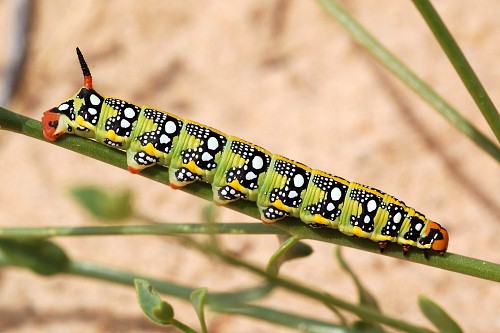 Hostplants. Herbaceous Euphorbia spp.
PUPA: Indistinguishable from subsp. euphorbiae. Overwinters as a pupa.
PARASITOIDS
None recorded.
DISTRIBUTION
Iran (Daniel, 1971; Kalali, 1976), the Kopet Dag Mountains of Turkmenistan (Derzhavets, 1984; Danov & Pereladov, 1985), eastward to central and eastern Afghanistan (Bell & Scott, 1937; Ebert, 1969; Daniel, 1971), ?Kashmir and the Pamirs (Ebert, 1969). As adults are easily confused with Hyles euphorbiae euphorbiae, Hyles costata and Hyles nervosa, the exact distribution of this subspecies is not fully known; records from Kashmir are unconfirmed.
Extra-limital range. Western Pakistan (Daniel, 1971)
[In light of the work of Hundsdoerfer, Mende, Kitching & Cordellier (2011), this distribution may have to be revised. [see Taxonomic note above.]]
OTHER SUBSPECIES
As subsp. Hyles euphorbiae euphorbiae, from western, southern and central Europe to the Urals, southern western Siberia, the western fringes of the Altai Mountains and western China (Xinjiang Province). Also, northern Turkey, Transcaucasia, northern Afghanistan and Kyrgyzstan. Also introduced into many areas of the U.S.A. and Canada
Israel, Jordan, Lebanon, Syria, southern Turkey, northern Iraq and northwestern Iran as subsp. Hyles euphorbiae conspicua, with an isolated population in the south-western mountains of Saudi Arabia.
---

Return to species list