---
HEMARIS ALAIANA (Rothschild & Jordan, 1903)
GB: Alai Bee Hawkmoth

Haemorrhagia tityus alaiana Rothschild & Jordan, 1903, Novit. zool. 9 (Suppl.): 451.

Type locality: Alai Mountains [Alayskiy Khrebat, western Tian Shan, Tajikistan.]
Hemaris (Mandarina) molli Eitschberger, Müller & Kravchenko, 2005, Atalanta 36(1/2): 201.
(Taxonomic notes. (i) Derzhavets (1984) considered Hemaris alaiana to be merely a form of Hemaris tityus (Linnaeus, 1758), at best a subspecies. However, Eitschberger & Churkin (2002) quite rightly treated alaiana as a distinct species. Comparison of both male and female genitalia (Eitschberger, 1999) indicate that this species is related to the eastern palaearctic Hemaris radians (Walker, 1856), having evolved from an isolated population.
(ii) The species described in Eitschberger et al. (2005) as Hemaris molli (a single female from near Irbid, northern Jordan) looks superficially like Hemaris fuciformis (Linnaeus, 1758), although the illustrated example lacks the dividing line of scales in the forewing cell. Intriguingly, the corresponding genitalial preparation was noted as being close to that of Hemaris radians from the eastern palaearctic. Further studies, including DNA barcoding, have demonstrated that Hemaris molli is, in fact, an example of Hemaris alaiana. This raises an interesting question. The individual could be a mislabelled specimen from Central Asia or represent an isolated population resident in the Levant. This requires further investigation.)
BIOGEOGRAPHICAL AFFILIATION
Holarctic; western Palaearctic region. Pleistocene refuge: Monocentric -- northern section of Sindian refuge.
ADULT DESCRIPTION AND VARIATION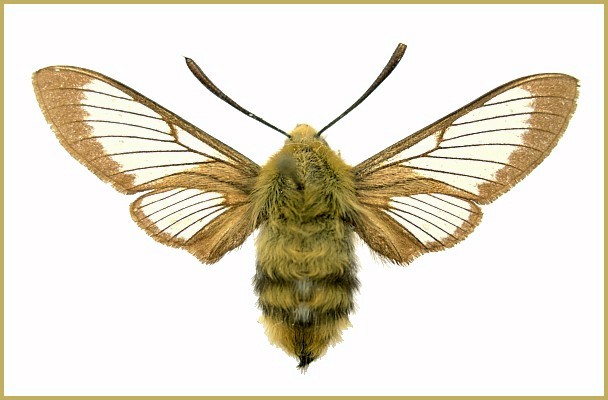 Wingspan: 35--45mm. According to Rothschild & Jordan (1903), black belt of abdomen much shaded with yellowish hairs, tail scarcely with any yellowish hairs; thorax and posterior abdominal segments less bright yellow than in Hemaris tityus. Border of forewing noticeably broader than in Hemaris tityus, as broad between R3 and M1 as this cellule is wide at end; cross-veins with an obvious bar, which is nearly as prominent as in Hemaris affinis (Bremer, 1861). Base of hindwing above and below less yellow than in Hemaris tityus, border noticeably broader.
ADULT BIOLOGY
Diurnal. An insect of montane meadows and woodland glades rich in flowers, where it flies with Hemaris fuciformis (Eitschberger, 1999). Generally found at 1400-2200m altitude.
FLIGHT-TIME
Early June to mid July (Eitschberger, 1999).
EARLY STAGES
OVUM: Unknown.
LARVA: Unknown.
Hostplants. Unknown.
PUPA: Unknown.
PARASITOIDS
None recorded.
DISTRIBUTION
Endemic to the Alayskiy Khrebat, Tian Shan, Dzhungarskiy Alatau, Saur and Altai Mountains, from Tajikistan (Rothschild & Jordan, 1903) and eastern Kazakhstan (Eitschberger, 1999) to western Mongolia (Yakovlev and Doroshkin, 2005; Yakovlev, 2011).
There is also the possibility of a disjunct population in northern Jordan (Eitschberger et al., 2005) (see 'Taxonomic note (ii)' above)).
Extra-limital range. None.
OTHER SUBSPECIES
None.
---

Return to species list