---
SPHINX CONSTRICTA Butler, 1885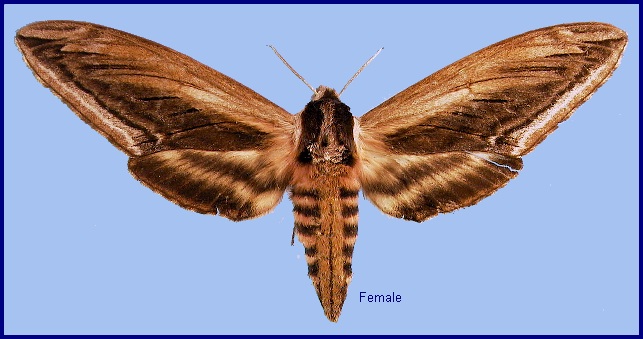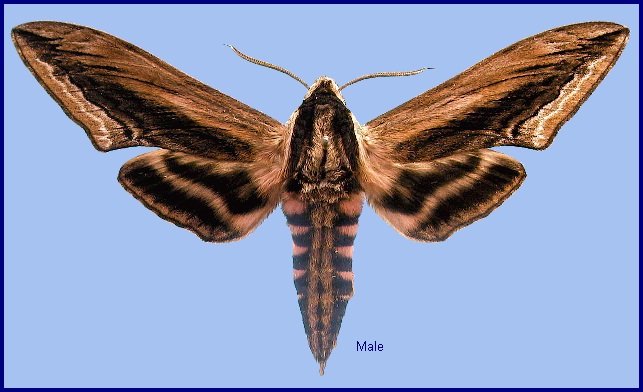 TAXONOMY
Sphinx constricta Butler, 1885, Cist. Ent. 3: 113. Type locality: Japan, [Honshu, Kanagawa,] Kashiwagi [Kashiwagaya].
ADULT DESCRIPTION AND VARIATION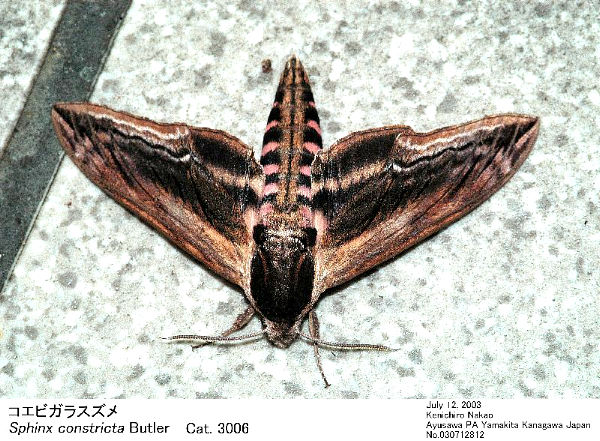 ADULT BIOLOGY
FLIGHT-TIME
Japan: 28.iv-2.vi (Hokkaido); 6.vi-12.viii (Honshu); 20.vii-20.viii (Hokkaido).
EARLY STAGES
OVUM:
LARVA: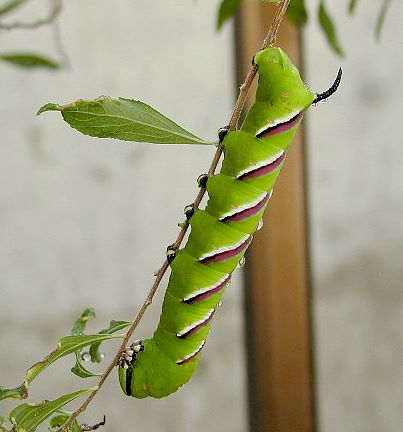 PUPA:
Larval hostplants. Enkianthus perulatus, Helwingia japonica, Ilex crenata, I. macropoda, Rhododendron, Spiraea salicifolia, S. thunbergii, Viburnum dilatatum and Weigela hortensis.
PARASITOIDS
Tachinidae: Winthemia cruentata (Rondani).
LOCAL DISTRIBUTION
Japan: Hokkaido (Hakodate; Oshamanbe); Honshu (Sado Island; Kashiwagaya; Shiratani-yama; Onoba; Fujimi Heights; Shimashima Valley; Bushi); Kyushu.
GLOBAL DISTRIBUTION
Endemic to Japan.
In central and northern Hokkaido, Japan, this species is replaced by Sphinx ligustri.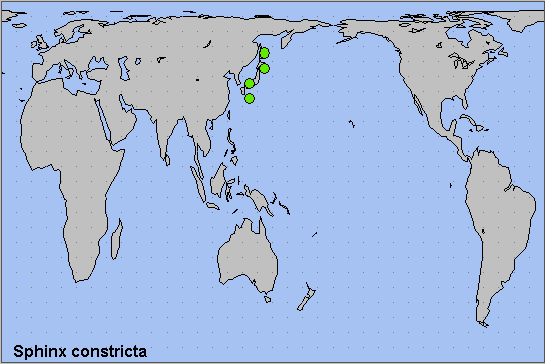 BIOGEOGRAPHICAL AFFILIATION
---

Return to Sphingidae of the Eastern Palaearctic species list
---
© A.R. Pittaway & I.J. Kitching (The Natural History Museum, London)