---
SPHECODINA CAUDATA (Bremer & Grey, 1852)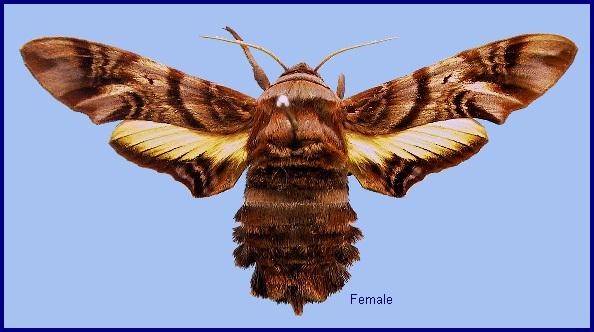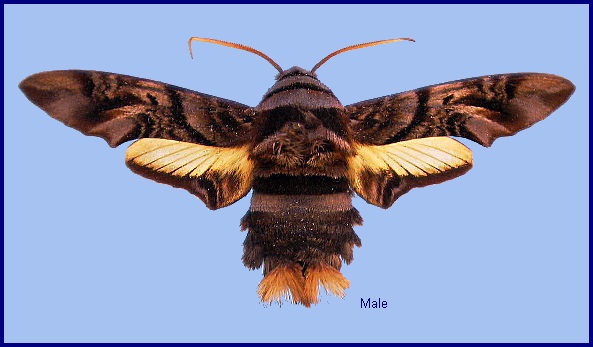 TAXONOMY
Macroglossa caudata Bremer & Grey, 1853, in Motschulsky (ed.), Etudes ent. 1: 62. Type locality: [China,] Pekin [Beijing].
Synonym. Macroglossa caudata Bremer & Grey, 1853.
Synonym. Sphecodina caudata angulifascia (Mell, 1922).
Synonym. Sphecodina caudata meridionalis Mell, 1922.
Synonym. Sphecodina caudata angulilimbata Clark, 1923.
ADULT DESCRIPTION AND VARIATION
Wingspan: 62--67mm. Distal margin of forewing even, slightly concave anteriorly and posteriorly, neither deep bisinuate nor lobed. Abdomen more broadly tufted at end than in the North American Sphecodina abbotti (Swainson, 1821).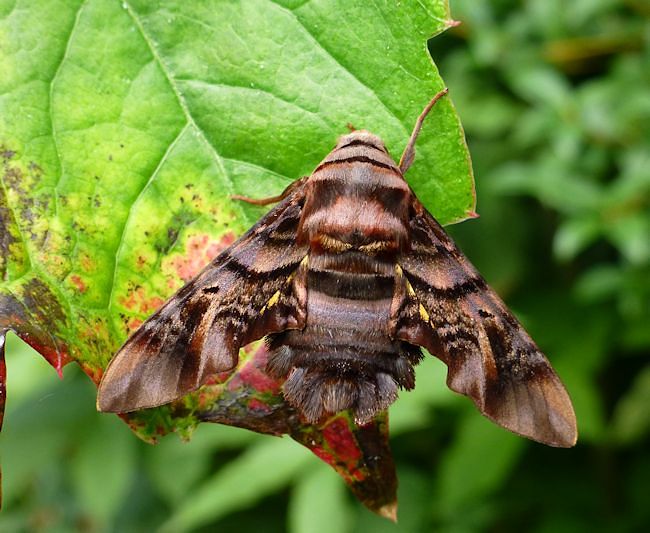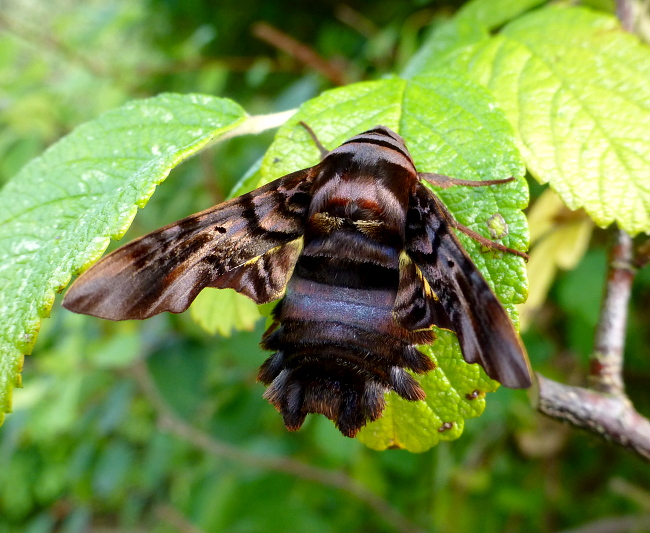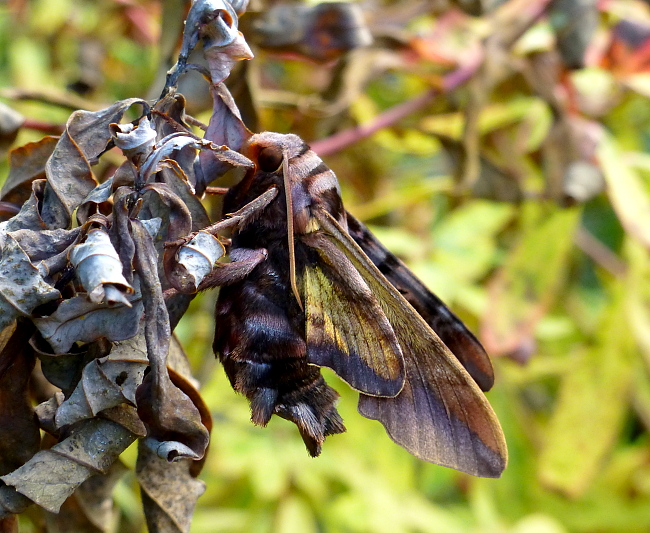 ADULT BIOLOGY
A diurnal species in the Russian Far East, flying mainly in the morning (08.00-10.00am) around meadows in mixed coniferous/deciduous and deciduous woodland, particularly those characterized by Quercus mongolica (Izerskiy, 1999b; Dubatolov, pers. comm. 2010). Frequents the flowers of Rhododendron schlippenbachii Maxim., although males are also attracted to excrement (Koshkin, 2013). Hovering swarms of males can easily be mistaken for hornets.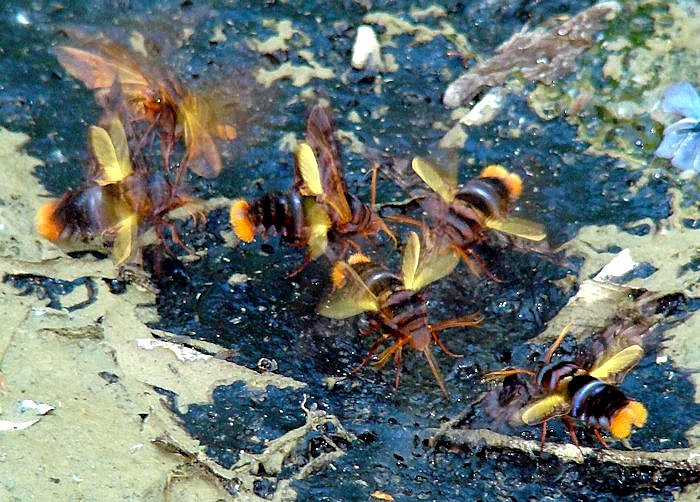 FLIGHT-TIME
China: i-iii (Guangdong); v (Chongqing; Shandong; Beijing); vi (Zhejiang); vi-vii (Guangdong); viii (Guangdong). Russia: 12.v-vi (Primorskiy Kray); 29.v-10.vii (Khabarovskiy Kray); 19.vii (Primorskiy Kray).
An early species which Mell (1935) recorded as having two generations in Guangdong.
Park et al. (1999) give June and July as the flight period in Korea.
EARLY STAGES
OVUM:
LARVA: Full-fed 39--42mm. Has two main colour forms - green and brown, and grey. The pale, young larvae resemble sawflies and will curl up into a spiral if disturbed; larger larvae will do the same. When ready to pupate larvae undergo a dramatic colour change, becoming brown with large orange patches down the side. When wandering on the ground they respond to threats in an equally dramatic way. Curling into a spiral they raise the anal segments. Viewed laterally, this creates a very good impression of a small viper.
This species shows a preference for clumps of Parthenocissus growing over large bolders, walls and rockfaces, usually within woodland clearings or along woodland edges (Pittaway, pers obs. 2016).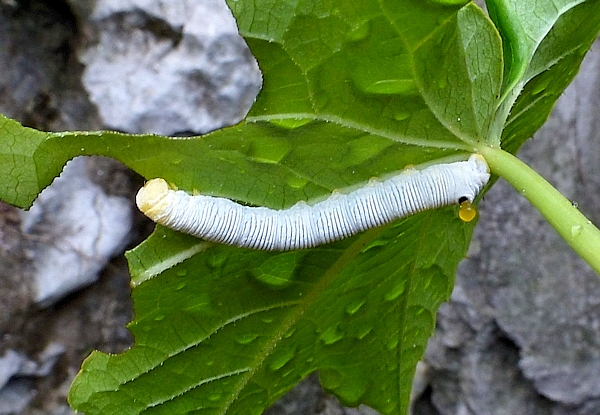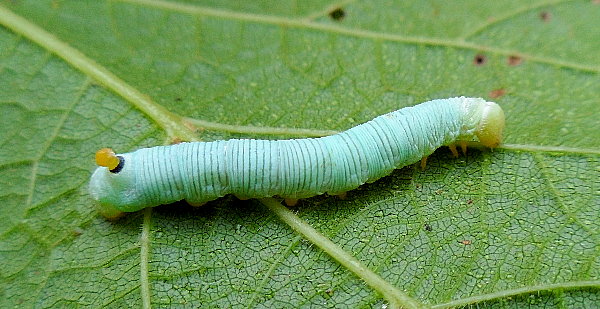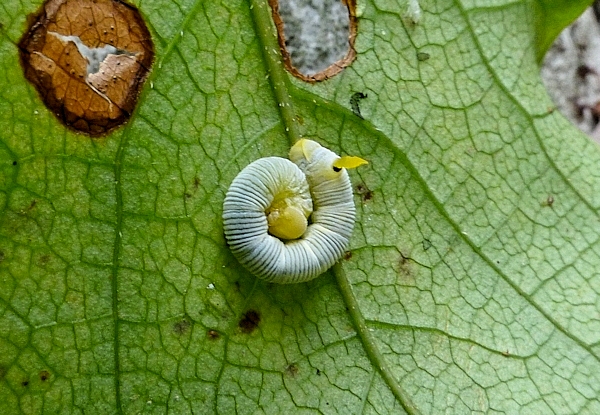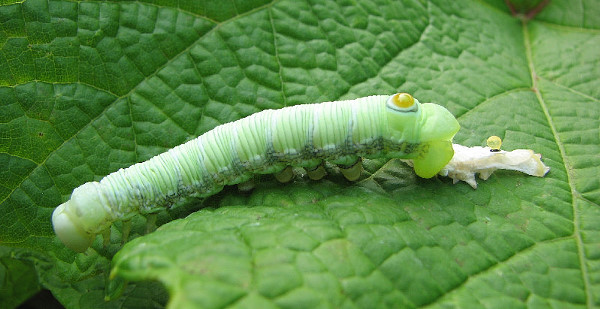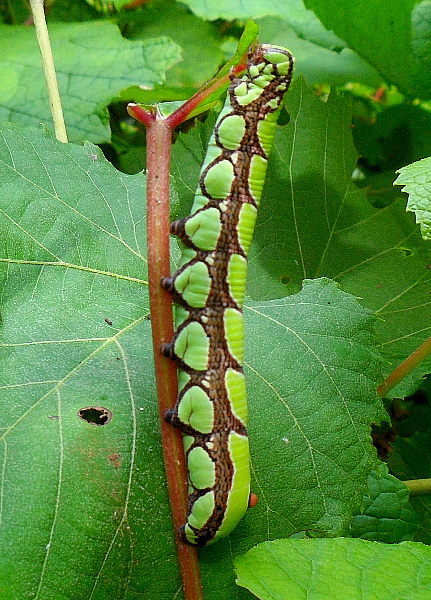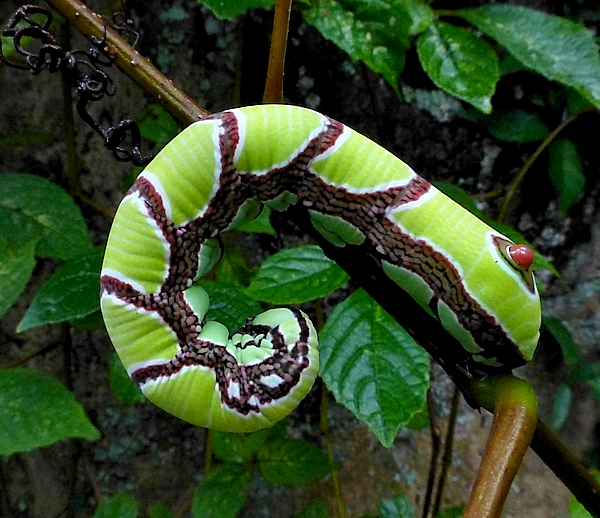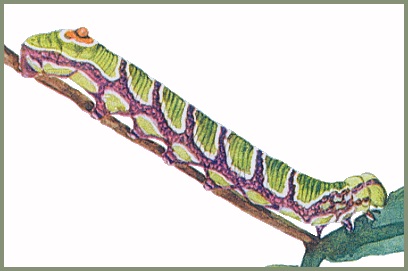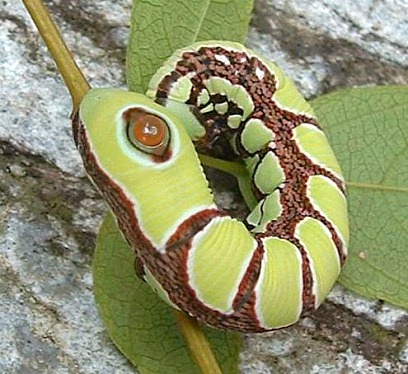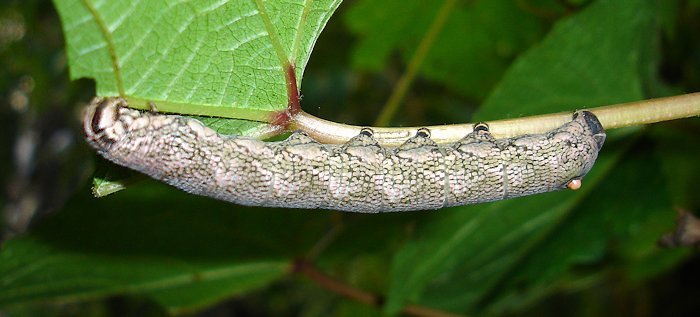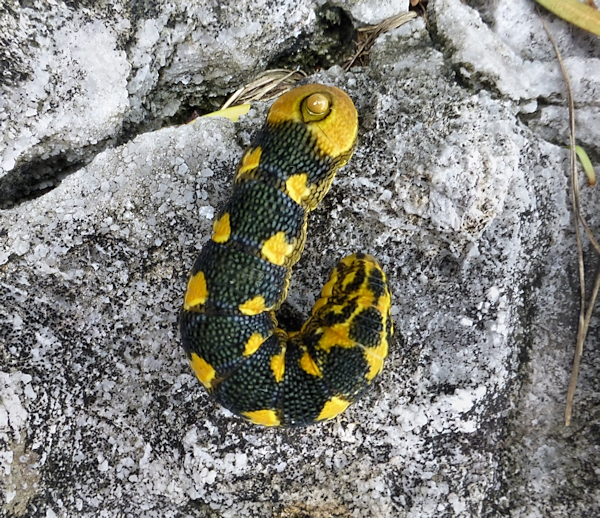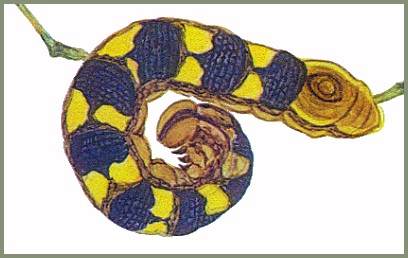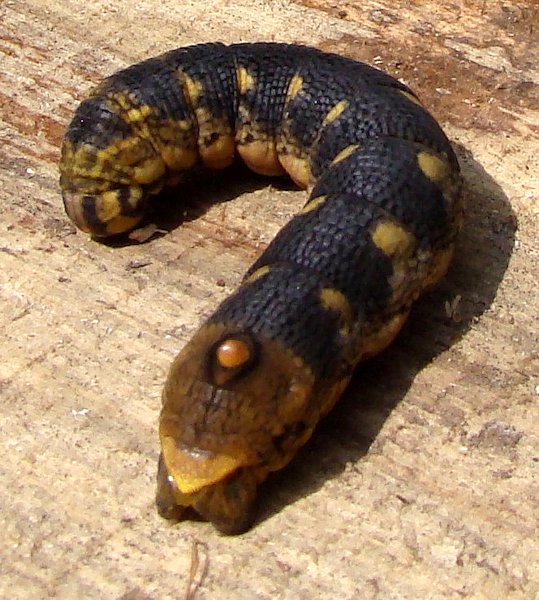 PUPA: 43--45mm.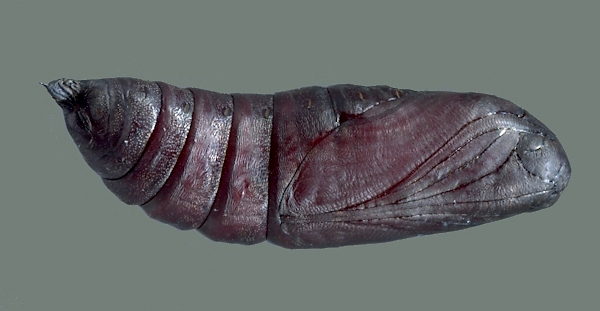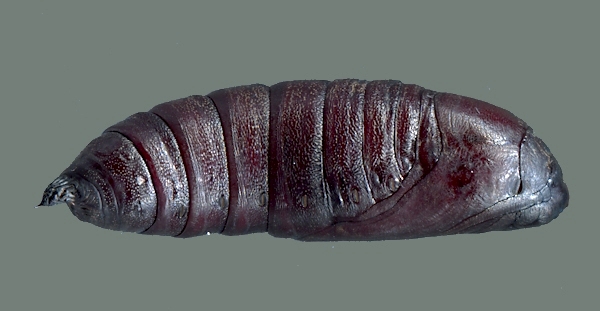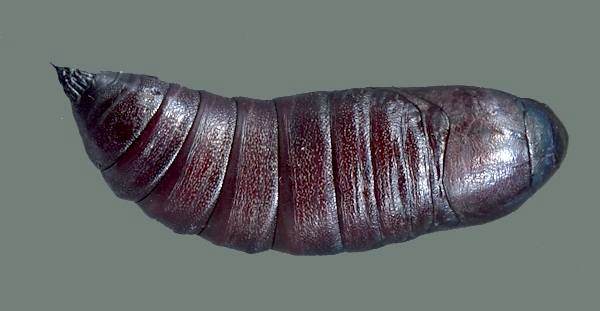 Larval hostplants. Vitis amurensis in the Russian Far East (Izerskiy, 1999b; Anton Kozlov, pers. comm. 2011; Koshkin, 2013). In China, usually on Parthenocissus tricuspidata and the introduced Parthenocissus quinquefolia growing over bolders and up walls and cliffs (Pittaway, pers. obs. 2004, 2016). These hosts are also utilized in the Russian Far East, as are commercial grapes (Koshkin, 2013).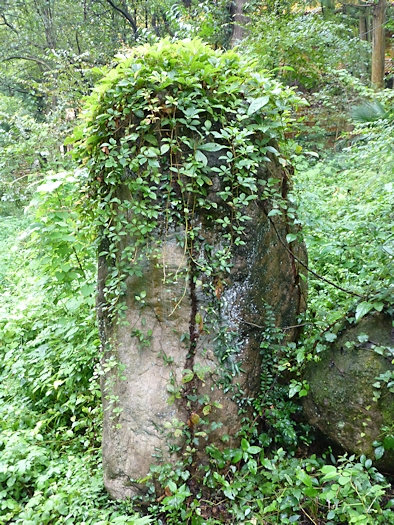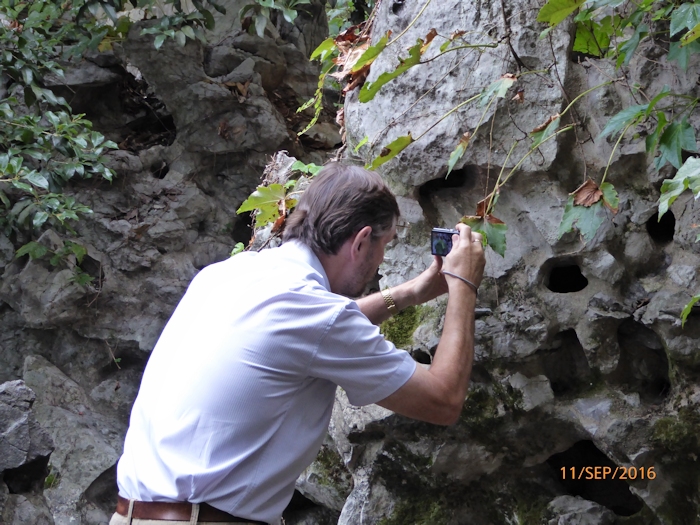 PARASITOIDS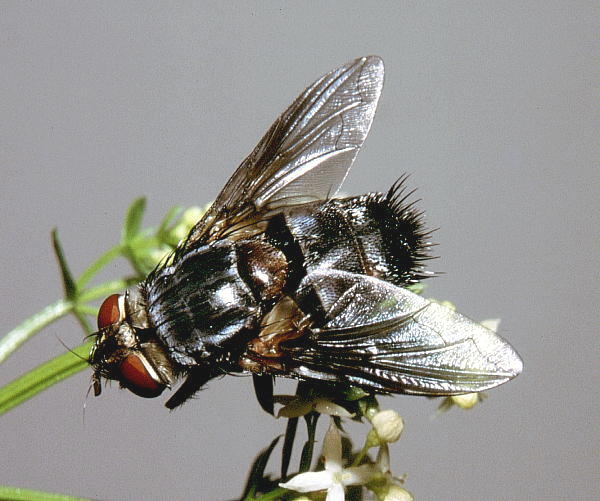 LOCAL DISTRIBUTION
China: Beijing (Baihua Shan); Shandong (Qingdao; Weihai; Yantai); Henan; Anhui (Mt. Huang Shan); Zhejiang (Tianmu Shan; Hangzhou); Hubei; Sichuan (Xiling Xueshan National Park); Chongqing (Chongqing; Simianshan); Yunnan (Yanmen); Fujian (Fuzhou); Guangdong (E. Nan Ling; Guangzhou).
North Korea: North Hamgyong Prov. (Jueul, 1500m).
South Korea: Kyonggi Prov. (Gwangleung); Kangwon Prov. (Hwacheon; Gyebang-san); South Cholla Prov. (Baekyang Temple); North Kyongsang Prov. (Juwang-san).
Russia: Khabarovskiy Kray (Bolshekhekhtsyrskii Nature Reserve, Khabarovsk suburbs; Bychikha; Durmin River, Lazo District); Primorskiy Kray (Anisimovke; Primorskiy; Barabash; Vladivostok; Narva; Kalinovka; Anuchino; near Kalinovka).
GLOBAL DISTRIBUTION
The southern Russian Far East, the Korean Peninsula, eastern and southern China, and northern Thailand.
A closely related species occurs under similar climatic conditions in eastern North America.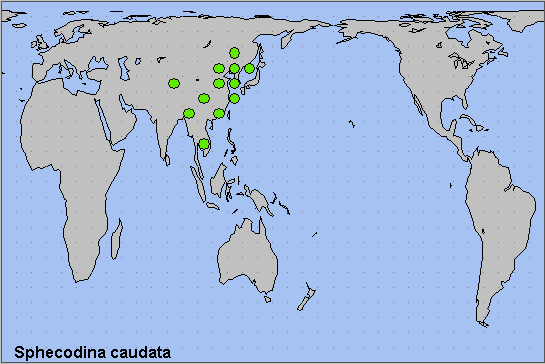 BIOGEOGRAPHICAL AFFILIATION
---

Return to Sphingidae of the Eastern Palaearctic species list
---
© A.R. Pittaway & I.J. Kitching (The Natural History Museum, London)