---
SPHINX CALIGINEUS CALIGINEUS (Butler, 1877) -- Chinese Pine hawkmoth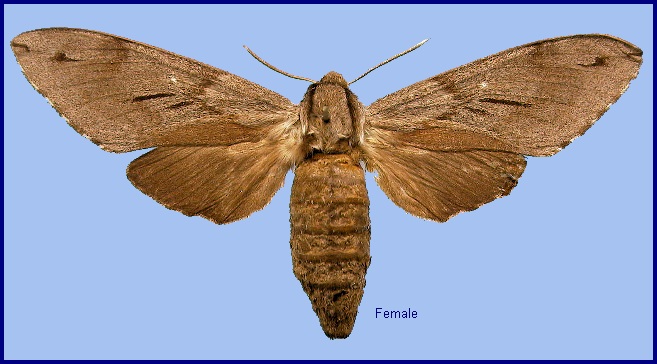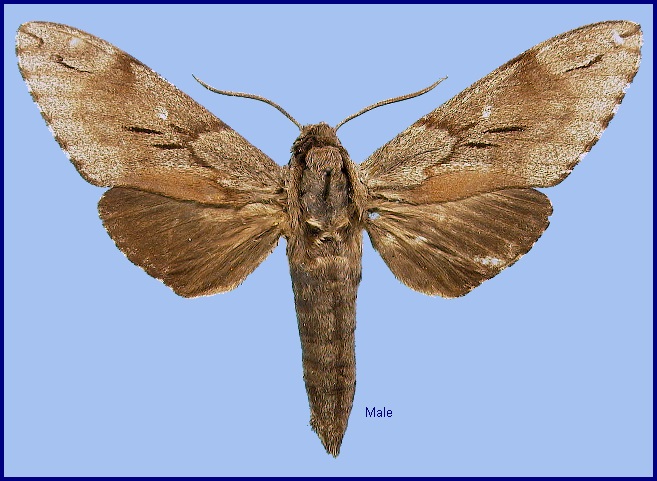 TAXONOMY
Hyloicus caligineus Butler, 1877, Ann. Mag. nat. Hist. (4) 20: 393. Type locality: [Japan, Honshu, Kanagawa,] Yokohama.
Synonym. Hyloicus caligineus Butler, 1877.
ADULT DESCRIPTION AND VARIATION
Very similar to Sphinx pinastri, but differs in the following: hindwing less elongate; antenna proportionately longer; foretibia with fewer spines; midtibia with no spines other than sometimes some minute apical ones; hindtarsal first segment shorter than hindtibia, as long as segments 2-5 together; hindtibia with long apical spur less than half the length of first hindtarsal segment. Darker brown than Sphinx caligineus sinicus, which is more grey-brown, and Sphinx caligineus brunnescens, which is intermediate.
Male genitalia similar to that of Sphinx pinastri, but: uncus longer and much narrower; gnathos sinuate, more obviously so than in Sphinx caligineus sinicus, not completely divided mesially; valve more rounded; harpe with both processes shorter, the dorsal one branching from the dorsal margin of the other and longer than in Sphinx caligineus sinicus, curving dorsad apically; aedeagus with apical process longer, much longer than in Sphinx caligineus sinicus. In the female genitalia, ostial plate with lobe proximal to ostium longer and narrower than in Sphinx pinastri, but individually variable.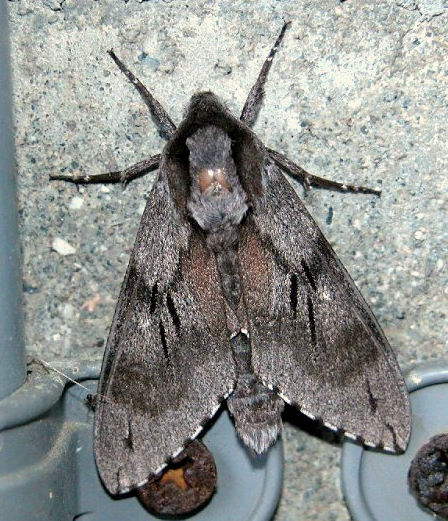 ADULT BIOLOGY
FLIGHT-TIME
Japan: 8.v-5.vi (Honshu); 8.vii-28.viii (Honshu).
EARLY STAGES
OVUM:
LARVA:
PUPA:
Larval hostplants.
PARASITOIDS
Tachinidae: Drino atropivora (Robineau-Desvoidy); Scelionidae: Telenomus dendrolimi (Matsumura).
LOCAL DISTRIBUTION
Japan: Hokkaido; Honshu (Komaba; Yokohama; Tokyo; Kobe; Gifu; Fushiki; Nagahama; Tokei-ji; Tsuruga; Goshikinuma; Mt. Akagi; Ogimachi; Akita; Fujisawa; Aone; Fukushima; Hatamachi; Minami-Kiso; Nagamine Sakusi; Tobira Spa; Bushi; Unazuki); Shikoku; Kyushu.
GLOBAL DISTRIBUTION
Endemic to Japan. Records from elsewhere are the result of misidentifications.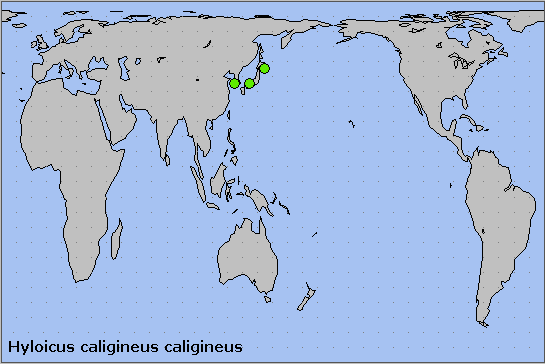 BIOGEOGRAPHICAL AFFILIATION
---

Return to Sphingidae of the Eastern Palaearctic species list
---
© A.R. Pittaway & I.J. Kitching (The Natural History Museum, London)