---
SPHINX MORIO ARESTUS (Jordan, 1931)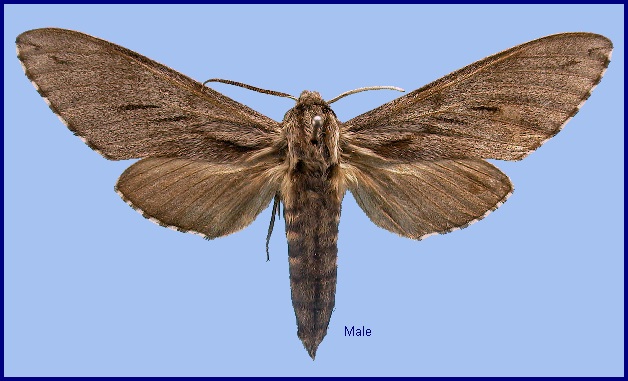 TAXONOMY
Hyloicus pinastri arestus Jordan, 1931, Novit. zool. 36: 244. Type locality: [Russia, Khabarovsk Kray,] Nikolajewsk [Nikolayevsk-na-Amure], mouth of Amur [river].
Synonym. Sphinx hakodoensis O. Bang-Haas, 1936, Ent. Z., Frankf. a.M. 50: 254. Type locality: Corea sept. [North Korea], Hakodo Province [North Hamgyong Prov.], Seishin [Chongjin], Siren Mountains, 250m; [North Korea,] Poktussan [Baekdu-san/Changbaishan].
Synonym. Hyloicus morio heilongjiangensis Zhao & Zhang, 1992, Acta entomol. sin. 35: 95. Type locality: China, Heilongjiang, Dai Ling Mountains [Dailing, south of Yichun].
Note. S. morio is now recognized as a species distinct from S. pinastri, with three subspecies. Subsp. morio inhabits only central and northern Honshu, Japan (Owada & Kogi, 1992); subsp. inouei (Owada & Kogi, 1992) inhabits only northern Hokkaido, Japan (Owada & Kogi, 1992); subsp. arestus (Jordan, 1931) occurs from Korea, north-eastern China and the Russian Far East across southern Siberia and Mongolia to the Altai (Owada & Kogi, 1992).
ADULT DESCRIPTION AND VARIATION
Wingspan: 60--80mm. Very similar to Sphinx pinastri pinastri in external appearence, although many individuals are tinged with reddish-brown. However, the proboscis is only half as long as it is in S. pinastri.
In the male genitalia, the upper branch of the sacculus is approximately equal to the lower in length, slightly curved, flattened and broad. This is markedly different from that of Sphinx pinastri pinastri, where the upper branch is long, curved and cylindrical.
ADULT BIOLOGY
A species of cool larch (Larix) and pine (Pinus) forests.
According to Litvinchuk (1986), females of S. morio arestus call and mate only during the morning. This behaviour differs from that of S. pinastri and may explain how these two species became reproductively isolated. A similar mechanism isolates Hyles e. euphorbiae (Linnaeus) and H. tithymali mauretanica (Staudinger) (Pittaway, 1995), Hyles e. euphorbiae and H. gallii (von Rottemburg) (Pittaway & Kitching, 2000) and Smerinthus kindermannii and S. o. ocellata (Pittaway & Kitching, 2000).
FLIGHT-TIME
China: 27.v-8.vi (Shaanxi); 16-18.vi (Heilongjiang); 9.viii (Liaoning). North Korea: v (North Hamgyong Prov.). South Korea: 19.iv (Jiri-san); 4.v (Soku-ri); 1.viii (Baekun-san). Japan: 30.iv (Hahajima). Russia: 16-30.vi (Siberia, Tomsk); 18.vi (Siberia, Chingisy); 26-27.vi (Khabarovsk Kray); 4.vii (Siberia, Bazoy); 4-24.vii (Amurskaya; Primorskiy Kray); 16.vii (Altai); 22-28.vii (Siberia, Chingisy); 24-25.vii (Khabarovsk Kray); 26.vii-12.viii (Siberia, Novosibirsk); 26.vii-10.viii (Altai); 15.viii (Siberia, Tomsk).
Danner, Eitschberger & Surholt (1998) state that around Novosibirsk (Siberia, Russia) the main flight period is between 18.vi and 28.vii.
Park et al. (1999) give late April until early October as the flight period in Korea.
EARLY STAGES
OVUM: Pale green at first, changing to reddish yellow. Oval (1.5 x 2.5mm), slightly dorso-ventrally flattened, shiny and smooth. Each female lays between 100 and 120 eggs, which hatch 13--15 days later (Zhao & Zhang, 1992).
LARVA: Full-fed 54--65mm. Dimorphic: predominantly green or brown. Very similar in both appearence and behaviour to S. pinastri. Found mainly during July and August.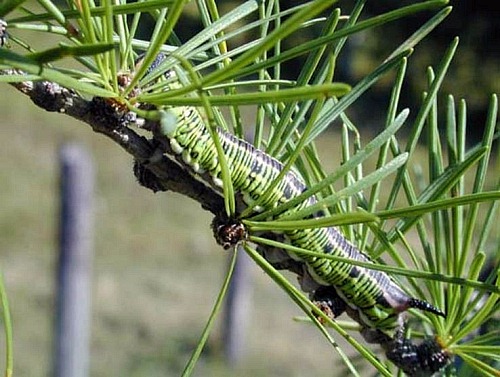 PUPA: 30--40mm. Very similar to that of S. p. pinastri, except that the free tongue-case is replaced by a small, blunt knob.
Larval hostplants. Danner, Eitschberger & Surholt (1998) state that around Novosibirsk (Siberia, Russia) the main hosts are Pinus sibirica, P. sylvestris and species of Abies. Zolotarenko, Petrova & Shiryaev (1978) give Pinus sibirica, Larix sibirica and Larix gmelinii for Siberia. Around Lake Baikal (Siberia) the natural hosts are Larix sibirica and Pinus sibirica (Rozhkov, 1956). In Amurskaya, Russia, recorded from Larix gmelinii and Pinus sylvestris (Streltzov, Osipov & Malikova, 2003).
In the Altai (Russia), this species can be a major pest of Pinus sylvestris, sometimes causing complete defoliation of large areas (Plotnikov & Gninenko, 1980).
Recorded from Heilongjiang, China, (as Hyloicus morio heilongjiangensis) on Abies fabri, Larix gmelinii, Picea asperata, Pinus koraiensis and Pinus sylvestris var. mongolica (Xiao, 1992). A pest of Larix in Heilongjiang (Zhao & Zhang, 1992).
Recorded in Korea on Pinus densiflora, P. thunbergii, Picea jezoensis and Larix olgensis var. koreana (Park et al., 1999).
PARASITOIDS
Unknown.
LOCAL DISTRIBUTION
China: Heilongjiang (Dailing Mts; Muling; Lesser Khingan Mts, Fengling Forest); Liaoning (Linjiang); Shaanxi (Taibai Shan, Houzhenzi, 1500m (33°53'N 107°49'E)).

The population in the Taibai Shan of southern Shaanxi Province, China, is isolated from the main population farther to the northeast.

Mongolia.

North Korea: North Hamgyong Prov. (Baekdu-san; Gyungsung; Chongjin).

South Korea: Seoul (Nam-san; Cheongyang-ri); Kyonggi Prov. (Suwon; Suri-san; Gwangleung; Cheonma-san; Chukryong-san; Baekun-san; Asan Bay; Cheonggye-san; Soyo-san); Kangwon Prov. (Seolak-san; Odae-san; Chiak-san; Baekduk-san; Taebek-san; Donghae; Yangyang; Chupungryung; Wolak-san; Songni-san; Minjuji-san; Jeonju; Daedun-san; Jiri-san; Namwon); South Cholla Prov. (Baekyang-san; Gwangyang); South Kyongsang Prov. (Baekun-san; Yeohang-san; Jinju; Pusan; Geoje-do; Goseong; Sacheon; Sancheong; Yangsan; Jinyang; Hadong; Hamyang; Hapcheon).

Japan: Hahajima (Konokiyama); Tsushima (Inoue, 1977).

Russia: Altai (Cherga; Yailyu; Barnaul); Siberia (Krasnoyarsk; Tomsk; Kalinovka; Korolevka; Bazoy; Chingisy; Novosibirsk; Kalinovka); Buryatia (Temnik; Shumilikha (Barguzin Nature Reserve); Baikalskii Nature Reserve; Nizhneangarsk; Verzhnyaya Zaimka; Muya; Verkhnyaya Zaimka; Mondy; Zun-Murino; Vydrino; Taezhnyi; Dabatui; Murochi; Dabatui); Transbaikalia (Lamsky Gorodok; Chita; 20 km N Chita; Mogocha; Tupik; 60 km SE Amazar; Sokhondinskii Nature Reserve (Agutsa, Nizhnii Bukukun); Ur'upino); Amurskaya (Teply; Belogorsk; Blagoveshchensk; Zeiskii nature reserve; Tynda; Ekimchau; Koboldo; Kuravinskoye); Khabarovsk Kray (Bolshekhekhtsyrskii nature reserve, Khabarovsk suburbs; Nikolayevsk-na-Amure; Kiselevka); Primorskiy Kray (Khasan; Vladivostok; Sikhote-Alin, Kamenushka; Teplyi Klyuch; Ussuriysk); Sakhalin Island.



GLOBAL DISTRIBUTION
This subspecies occurs from central Russia (Ob' river valley and Krasnoyarsk) (Danner et al., 1998) and the Altai (Plotnikov & Gninenko, 1980), eastward through Mongolia and northeastern China, to Primorskiy Kray, Sakhalin Island, the Korean Peninsula and Tsushima, Japan.
The distribution of this species does not overlap with that of the European S. p. pinastri, which occurs no farther east than Kurgan in Russia (Zolotarenko, Petrova & Shiryaev, 1978).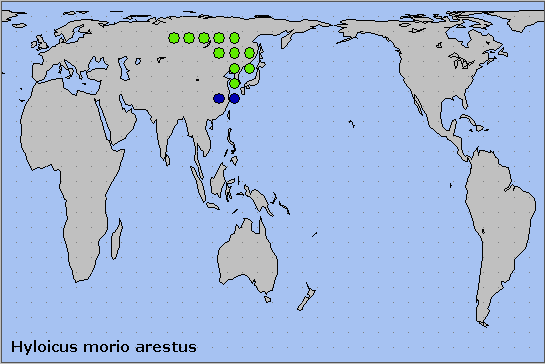 BIOGEOGRAPHICAL AFFILIATION
Holarctic; eastern Palaearctic region. Pleistocene refuge: Monocentric -- Manchurian refugium.
---

Return to Sphingidae of the Eastern Palaearctic species list
---
© A.R. Pittaway & I.J. Kitching (The Natural History Museum, London)