---
RHODOPRASINA MINORIS Brechlin, 2007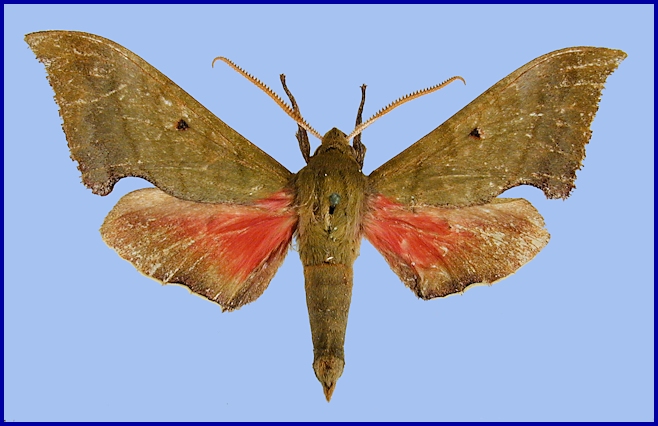 TAXONOMY
Rhodoprasina minoris Brechlin, 2007, Nachrichten des Entomologischen Vereins Apollo (N.F.), 28(1/2): 1. Type locality: China, Guangdong, [Yunwu Shan,] Datian Ding Shan, Xinyi, 1600m, 22°30'N 111°20'E.
ADULT DESCRIPTION AND VARIATION
Wingspan: 70-78mm; length of forewing 35-39mm. A rather small species for the genus. Forewing relatively short and broad, with termen strongly crenulate and tip falcate. Head, thorax and abdomen naturally dark olive green, as are the forewing uppersides; cilia dark. Forewing maculation similar to that of Rhodoprasina mateji Brechlin & Melichar, 2006, but discal dot large and solid black. Ground colour of hindwing upperside reddish, more so over the basal half; cilia buff white. Undersides of both wings pale olive green; forewing broadly red in basal half, with rather obscure, brown median fascia (Brechlin, 2007). In other words, very similar to Rhodoprasina winbrechlini Brechlin, 1996, Rhodoprasina corolla Cadiou & Kitching, 1990, as well as Rhodoprasina mateji. However, unique features in the male genitalia indicate that this is a good species (Brechlin, 2007).
ADULT BIOLOGY
This species flies at altitude during mid winter (January) in the isolated warm temperate mountains of southwestern Guangdong.
FLIGHT-TIME
China: i (Guangdong, Datian Ding).
EARLY STAGES
OVUM: Unknown.
LARVA: Unknown.
PUPA: Unknown.
Larval hostplants. Unknown.
PARASITOIDS
Unknown
LOCAL DISTRIBUTION
China: Guangdong (Yunwu Shan, Datian Ding, Xinyi, 1600m).
GLOBAL DISTRIBUTION
Endemic to Guangdong, southern China.
BIOGEOGRAPHICAL AFFILIATION
---

Return to Sphingidae of the Eastern Palaearctic species list
---
© A.R. Pittaway & I.J. Kitching (The Natural History Museum, London)