---
RHODOPRASINA MATEJI Brechlin & Melichar, 2006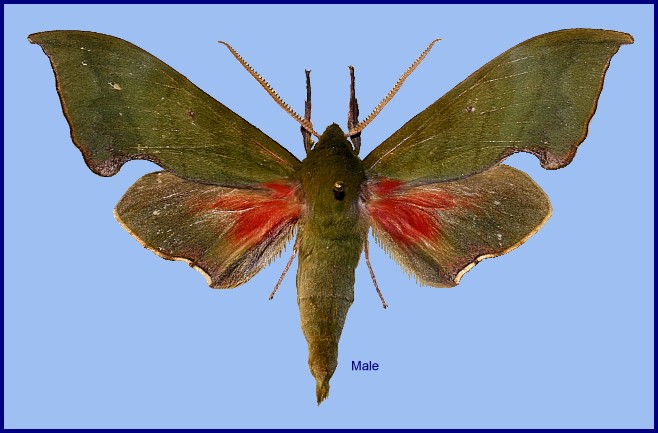 TAXONOMY
Rhodoprasina mateji Brechlin & Melichar, 2006. Nachr. entomol. Ver. Apollo (N.F.) 27(3): 153. Type locality: China, Hubei, Daba Shan, Songluohe, 31°37'N, 110°33'E, 1300-1800m.
ADULT DESCRIPTION AND VARIATION
Males with characteristically long antennae, which extend beyond the forewing discal spot, a feature it shares with R. corolla Cadiou & Kitching, 1990 and R. winbrechlini Brechlin, 1996. Forewing matt green, without the bluish tint of R. corolla or R. winbrechlini. Apex of forewing markedly hooked. Red of hindwing upperside confined to the basal third.
ADULT BIOLOGY
Unknown.
FLIGHT-TIME
China: iv (Hubei).
EARLY STAGES
OVUM: Unknown.
LARVA: Unknown.
PUPA: Unknown.
Larval hostplants. Unknown, but the related R. floralis (Butler) from northern India has been recorded from Acer campbelli (Aceraceae) (Fellowes-Manson, 1906).
PARASITOIDS
Unknown.
LOCAL DISTRIBUTION
China: Hubei (Songluohe, Daba Shan, 1300-1800m).
GLOBAL DISTRIBUTION
So far, only known from Hubei, China.
BIOGEOGRAPHICAL AFFILIATION
---

Return to Sphingidae of the Eastern Palaearctic species list
---
© A.R. Pittaway & I.J. Kitching (The Natural History Museum, London)