---
RHODOPRASINA CORRIGENDA Cadiou & Kitching, 1996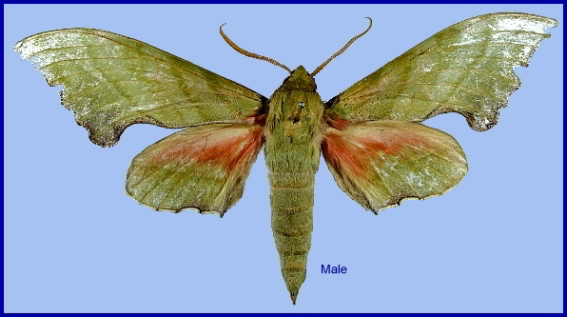 TAXONOMY
Rhodoprasina corrigenda Cadiou & Kitching, 1996. in Kitching & Brechlin, 1996, Nachr. entomol. Ver. Apollo (N.F.) 17(1): 56. Type locality: Thailand, Chiang Mai, Doi Inthanon [National Park], 'checkpoint', 1700m.
ADULT DESCRIPTION AND VARIATION
Wingspan: 104-116mm. Similar to R. corolla Cadiou & Kitching, 1990, from Thailand, but larger and with a silvery sheen to the greenish forewings, which are longer and apically pointed. Hindwing pink area restricted to the basal half of the wing. Foretibia with an apical spine. Antennae not reaching the forewing discal spot; in R. corolla they extend beyond this spot. Underside of abdomen with a strong, dark median line posterior from segment four (rather then the narrow, green line present in R. floralis (Butler)).
ADULT BIOLOGY
A montane species occurring between 1700 and 2500m altitude. In northern Thailand flies at the beginning of the dry season before the onset of the cold season in late December, when nights become much colder.
FLIGHT-TIME
China: Unknown.
In Thailand, from October until early December.
EARLY STAGES
OVUM: Unknown.
LARVA: Unknown.
PUPA: Unknown.
Larval hostplants. Unknown, but the related R. floralis from northern India has been recorded from Acer campbelli (Aceraceae) (Fellowes-Manson, 1906).
PARASITOIDS
Unknown.
LOCAL DISTRIBUTION
China: Chongqing (Simianshan, 1060m). Previous records from Guangdong refer to the recently described R. viksinjaevi Brechlin, 2005.
GLOBAL DISTRIBUTION
The extreme south of China as well as northern Thailand (Chiang Mai area, 1700-2500m) and northern Vietnam (Sa Pa, Lao Cai Province).
BIOGEOGRAPHICAL AFFILIATION
---

Return to Sphingidae of the Eastern Palaearctic species list
---
© A.R. Pittaway & I.J. Kitching (The Natural History Museum, London)