---
PHYLLOSPHINGIA PERUNDULANS Swinhoe, 1897 -- Brown-leaf hawkmoth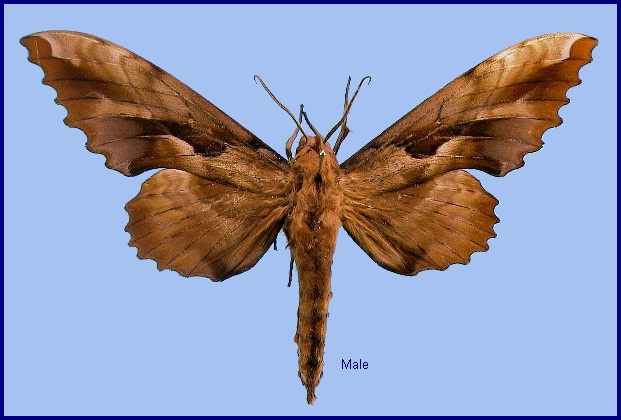 TAXONOMY
Phyllosphingia perundulans Swinhoe, 1897, Ann. Mag. nat. Hist. (6)19: 64. Type locality: [India, Meghalaya,] Jaintia Hills.
Note. Recent studies indicate that this taxon is a distinct species, with a degree of overlap in range with Phyllosphingia dissimilis dissimilis. Additionally, the work of Zolotuhin and Ryabov (2012) indicates that the isolated Vietnamese population may represent a third distinct species. However, with no molecular evidence available, the two authors have in the interim assigned a subspecific rank to the latter, namely Phyllosphingia dissimilis berdievi.
ADULT DESCRIPTION AND VARIATION
Wingspan: 120mm.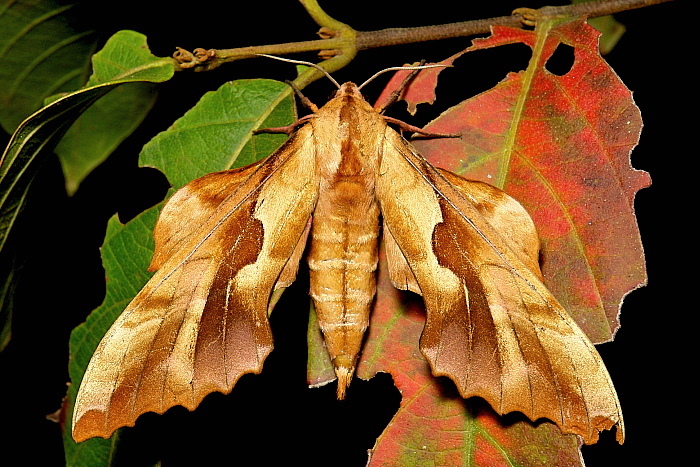 ADULT BIOLOGY
FLIGHT-TIME
China: iii (Yunnan); v (Xizang/Tibet); ix (Guizhou).
EARLY STAGES
OVUM:
LARVA:
PUPA:
Larval hostplants. Unknown, but almost certainly Juglandaceae.
PARASITOIDS
Unknown.
LOCAL DISTRIBUTION
China: Yunnan (Bahand; Adunzi, nr Dêqên; Simao/Pu'er); Xizang/Tibet (Gamtog; Baxoi County); Guizhou (Jiangkou); Hunan (Guzhang; Shangzhi); Guangdong (Nanling National Forest Park); ?Hainan (Sanya, Mt. Jianfengling).
The status of Phyllosphingia perundulans outside of Yunnan and Hunan is uncertain. The population in Guizhou is most probably Phyllosphingia perundulans but those recorded from Fujian (Longqi Shan), Guangdong and Guangxi could be either this species, Phyllosphingia dissimilis dissimilis or intermediate forms. Study of specimens from these provinces is necessary to resolve the problem.
GLOBAL DISTRIBUTION
Occurs from Nepal, east through northeastern India, Burma/Myanmar and northern Thailand, to southwestern China.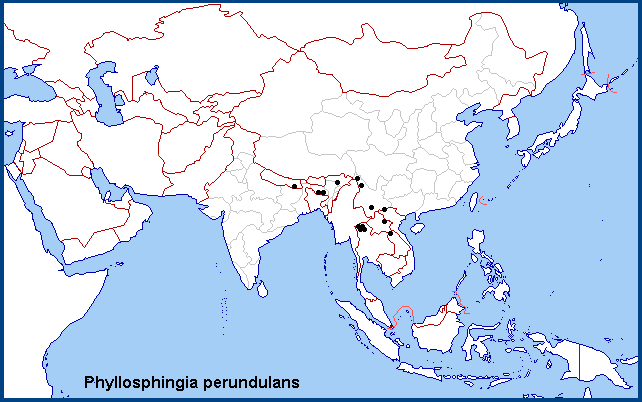 BIOGEOGRAPHICAL AFFILIATION
Holarctic; eastern Palaearctic region. Pleistocene refuge: Monocentric -- Yunnan refugium.
---

Return to Sphingidae of the Eastern Palaearctic species list
---
© A.R. Pittaway & I.J. Kitching (The Natural History Museum, London)