---
POLYPTYCHUS CHINENSIS DRACONIS Rothschild & Jordan, 1916 -- Chinese crenulate hawkmoth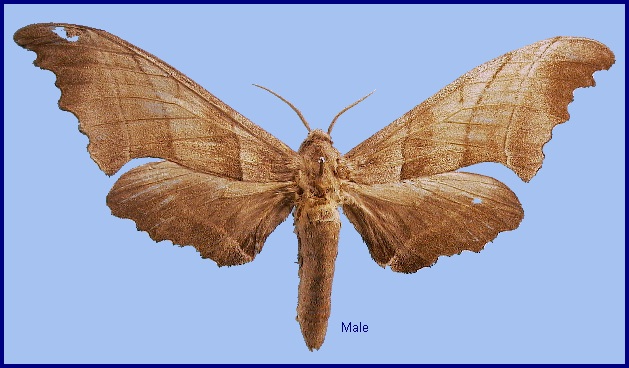 TAXONOMY
Polyptychus draconis Rothschild & Jordan, 1916, Novit. zool. 23: 115. Type locality: [China,] "Thibet" [west Yunnan/Sichuan].
ADULT DESCRIPTION AND VARIATION
ADULT BIOLOGY
FLIGHT-TIME
China: 11.iv (Baoshan, Yunnan); v-vi (Sichuan); 23.vi (Hunan); vii (Guangxi); viii (Sichuan).
EARLY STAGES
OVUM:
LARVA:
PUPA:
Larval hostplants. Probably Ehretia dicksonii (Boraginaceae), the known host in Taiwan (ShenHorn Yen, pers. comm. 2012).
PARASITOIDS
LOCAL DISTRIBUTION
China: Hunan (Heng Shan, 900m); Sichuan (Danba; Guan Xian; Kangding); Yunnan (Weixi; Yanmen; Baoshan; Gaoligong Shan); Xizang/Tibet; Guangxi.
GLOBAL DISTRIBUTION
Central to southwestern China.
BIOGEOGRAPHICAL AFFILIATION
---

Return to Sphingidae of the Eastern Palaearctic species list
---
© A.R. Pittaway & I.J. Kitching (The Natural History Museum, London)