---
NEOGURELCA MONTANA (Rothschild & Jordan, 1915) -- Narrow-banded hawkmoth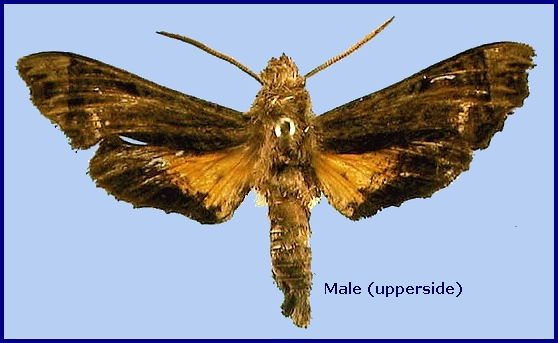 TAXONOMY
Gurelca montana Rothschild & Jordan, 1915, Novit. zool. 22: 289. Type locality: [China,] Tibet [probably western Yunnan/Sichuan].
Synonym. Gurelca montana Rothschild & Jordan, 1915.
Synonym. Gurelca saturata Mell, 1922.
ADULT DESCRIPTION AND VARIATION
Wingspan: 44mm. Upperside of body and forewing silky ashen-grey, without the reddish-brown markings of other species. Forewing with a short, dark, subbasal band bordered on the outer side with white; a dark oblique band from costa towards tornal angle, also bordered on the outer side with white, reaching M3 . The hindwing blackish-brown border less sharply defined than in Neogurelca himachala, strongly broadened at costa, where its inner margin reaches the proximal end of the apical lobe. Apical lobe ashy-bluish, bordered black proximally. Underside: forewing dark brown as far as the postdiscal line at inner angle, the postmedian line thin, brownish-yellow in fresh specimens and ivory-yellow in older ones. Hindwing ashy greyish-brown, anal area pale straw-coloured. Distal margin of forewing more deeply emarginate under M1 than in the other species; inner margin also deeply emarginate before tornal angle; costa of hindwing deeply emarginate (Bell & Scott, 1937).
ADULT BIOLOGY
According to Mell (1922b), this species is fairly common between July and October at 2000-2400' altitude on grassy slopes.
FLIGHT-TIME
July to October
EARLY STAGES
OVUM: Unrecorded.
LARVA: According to Bell & Scott (1937), in the final instar horn of medium length, slightly up-curved, tip broadly bifid.
Head green with a white stripe separating face from cheek. Body green with a whitish subdorsal stripe from segment 2 to base of horn and thence on to 13, enclosing a rust-brown dorsal patch behind horn. There are pale oblique lateral stripes, the angles formed by the junction of the oblique stripes with the subdorsal stripe filled in with rusty-red, and the subdorsal stripe edged above with rusty-red near these junctions. Horn slate-colour with a pale ring beyond the middle. True legs reddish venter rust-brown on 2 to 4. Spiracles black with a white, dumbbell-shaped central slit.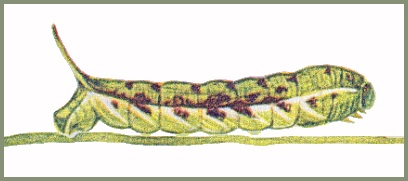 PUPA: Unrecorded.
Larval hostplants. In India on Paederia foetida (Rubiaceae) (Bell & Scott, 1937).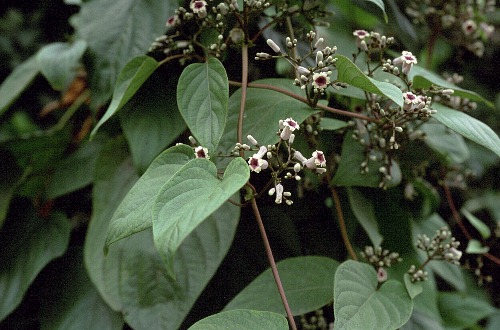 PARASITOIDS
LOCAL DISTRIBUTION
China: Yunnan (Yanmen).
GLOBAL DISTRIBUTION
Endemic to southern China.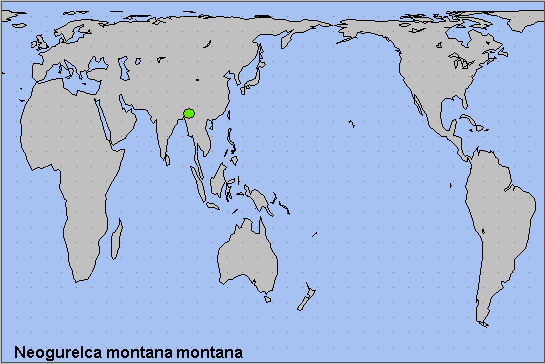 BIOGEOGRAPHICAL AFFILIATION
---

Return to Sphingidae of the Eastern Palaearctic species list
---
© A.R. Pittaway & I.J. Kitching (The Natural History Museum, London)