---
NEPHELE HESPERA (Fabricius, 1775)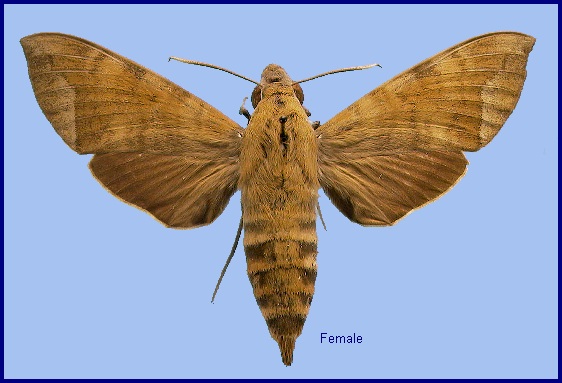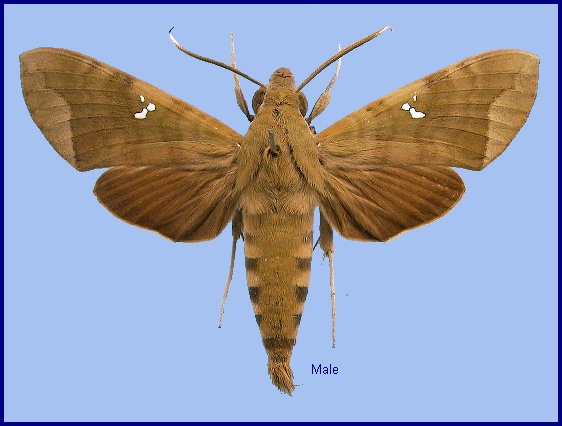 TAXONOMY
Sphinx hespera Fabricius, 1775, Syst. Ent.: 546. Type locality: "India orientali".
Synonym. Sphinx didyma Fabricius, 1775, Syst. Ent.: 543. Type locality: "India orientali".
ADULT DESCRIPTION AND VARIATION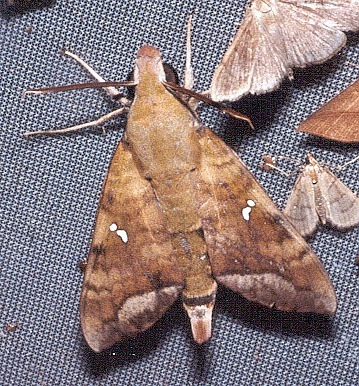 Wingspan: 70--86mm. The silver markings on the wings can be present or absent in both sexes.
ADULT BIOLOGY
FLIGHT-TIME
China: vi (Yunnan); 19.x-xi (Hong Kong), 10.xi (Yunnan); 7.xii (Macau).
Kendrick (2002) states that this species may only be a vagrant or rare migrant to Hong Kong.
EARLY STAGES
OVUM: Pale green, slightly oval (1.4 x 1.6mm), shiny and smooth.
LARVA: Full-fed 70mm.
PUPA: 66mm.
Larval hostplants. Carissa carandas (Apocynaceae) in India (Bell & Scott, 1937).
PARASITOIDS
LOCAL DISTRIBUTION
China: Hubei (Lichuan); Sichuan (Xiushan); Yunnan (Mengzi; Laojun Shan, 2579m; nr. Yingjiang, Xima, 2080m; Pu'er); south Xizang/Tibet (Mutu, Namjagbarwa region, 850m; Zhangmu, 2200m; Yi'ong, 2700m; Nyalam, 2250m); Hong Kong (Lantau Island); Macau.
GLOBAL DISTRIBUTION
From Afghanistan and Pakistan east across Sri Lanka, India, Nepal, the Andaman Islands, Myanmar/Burma, Thailand, Laos and Vietnam, to southern China, Peninsular Malaysia, Sumatra and Java. It has also been recorded from southern Papua New Guinea and the Dauan and Warraber Islands off the northern tip of Queensland, Australia.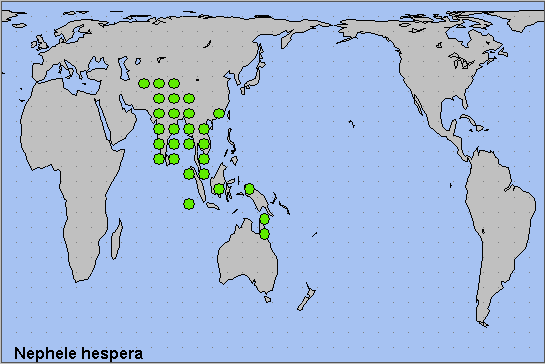 BIOGEOGRAPHICAL AFFILIATION
---

Return to Sphingidae of the Eastern Palaearctic species list
---
© A.R. Pittaway & I.J. Kitching (The Natural History Museum, London)