---
MACROGLOSSUM CORYTHUS PLATYXANTHUM Rothschild & Jordan, 1903
TAXONOMY
Macroglossum platyxanthum Rothschild & Jordan, 1903, Novit. zool. 9 (suppl.): 618 (key), 654. Type locality: [Japan,] Loo Choo Islands [Ryukyu Islands], Okinawa.
Synonym. Macroglossum iwasakii Matsumura, 1921.
ADULT DESCRIPTION AND VARIATION
Similar to Macroglossum corythus luteata, but the yellow band of the hindwing upperside is broader, the black border narrower at the anal angle; basal area of hindwing underside shaded with yellow, less deep in hue than in Macroglossum corythus luteata. Yellow abdominal spots variable in size.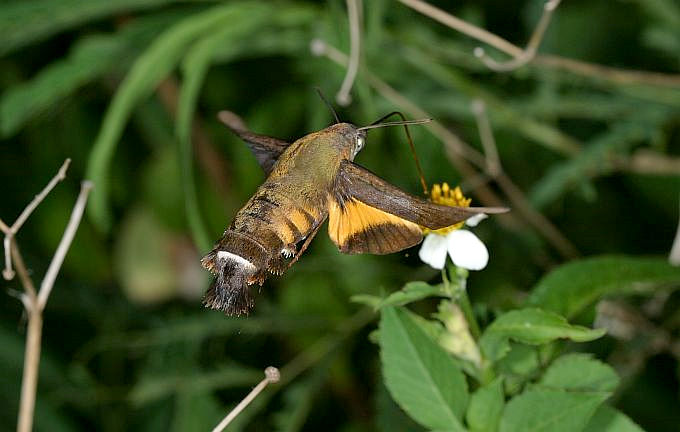 ADULT BIOLOGY
FLIGHT-TIME
Japan: 26.iii (Ryukyu Archipelago); 17.v (Ryukyu Archipelago); vi-vii (Ryukyu Archipelago); viii (Kyushu; Ryukyu Archipelago); viii-xi (Ryukyu Archipelago); ix (Honshu); ix-xi (Ryukyu Archipelago).
In the Ryukyu Islands, commonest between August and October.
EARLY STAGES
OVUM: Unknown.
LARVA: Unknown.
PUPA: Unknown.
Larval hostplants. Unknown.
PARASITOIDS
LOCAL DISTRIBUTION
Japan: Kyushu (Kagoshima; Naze; Nishinakama); Ryukyu Archipelago (Okinawa (Yonabaru + Nago + Shuri + Naha + Chinen + Izumi + Nakijin + Yoni); Tokunoshima; Ishigakishima; Oshima Island; Kubajima; Kuroshima; Iriomotejima).
GLOBAL DISTRIBUTION
Endemic to southern Japan.
BIOGEOGRAPHICAL AFFILIATION
---

Return to Sphingidae of the Eastern Palaearctic species list
---
© A.R. Pittaway & I.J. Kitching (The Natural History Museum, London)