---
MACROGLOSSUM TROGLODYTUS TROGLODYTUS Boisduval, [1875]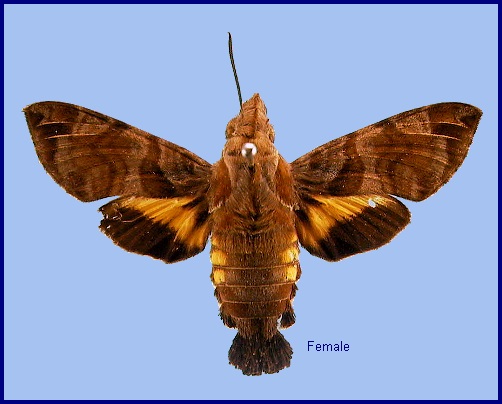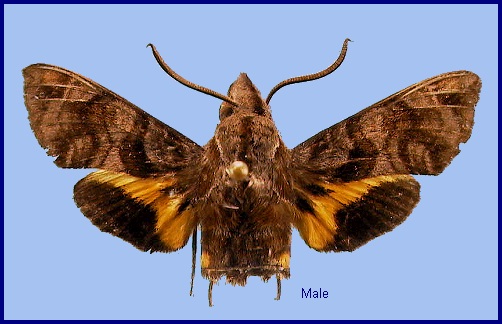 TAXONOMY
Macroglossa troglodytus Boisduval, [1875], in Boisduval & Guenée, Hist. nat. Insectes (Spec. gén. Lépid. Hétérocères), 1: 344. Type locality: [India, West Bengal,] Darjeeling [Darling].
Synonym. Macroglossa insipida Butler, 1875, Proc. zool. Soc. Lond. 1875: 242. Type locality: Ceylon [Sri Lanka].
ADULT DESCRIPTION AND VARIATION
Wingspan: 40--54mm.
ADULT BIOLOGY
Flies deep within bushes to reach nectiferous flowers (Li, 1992), particularly those of Duranta erecta. Active at dawn and dusk, with only a few coming to light.
FLIGHT-TIME
China: iv (Hainan); vi-vii (Hainan); vii (Hainan; Sichuan; Hong Kong); 3.viii (Hong Kong); 26.ix-15.x (Hong Kong). Taiwan: viii (Nantou Hsien). Japan: v-viii (Ryukyu Archipelago).
EARLY STAGES
OVUM: Pale green, slightly oval, shiny and smooth.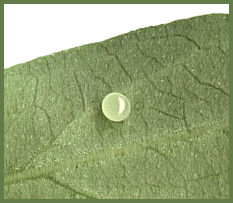 LARVA: Full-fed 48--50mm, width 5.5mm. According to Bell & Scott (1937), in the final instar head rounded-quadrate in shape, dorsal line of vertex very slightly depressed. True clypeus less than one-half length of head equilaterally triangular with apex rounded; false clypeus with apex acute, reaching to one-half length of head, sides curved outwards; labrum about one-half length of clypeus; ligula as long as labrum, kidney-shaped; cutting edge of mandible finely toothed. Surface of head dull and smooth.
Body as in other Macroglossine larvae. Surface dull and smooth; horn rather short, very thick at base, tapering evenly to a blunt point, covered with small, conical tubercles directed distad. In the green form, head green with a whitish (or yellowish) subdorsal stripe running down side of clypeus; a whitish (or yellowish) stripe separates face from cheek. Labrum green; ligula whitish; basal segment of antenna green, other segments rusty; mandible pale green, tip dark rusty. Body grass-green covered with whitish (or yellowish) dots. A darker green dorsal stripe runs from segment 2 to base of horn, with a diffuse pale stripe on each side of it. There is also a narrow white (or yellow) dorso-lateral stripe on the same segments, edged narrowly above with darker green. There are broad dark oblique lateral stripes on 6-11, upper edge diffuse, lower edge sharply defined. Horn with basal two-thirds plumbeous blue-black, distal third orange-yellow, tubercles black except at tip, where they are orange. True legs orange, basal segment suffused reddish; prolegs with ankles pale pink, feet livid white. Spiracles broadly oval, flush, pale yellow with: a broad, reddish-brown central band, the whole narrowly bordered black.
There is also a darker form in which the head is dark brown with a russet-ochreous stripe separating face from cheek. Body russet-chocolate dotted with white. A darker dorsal stripe runs from segment 2 to base of horn. There is also a russet-ochreous dorso-lateral stripe from 3 to base of horn (obscure on 2), and similarly coloured oblique lateral stripes on 5 to 11, the last running to base of horn. The angles between them and the dorso-lateral stripe also russet-ochreous, forming a series of triangular patches. Horn violet-black, tip shortly orange-red. True legs russet-ochreous; shanks of prolegs dark russet, feet whitish. Spiracles pale russet centred with darker russet. In another form the body-colour is dark brown, with markings as above (Bell & Scott, 1937).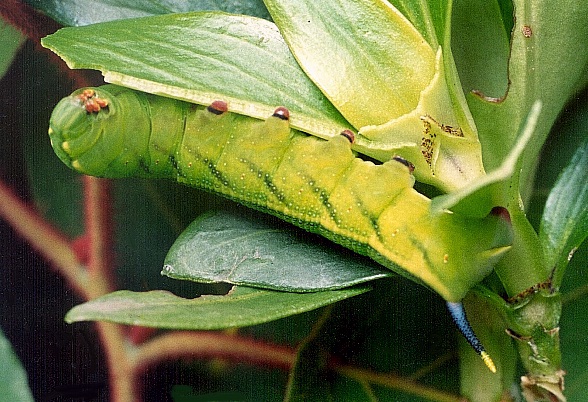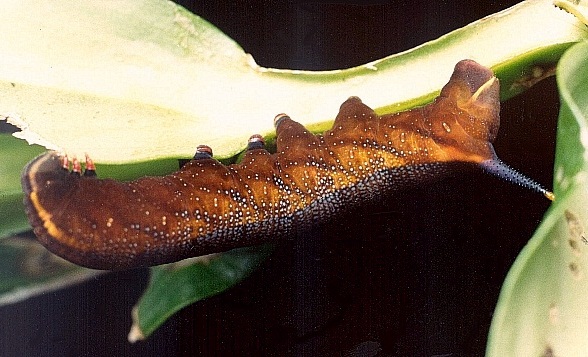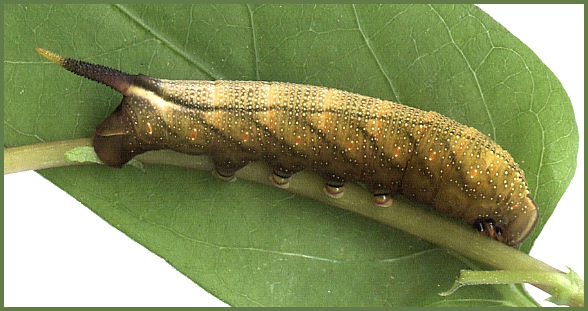 PUPA: 30mm, width 8 mm. Mainly a dry bone-colour, thorax and wing-case greenish, tongue-case and dorsum of abdomen rusty. Wing-case, legs and antenna mottled sparsely with plumbeous-grey. There is a dorsal stripe, black on thorax, green on abdomen; broken, blackish, longitudinal stripes on venter. Hind bevels of segments 8 to 10 brownish; spiracles black; cremaster pale rusty, tip black. Tongue-sheath projecting shortly in front of head; tip of tongue spatulate; antenna longer than fore leg and reaching to middle of wing-case. Surface shiny, head and thorax smooth, abdomen shallowly pitted. Front bevel of segment 9 with a long channel reaching from dorso-lateral to ventro-lateral region and short, transverse, irregular ridges, the anterior ones more prominent and closer together than the posterior ones. Spiracle of 2 a slit, a slightly raised oblong transverse lobe projecting from the front margin of 3 behind it, the hind margin of 2 emarginate in front of it; other spiracles elongate-ova]. Cremaster triangular, tip emarginate-truncate, with a small conical tubercle at each lateral angle of the truncation; ventral surface longitudinally hollow, with a median keel near base; surface smooth and shiny (Bell & Scott, 1937).
The pupa makes a low knocking note when alarmed.

Larval hostplants. Hedyotis hydyotidea and Hedyotis acutangulata in Hong Kong; H. uncinella and H. scandens in India (Bell & Scott, 1937, as well as Spermacoce hispida (Rubiaceae) and Corchorus capsularis (Tiliaceae).
PARASITOIDS
LOCAL DISTRIBUTION
China: Sichuan (Emei Shan, 3620'; Kangding; Xiaolou); Yunnan (Kunming; Yanmen); Guangdong; Hong Kong (Lantau Island; Ping Chau Island; North Point); Hainan (Chengmai; ??Secha; ??Ta Hian).
Taiwan: Chiai Hsien (Shuicheliao; Taipei Hsien (Fushan); Nantou Hsien (Kuantauchi).
Japan: Ryukyu Archipelago (Okinawa).
GLOBAL DISTRIBUTION
Sri Lanka, southern and eastern India, Nepal, Thailand, southern China, Taiwan, Japan (Ryukyu Archipelago), Vietnam, Malaysia (Peninsular, Sarawak), Indonesia (Sumatra, Java, Kalimantan).
Subsp. papuanum Rothschild & Jordan, 1903, is found in New Guinea and Queensland, Australia, where the larvae feed on Spermacoce latifolia (Hasenpusch, Lane & Moulds, 2012).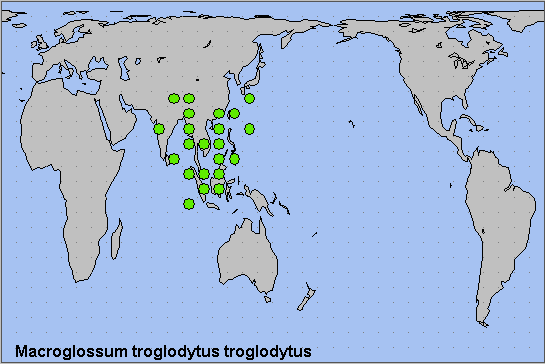 BIOGEOGRAPHICAL AFFILIATION
---

Return to Sphingidae of the Eastern Palaearctic species list
---
© A.R. Pittaway & I.J. Kitching (The Natural History Museum, London)