---
MARUMBA CRISTATA CRISTATA (Butler, 1875)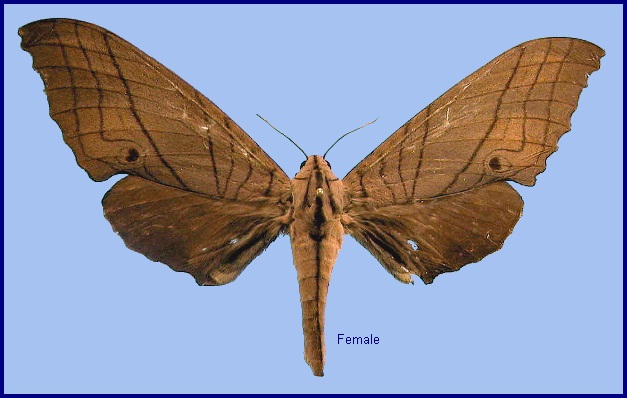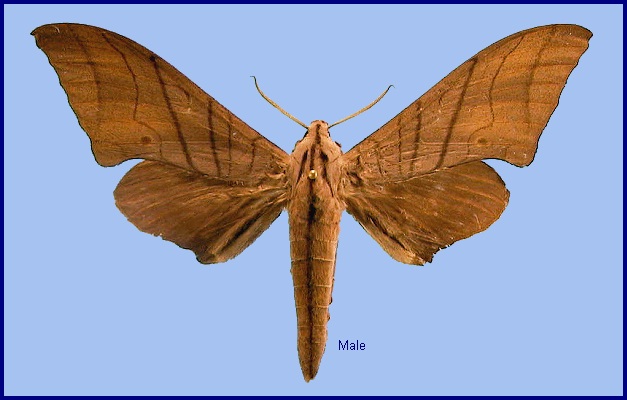 TAXONOMY
Triptogon cristata Butler, 1875, Proc. zool. Soc. Lond. 1875: 253. Type locality: [India, West Bengal,] vicinity of Darjeeling [Darling].
ADULT DESCRIPTION AND VARIATION
Wingspan: 100--124mm.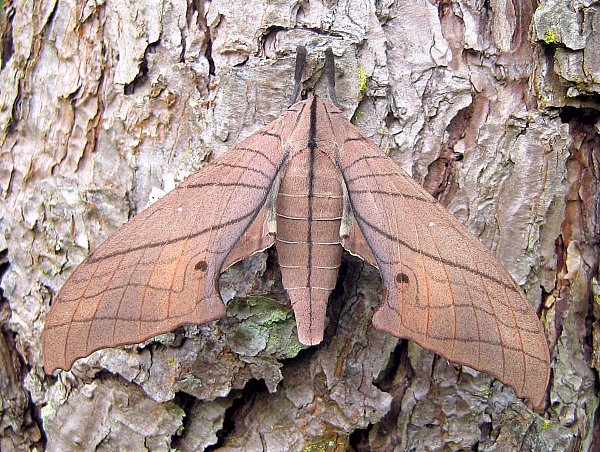 ADULT BIOLOGY
The species occurs in southern China in jungle of mixed bamboo and deciduous trees at 1,500--2,500 feet (Mell, 1922b).
FLIGHT-TIME
China: 1-11.vi (Xizang/Tibet); 25.vi (Yunnan); vii (Sichuan; Xizang/Tibet).
EARLY STAGES
OVUM: Ivory-yellow, broadly oval (2.75-3.0 x 2.50 x 2 mm), smooth and shiny (Mell, 1922b).
LARVA: Full-fed 68mm, width 11mm; head 8.5 x 7mm. According to Mell (1922b), in the final instar very similar in shape to that of Marumba dyras; the horn long, straight, the breadth greater than the height in a cross-section. Surface of head and body dull; head with a line of tubercles separating the face from the cheeks. There is a transverse row of small tubercles around each secondary ring, and larger pointed tubercles along the oblique lateral stripes. Horn covered with small tubercles, with small tubercles along the edge of the anal flap and claspers.
In colour, head pale green, with the line of tubercles between the face and cheeks obscurely white; there is also a dark green dorsal stripe from the vertex to the nape. Body pale green with a dark green dorsal stripe to the hind margin of segment 4. The oblique lateral stripes are white, sometimes edged narrowly by red or yellow, and running across three segments; tubercles on the oblique stripes orange. Horn blue-green, the tubercles on the basal half paler and those on the distal half darker than the body colour. The tubercles edging the anal flap and claspers paler than the body colour. True legs dull red banded with dull brown, and sometimes with a dull brown mark at the base; prolegs and clasper pale green. Spiracles oval, the central slit pale in colour, dilated at the top and bottom and with a red-brown band on each side of it (Mell, 1922b).
The colour becomes paler and somewhat translucent-looking before pupation.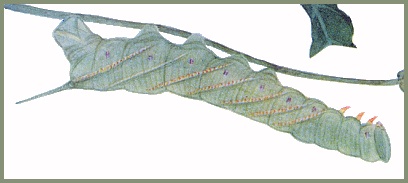 PUPA: 50--60mm, width 16mm. Similar in shape, surface and colouring to other pupae of the genus; the cremaster large, tapering gently to a simple point, rugose (Mell, 1922b).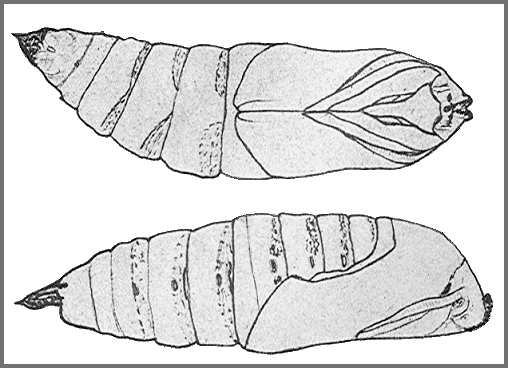 Larval hostplants. Lisea elongata, Machilus ichangensis and Phoebe (Lauraceae) in China (Mell, 1922b).
PARASITOIDS
LOCAL DISTRIBUTION
China: Sichuan (Guan Xian; Kangding; Xiaolou); Yunnan (nr. Jinping, 2155m); Xizang/Tibet (Gamtog; Baxoi County; Langmai, Gonjo County (30°45'N, 98°52'E)); Guangdong (Lianping); Hainan (Sanya, Mt. Jianfengling; Duowen Ling, nr Lingao; Longhushan, Wenchang City).
GLOBAL DISTRIBUTION
From Himachal Pradesh (India) across Nepal and northeastern India to southern, central and northern China, northern Thailand, Laos and northern Vietnam.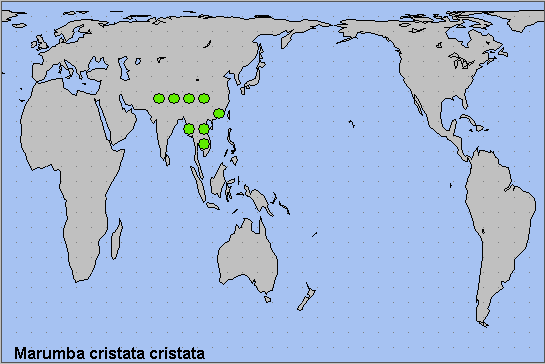 BIOGEOGRAPHICAL AFFILIATION
---

Return to Sphingidae of the Eastern Palaearctic species list
---
© A.R. Pittaway & I.J. Kitching (The Natural History Museum, London)