---
LAOTHOE AMURENSIS SELENE Zolotuhin, 2018
TAXONOMY
Laothoe selene Zolotuhin, 2018, Eversmannia (54): 11. Type locality: China, NW Yunnan, Lijing/Zhongdian, near Tuguancun, 27°29.7'N 99°53.7'E, 24-25.v.2012, 3200m.
Note. This taxon was given specific status based on a 1.9-2.3% DNA barcode difference from Laothoe amurensis sinica and a 2.5% difference from Laothoe amurensis amurensis. The latter itself differs from Laothoe amurensis sinica by 2.5-2.8% (Zolotuhin, 2018). Given that natural variation within clearly defined taxa of the Smerinthini can vary up to 3% or more, a variation of 3.5-4% is required before a population can be considered a new species. A difference of 3% or less indicates either a new subspecies or just natural variation within a given population.
ADULT DESCRIPTION AND VARIATION
Wingspan: 100-114mm. Although larger, it resembles Laothoe amurensis sinica and, like that subspecies, lacks a rust-red patch at the base of the hindwing. However, the more pronounced wavy lines/bands running across both sets of wings make this taxon resemble Laothoe habeli Saldaitis, Ivinskis & Borth, 2010, which has a rust-red patch at the base of the hindwing.
ADULT BIOLOGY
Little is known about the behaviour of this subspecies except that males are strongly drawn to light. In Sichuan and Yunnan it is generally found above 2500m, often as high as 4000m, but with the odd individual at lower altitudes.
FLIGHT-TIME
China: 24-25.v (Lijing/Zhongdian); 15.vi (Emei Shan); 23.vi (Kangding); 10.vii (Adunzi, nr Dêqên).
EARLY STAGES
OVUM: Information not available.
LARVA: Information not available.
PUPA: Information not available.
Larval hostplants. Information not available, but probably various species of Salix and Populus.
PARASITOIDS
Unknown.
LOCAL DISTRIBUTION
China: Sichuan (Baoxing; Hanyuan; Kangding, 2540m; Yu Shan; Emei Shan, 1000m); Yunnan (Adunzi, nr Dêqên, 4000m; Dabaoshan; Huaping); Xizang/Tibet (Mutu, Namjagbarwa region, 850m; Bomi, 2750m; Qamdo).
GLOBAL DISTRIBUTION
Endemic to China (Sichuan, Yunnan and eastern Xizang/Tibet).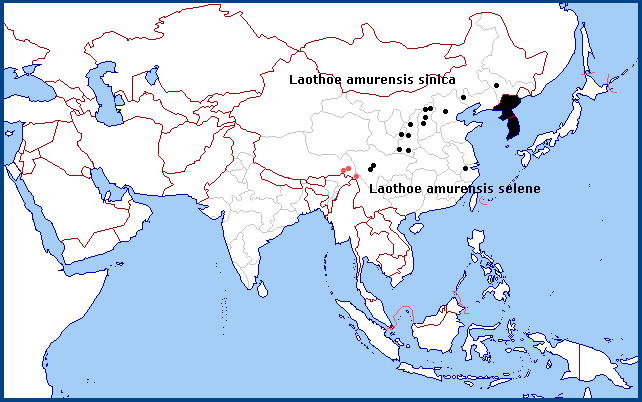 BIOGEOGRAPHICAL AFFILIATION
Holarctic; eastern Palaearctic region. Pleistocene refuge: Polycentric -- Sinotibetan and Yunnan refugia.
---

Return to Sphingidae of the Eastern Palaearctic species list
---
© A.R. Pittaway & I.J. Kitching (The Natural History Museum, London)