---
DEILEPHILA ASKOLDENSIS (Oberthür, 1879)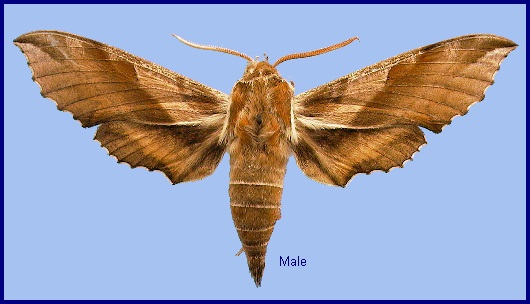 TAXONOMY
Smerinthus askoldensis Oberthür, 1879, Diagn. Lépid. Askold: 5. Type locality: [Russia, Primorskiy Kray,] Askold I[sland].
ADULT DESCRIPTION AND VARIATION
Wingspan: 51-59mm.
ADULT BIOLOGY
In the Russian Far East, a species of mixed and deciduous forests characterized by Quercus mongoliana (Izerskiy, 1999b). Females are active between 23.00h and 01.40h, males between 00.20h and 02.40h (Izerskiy, 1999b).
FLIGHT-TIME
China: v (Hebei); vi (Nei Mongol); 16-25.vi (Jilin); vii (Heilongjiang). Japan: 6-24.vi (Hokkaido); 2.vii-11.viii (Hokkaido; Honshu). Russia: 3.vi-11.viii (Khabarovsk Kray); 1.vi-29.viii (Primorskiy Kray).
In northern China there can be up to two generations per year, with adults flying between May and August (Yang, 1978); however, in many years there is only a single generation flying in June/July.
Park et al. (1999) give mid May until late September as the flight period in Korea.
EARLY STAGES
OVUM:
LARVA:
PUPA:
Larval hostplants. Vitis amurensis in the Russian Far East (Izerskiy, 1999b; Streltzov, Osipov & Malikova, 2003), but also found on various species of Epilobium in Japan.
PARASITOIDS
LOCAL DISTRIBUTION
China: Nei Mongol (Chen Barag Qi; Hulunbuir Region, Sanhaodian); Heilongjiang (??Ertzendziandzy; Harbin; Zhaodong); Jilin (Jiaohe, Lafa Shan); Liaoning; Hebei.
North Korea: South Hamgyong Prov. (Seokwang Temple); South Pyongan Prov. (Pyongyang); North Hamgyong Prov. (Gyungsung; Charyung).
South Korea: Kyonggi Prov. (Suwon; Suri-san; Gwangleung; Soyo-san; Cheongpyong; Baekun-san; Asan Bay; Ansan; Pyungtaek); Kwangwon Prov. (Seolak-san; Yangyang; Donghae; Chuncheon); North Chungchang Prov. (Chupungryung; Minjuji-san; Songni-san); Kyongsang Prov. (Sobaek-san; Juwang-san); South Kyongsang Prov. (Jinyang); Cheju Prov. (Cheju-do; Halla-san; Seoguipo).
Japan: Hokkaido (Hakodate; Tobetsu; Sapporo); Honshu (Tokei-ji; Hakoni; Kobe; Shinano; Shizugawa; Fujimi Heights; Miyota; Yasakamura); Kyushu.
Russia: Transbaikalia (Nizhniy Casuchey; Budymkan; Ur'upino); Amurskaya (Blagoveshchensk; Zeiskii Nature Reserve; Uril area; Pashkovo); Yevreyskaya (Pompeyevka; Bastak); Khabarovsk Kray (Slavyanka; Kabarovsk; Bolshekhekhtsyrskii Nature Reserve, Khabarovsk suburbs; Pivan); Primorskiy Kray (Andreevka; Primorskiy; Ussuriysk; Narva; Askold Island; Vityaz Bay; Kedrovaya Pad Nature Reserve; near Kalinovka; near Zanadvorovka).
According to V. Dubatolov (pers. comm. 2010), not rare in the east of Transbaikalia.
GLOBAL DISTRIBUTION
Confined to the southern Russian Far East, northeastern China, the Korean Peninsula and northern Japan.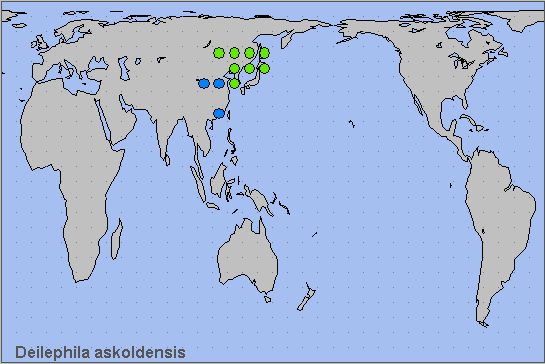 BIOGEOGRAPHICAL AFFILIATION
---

Return to Sphingidae of the Eastern Palaearctic species list
---
© A.R. Pittaway & I.J. Kitching (The Natural History Museum, London)