---
CALLAMBULYX KITCHINGI Cadiou, 1996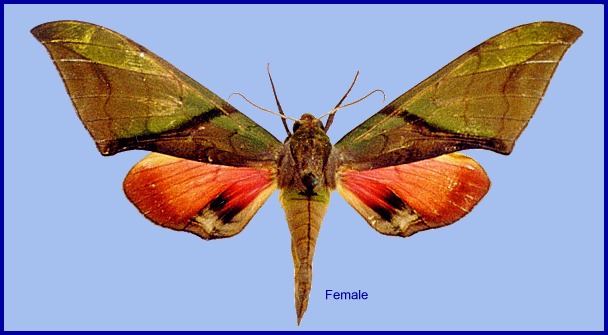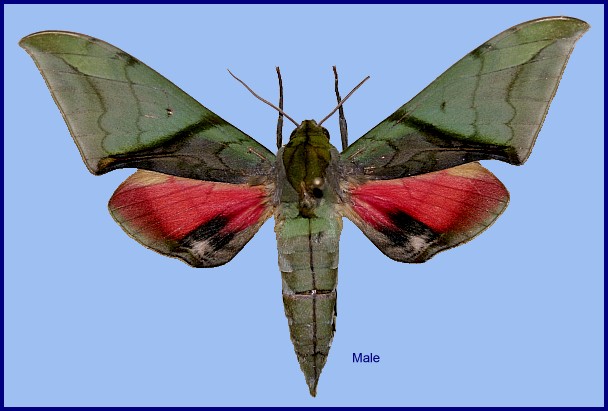 TAXONOMY
Callambulyx kitchingi Cadiou, 1996, Ent. Africana 1: 15. Type locality: China, Fukien [Fujian], Kuatun [10km NNE of Shaowu, 27°40'N 117°40'E].
ADULT DESCRIPTION AND VARIATION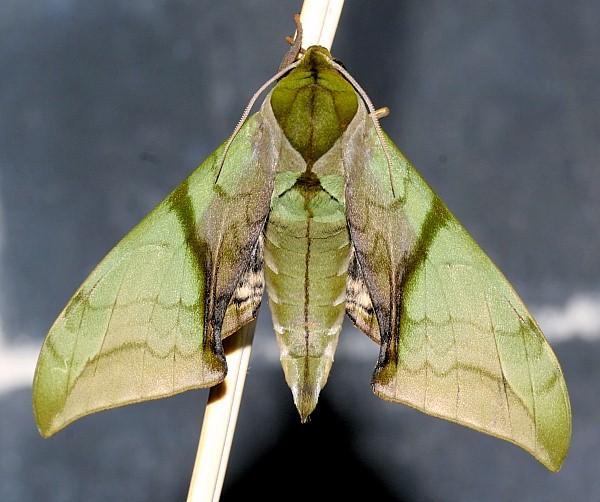 ADULT BIOLOGY
FLIGHT-TIME
China: iv (Longyan); 11-25.vi (Duowen Ling, nr Lingao); 12.vi (Jiangle); 20-29.vi (Jiulian Shan; Le'an); 8.vii-16.vii (10km NNE of Shaowu); 15.vii (Dayao Shan); 13-24.vii (Emei Shan); viii (Guangze; Nankunshan); ix (Guangdong).
EARLY STAGES
OVUM: Unknown.
LARVA: Unknown.
PUPA: Unknown.
Larval hostplants. Unknown.
PARASITOIDS
Unknown.
LOCAL DISTRIBUTION
China: Anhui (Mt. Huang Shan); Sichuan (Emei Shan); Guizhou (Xinzhaidashan, Zhijin County, 1000-2000m); Jiangxi (Jiulian Shan; Le'an; Wuyi Shan); Fujian (10km NNE of Shaowu, 2300m; Jiangle; Longyan, Chiyantou Shan; Wuyi Shan, 1400m); Guangdong (Nankunshan, NE of Guangzhou); Guangxi (Dayao Shan, 1400m (24°07'N 110°14'E)); Hainan (Duowen Ling, nr Lingao; Longhushan, Wenchang City).
Originally described from Fujian. However, records of Callambulyx r. rubricosa from Sichuan and Jiangxi (Wang, 1992; Wang & Zhao, 1993) are identifiable from accompanying illustrations as C. kitchingi. Records of 'C. rubricosa' from Hunan, Hubei, Jiangxi and Guizhou are also probably C. kitchingi.
GLOBAL DISTRIBUTION
Endemic to China.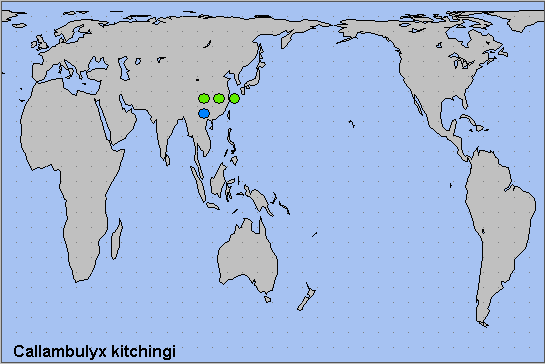 BIOGEOGRAPHICAL AFFILIATION
Holarctic; eastern Palaearctic region. Pleistocene refuge: Monocentric -- Yunnan refugium.
---

Return to Sphingidae of the Eastern Palaearctic species list
---
© A.R. Pittaway & I.J. Kitching (The Natural History Museum, London)