---
AMBULYX TOBII Inoue, 1976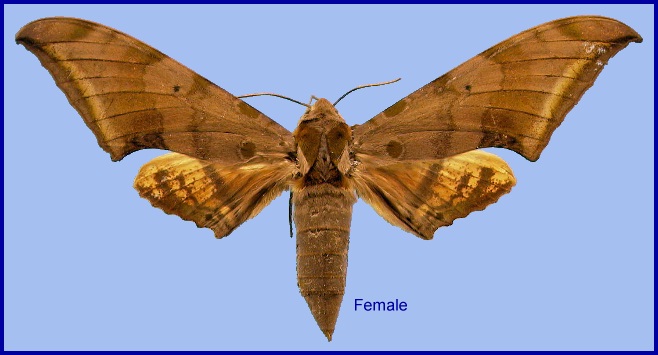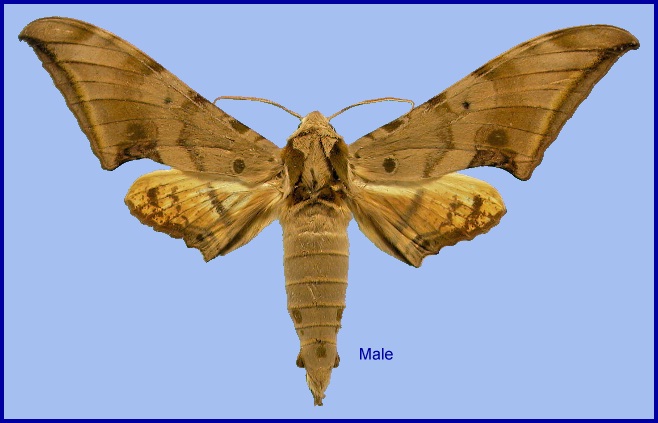 TAXONOMY
Oxyambulyx sericeipennis tobii Inoue, 1976, Bull. Fac. domest. Sci. Otsuma Wom. Univ. 12: 173. Type locality: Japan, "Nakatsugawa, Sumoto City, Awajishima" <<Shimane, Ichibata>>.
Synonym. Oxyambulyx sericeipennis tobii Inoue, 1976.
Synonym. Ambulyx sericeipennis pirika Kishida, 2018.
ADULT DESCRIPTION AND VARIATION
Wingspan: 105--117mm.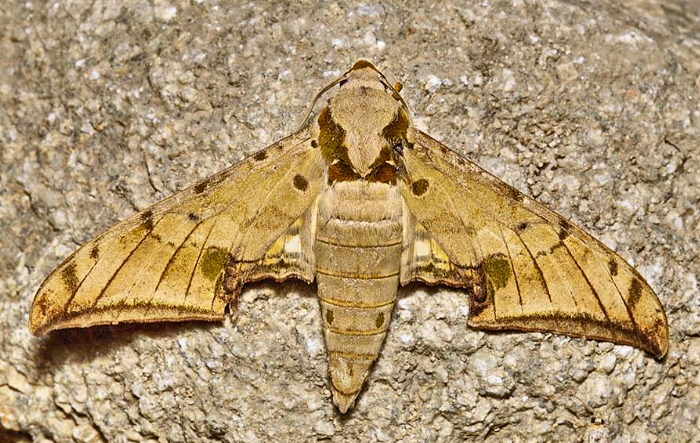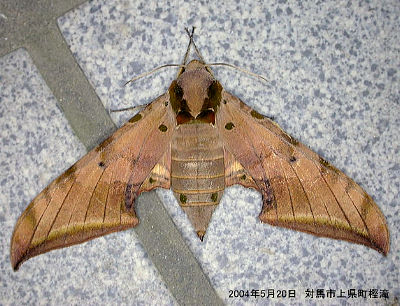 ADULT BIOLOGY
FLIGHT-TIME
China: iv (Fujian; Yunnan); v (Sichuan); vi-vii (Shaanxi); vii (Qinghai; Guangxi; Jiangxi; Beijing; Hubei); viii (Guangdong; Xizang/Tibet). Taiwan: v-vi (Nantou Hsien). North Korea: 15-29.v (North Pyongan Province); 1-12.vii (North Pyongan Province). South Korea: viii ([unstated locality]). Japan: 29.iv-26.vi (Shikoku); 30.iv-22.vi (Honshu); v-vi (Tsushima; Hokkaido); 4.vi-15.vii (Hokkaido); viii (Kyushu); 15.viii (Shikoku). Russia: 31.v-5.vii (Primorskiy Kray).
EARLY STAGES
OVUM: Unknown.
LARVA: Unknown.
PUPA: Unknown.
Larval hostplants. Unknown.
PARASITOIDS
Unknown.
LOCAL DISTRIBUTION
China: Beijing (Baihua Shan); Tianjin (Baxian Shan, 450m); Shaanxi (Haozhenzi village, 1350m; Qingling Shan, Taibai Shan, Foping Nature Reserve, 1800m); Qinghai (Nangqian); Hubei (Luotian 1729m); Sichuan (Wulong reserve, 1300m); Yunnan (5km N Hutiao Xia, 2200m); Xizang/Tibet (Motuo National Park, near Indian border); Hunan; Jiangxi (Wuyi Shan, Xipaihe village, 1500m); Fujian (Daimao Shan, 60km NW Longyan, 1300m); Guangdong (Nanling, Shaoguan, 1100m); Guangxi (Dayao Shan, Jinxiu, 1200m).
Taiwan: Nantou Hsien (3km SW Tsuifeng, 2100m).
North Korea: North Pyongan Prov. (Chonma County, Chonma-san).
South Korea: Kyonggi Prov. (Yongjong-do); Kangwon Prov. (Seolak-san; Chuncheon); North Cholla Prov. (Daedun-san; Jiri-san); South Cholla Prov. (Baekyang Temple); South Kyongsang Prov. (Baekun-san).
Japan: Hokkaido (Jozankei; Nanaemachi; Osima; Shibinai; Sapporo, 800m; Kamikawa-cho); Honshu (Ichibata; Shirikubiyama; Takada City; Funagatayama); Shikoku (Nagaomachi; Shioemachi; Takamatsu); Kyushu (Kitakyushu City); Tsushima (Izumi; Shirikubiyama).
Russia: Primorskiy Kray (Khasan area (Gusevskiy mine; Zanadvorovka; Andreevka); Oktyabrskiy area (Sinel'nikovo-1); Kaimanovka; Vladivostok area (Shamora Pass); Ryazanovka; 3km SW Barabash). This species is a very recent (2011) colonist of this area (Koshkin & Bezborodov, 2013; Koshkin et al, 2015).
GLOBAL DISTRIBUTION
From Japan (Komatsu & Inoko, 2000), Russian Far East (Koshkin & Bezborodov, 2013) and South Korea down through eastern China to Bhutan, Xizang/Tibet, Yunnan, Vietnam and Taiwan.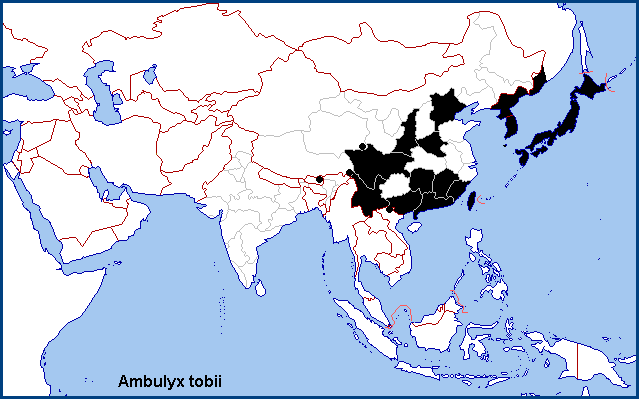 BIOGEOGRAPHICAL AFFILIATION
---

Return to Sphingidae of the Eastern Palaearctic species list
---
© A.R. Pittaway & I.J. Kitching (The Natural History Museum, London)