---
ACOSMERYX SHERVILLII Boisduval, [1875] -- Dull forest hawkmoth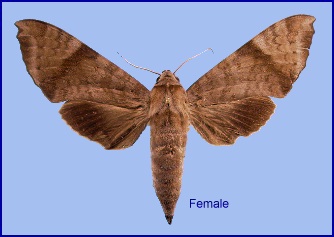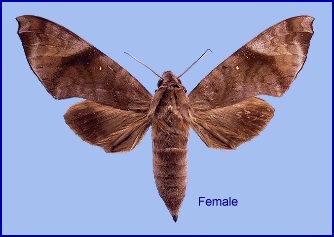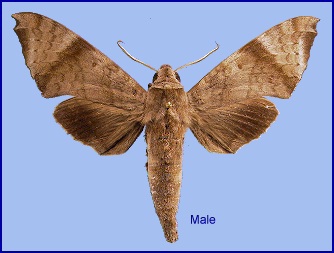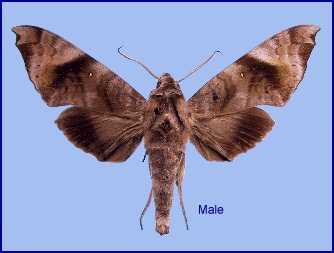 TAXONOMY
Acosmeryx shervillii Boisduval, [1875], in: Boisduval & Guenée, Hist. nat. Insectes (Spec. gén. Lépid. Hétérocères), 1: 217. Type locality: [India, West Bengal,] Darjeeling [Darling].
Synonym. Acosmeryx cinerea Butler, 1875.
Synonym. Acosmeryx miskini brooksi Clark, 1922.
Synonym. Acosmeryx socrates obliqua Dupont, 1941.
ADULT DESCRIPTION AND VARIATION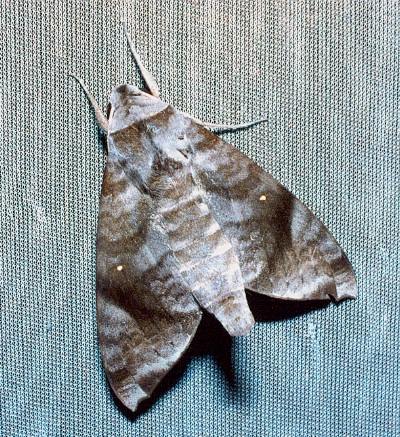 ADULT BIOLOGY
FLIGHT-TIME
China: iii-x (Hong Kong); 10.iii (Yunnan); 15.iv (Yunnan); v (Yunnan); vi-vii (Hainan); viii (Fujian; Yunnan); ix (Shaanxi).
Kendrick (2002) states that this common species is tri- or multivoltine in Hong Kong, occurring from early March until early October.
EARLY STAGES
OVUM:
LARVA:
PUPA:
Larval hostplants. Dillenia, Vitis, Cayratia, Cissus and Leea (Inoue, Kennett & Kitching, [1996] 1997).
PARASITOIDS
LOCAL DISTRIBUTION
China: Shaanxi (Xunyang, 1380m); Yunnan (Changning County, Songzhishanding, 2800m; Mengla County, Mt. Leigongyan, 2000m; Baoshan, 1540m; Simao/Pu'er; Gaoligong Shan); Fujian (Guangze, 1200m); Hong Kong; Hainan (Wenchang; ??Youboi).
GLOBAL DISTRIBUTION
Sri Lanka, India, Nepal, Bhutan, Thailand, central and southern China, Vietnam, Malaysia (Peninsular, Sarawak), Indonesia (Sumatra, Java, Kalimantan).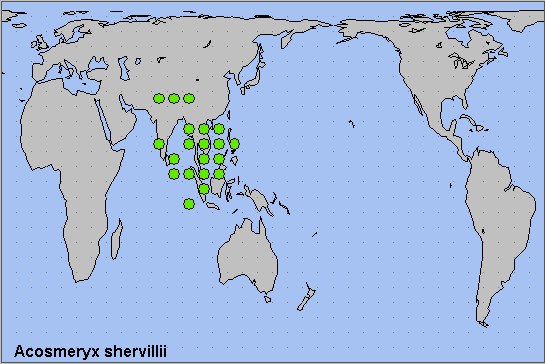 BIOGEOGRAPHICAL AFFILIATION
---

Return to Sphingidae of the Eastern Palaearctic species list
---
© A.R. Pittaway & I.J. Kitching (The Natural History Museum, London)